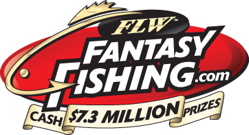 MINNEAPOLIS (June 25, 2008) – Four years ago, one of Terry Totten's coworkers, a fellow postal worker, invited Totten to try bass fishing. That day, they caught more than 18 bass on Lake Monroe near Orlando, Fla., hooking Totten on a new hobby that he's feverishly pursued ever since.
Four years later, another one of his coworkers invited Totten to try playing FLW Fantasy Fishing along with a few other coworkers. And his catch? A cool $100,000 for winning the fifth tournament in the FLW Fantasy Fishing seven-tournament season – all from the comfort of his couch.
Fantasy Fishing? Go ahead and laugh, but consider this…Totten, 48, who has played all five FLW Fantasy Fishing tournaments has jumped to 38th place and is now within striking distance of winning a cool $1 million, which will be awarded after the seventh and final FLW Tour bass tournament in mid-August. An avid bass angler, Totten picked 10 professional bass anglers who participated in last weekend's Wal-Mart FLW Tour bass-fishing tournament on the Ft. Loudoun-Tellico Lakes, located near Knoxville, Tenn.
"I can't believe it. All the credit goes to the guys at work who got me to play," said Totten, a normally reserved 16-year veteran of the U.S. Postal Service, "and to Player's Advantage, which helped me make some smart picks. I've used Player's Advantage all season long and now I'm sitting in 38th place with a shot at $1 million. It's just incredible."
"For anyone who hasn't tried playing yet, it's just like fantasy football, only with fish," Totten added.
The real winner may be Totten's wife, Jayne, who upon learning the news, immediately called dibs on the prize winnings for a new dream kitchen for the empty nesters' home in Enterprise, Fla., a suburb of Orlando.
"Terry got a new bass boat last year, now it's my turn," said Jayne Totten, a full-time homemaker who has dreamed of a new kitchen for many years. As for our winner, he's content to buy a new fishing rod and reel and some more fishing tackle.
The prize winnings also come at a good time as the couple prepares to help their and 2-1/2 year old grandson, Dellick Greer, and their daughter, Jeramie Greer, when her husband, Nathan Greer, an E4 with the U.S. Army's Third Calvary Division, ships out later this year for this third tour of duty in the Middle East. Greer is currently stationed at Ft. Hood, in Killeen, Texas.
"My parents helped us out when we both left the Army," Jayne added. "We're an Army family, and we're ready to provide all the support our kids need to get through this next tour of duty."
Using a desktop computer rather than a rod and reel, Totten entered FLW Fantasy Fishing game at www.fantasyfishing.com from his home and selected 10 pro bass anglers from among the 200 pro anglers who participate in the Wal-Mart FLW Tour. Totten earned points based on the real, on-the-water performance of the pros who fished the tour's fifth four-day tournament. The Ft. Loudoun-Tellico Lakes tournament was won by pro angler David Dudley, a Lynchburg, Va., resident, fishing for the Castrol team. Dudley caught a total of 10 bass weighing 29 pounds, 11 ounces in the final two days of the competition to win a cash prize of $125,000.
Totten not only picked Dudley for his fantasy fishing team, he picked him to win the tournament, an exacta, which earned Totten bonus points. Totten also relied on local Florida pro Scott Martin, who fishes for the National Guard team and finished in second place. Overall, six of Totten's fantasy fishing pros finished in the top 10 at the Ft. Loudoun tournament – a first in FLW Fantasy Fishing. Totten's fantasy fishing team included the following pros:
1. David Dudley
2. George Cochran
3. Hank Cherry
4. Craig Powers
5. Andy Morgan
6. Andy Montgomery
7. Wesley Strader
8. Scott Martin
9. Shad Schenck
10. Jeremiah Kindey
"FLW Fantasy Fishing is fun, it's free and you don't have to be nuts about fishing, like me, to win," Totten said.
Coming in second-place, with 6,565 points, was Amanda Westmoreland, 23, a Greenville, Pa., resident who won a $5,000 Wal-Mart gift cardafter entering her first FLW Fantasy Fishing tournament. Westmoreland is a certified nurse's aid at a local nursing home who is training to become a registered nurse. She learned about FLW Fantasy Fishing while watching a recent NASCAR event on television, where she saw a promotion for FLW Fantasy Fishing.
"This is wonderful news, it really made my day," said Westmoreland, mother of a 3-year-old son. "I grew up fishing with my Dad and watching fishing TV shows with him. And now I'm teaching my son how to fish."
Joining Totten and Westmoreland, more than 580 other participants won prizes in FLW Fantasy Fishing's fifth tournament for a total of 2,900 prizes awarded so far in 2008. More than 4,000 prizes totaling as much as $7.3 million will be awarded during the course of the FLW Fantasy Fishing seven-tournament season. In addition to millions in cash, other prizes such as Ranger boats; a Chevy Silverado; Yamaha and BRP ATVs and personal watercrafts; hundreds of thousands of dollars in Wal-Mart gift cards; tens of thousands of dollars of free BP gasoline and more will be awarded to the players with the highest point totals earned, based on the placement of their team of 10 professional anglers for each tournament.
Other top 10 winners included:
3rd place: Jared Brown, Otis, Louisiana 6,540 points
4th place: Ron Snow, Bozeman, Montana 6,455 points
5th place: Chris Waldrop, Brookwood, Alabama 6,398 points
6th place: Thomas Windsor, Waldorf, Maryland 6,393 points
7th place: Jim Settle, Dandridge, Tennessee 6,390 points
8th place: James Stovall, High Point, North Carolina 6,347 points
9th place: Duke Stanton, Springfield, Missouri 6,312 points
10th place: Steve Reever, Franklin, Indiana 6,310 points
The highest-scoring non-U.S. winner was Mohamad Wira, a resident of Singapore, who finished in 91st place and won a $100 Wal-Mart gift card. Wira was among a number of FLW Fantasy Fishing players from around the world who play FLW Fantasy Fishing.
Fantasy Fishing Excitement Continues to Build
There's still more excitement to come as the FLW Fantasy Fishing tournament series moves on to its final two tournaments. The next stop is the Chevy Open, set to take place on July 10-13 on the Detroit River. The tournament series will climax with triple bonus points awarded for the final tournament in the FLW Fantasy Fishing game, the Forrest Wood Cup.
The most exciting aspect of both upcoming tournaments for FLW Fantasy Fishing players may be the points. FLW Fantasy Fishing points will be doubled for the Chevy Open and tripled for the Forrest Wood Cup. With double and triple points, just about anything can happen, meaning that no player is ever out of the running for the game's $1 million grand prize.
"Terry Totten is a perfect example of a FLW Fantasy Fishing player who learns from playing each tournament and with the help of Player's Advantage, puts it all together for a big win," said Irwin Jacobs, chairman of FLW Outdoors and creator of FLW Fantasy Fishing. "If it can happen for Terry, it can happen for any of our FLW Fantasy Fishing players. It's just like fishing – you never know if your next cast will be the big one."
Fantasy Fishing – How It Works
FLW Fantasy Fishing is free to play and is open to adults, ages 18 and up, throughout the world, wherever it is legal to play. Participants log onto www.fantasyfishing.com and register to enter the game. Players can sign up any time during the season, up until Aug. 13, 2008, the day before the Forrest Wood Cup championship tournament.
Prior to each Wal-Mart FLW Tour tournament, FLW Fantasy Fishing participants select a fantasy team of 10 FLW pro bass anglers. Participants earn points for each tournament, based on the performance (placement in the designated tournament) of their fantasy team pros. Participants can win prizes for an individual tournament as well as accumulate points over seven designated tournaments to be eligible for a guaranteed $1 million cash prize, which will be awarded to the participant with the highest overall point total for the season. Seven $100,000 first-place prizes go to the participants who earn the most points for each tournament. A $5 million bonus will be paid to the first player to correctly rank the top seven finishers in a tournament. Participants can subscribe to Player's Advantage to get the edge when selecting their team by accessing expert advice, inside information and cutting-edge statistical tools.
The Wal-Mart FLW Tour consists of seven tournaments, including:
1. Lake Toho (Kissimmee, Fla.): Feb. 28 – March 2, 2008
2. Lewis Smith Lake (Jasper, Ala.): April 3 – 6, 2008
3. National Guard Open -- Lake Norman (Charlotte, N.C.): April 24 – 27, 2008
4. Wal-Mart Open -- Beaver Lake (Rogers, Ark.): May 15 – 18, 2008
5. Fort Loudoun-Tellico Lakes (Knoxville, Tenn.): June 19 – 22, 2008
6. Chevy Open -- Detroit River (Detroit, Mich.): July 10 – 13, 2008
7. Forrest Wood Cup -- Lake Murray (Columbia, S.C.): Aug. 14 – 17, 2008
About FLW Outdoors
FLW Outdoors is named after the legendary founder of Ranger Boats, Forrest L. Wood, and it conducts the following tournament circuits:
· Wal-Mart™ FLW Tour
· Wal-Mart™ FLW Series
· Stren™ Series
· Wal-Mart™ Bass Fishing League
· Wal-Mart™ FLW Walleye Tour
· Wal-Mart™ FLW Walleye League
· Wal-Mart™ FLW Kingfish Tour
· Wal-Mart™ FLW Kingfish Series
· Wal-Mart™ FLW Redfish Series
· Wal-Mart™ FLW Striper Series
These circuits offer combined purses of more than $40 million through 230 events in 2008.
Wal-Mart and many of America's largest and most respected companies support FLW Outdoors and its tournament trails. Wal-Mart signed on as an FLW Outdoors sponsor in 1997 and today is the world's leading supporter of tournament fishing. For more information about Wal-Mart, visit Walmart.com. For more information about FLW Outdoors and its tournaments, browse FLWOutdoors.com or call (270) 252-1000.
FLW is a registered trademark of FLW Outdoors, Inc. Note: For a complete list of rules for the FLW Fantasy Fishing, visit http://www.fantasyfishing.com.