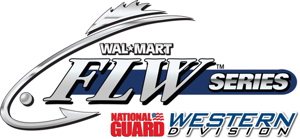 MINNEAPOLIS (June 26, 2008) — Tune in Sunday, July 6 to "FLW Outdoors" on FSN for the $1 million Wal-Mart FLW Series National Guard Western Division tournament on Lake Mead in Henderson, Nev. The show, which concludes with the winning pro claiming a six-figure payday, will highlight one of the most picturesque bass fisheries in the United States. Lake Mead was stop No. 2 of four regular-season Western Division events.
The full field competes for the first three days of FLW Series events. Co-angler winners are determined on day three by the heaviest accumulated three-day weight. The top 10 professionals continue competition on day four, and the winner is determined by the heaviest accumulated weight from all four days. The stories evolve and the suspense grows throughout the one-hour show until the final weigh-in results are announced.
Pringles Extreme pro Sean Minderman has led the tournament each of the first three days. Thus far, the fishing on Lake Mead has been good but quality bites have been rare. Many pros are catching 20 or more bass in a day but the average size is approximately 1 pound. That isn't the case for Minderman, who is on a strong smallmouth pattern.
With a three-day total of 15 bass weighing 32 pounds, the Spokane, Wash., native has a 2 1/2-pound lead heading into the final day of competition. Minderman is targeting fish in cuts and channels in depths ranging from 3 to 15 feet.
On day three, he caught a five-bass limit weighing just 6 pounds, 11 ounces – his lightest catch of the event. With one day remaining, the pro leader is worried about his primary area being depleted. To capture the first-place purse of $125,000, he knows he may have to fish new water in the finals.
Closing in on Minderman is the duo of Roy Hawk and Jason Hickey, who are tied for second place with 29 pounds, 8 ounces. Targeting big bites, Hawk is using a combination of crankbaits and worms over gravel and boulders in approximately 5 to 25 feet of water. The Salt Lake City, Utah, pro is still in contention despite only catching three keepers on day two. While Minderman has grabbed all the headlines, Hawk is quietly lurking and is poised for a come-from-behind win.
Like Hawk, Hickey is employing crankbaits and a variety of soft plastics to fool the stingy Lake Mead bass. Hickey, the Weiser, Idaho, native, has already qualified for the $2 million 2008 Forrest Wood Cup on Lake Murray in Columbia, S.C. He punched his ticket for the year-end championship through the FLW Series East-West Fish-Off, where he defeated BP Eastern Division pro Joe Thomas. In this event, Hickey is fishing one isolated stretch of bank.
While productive, he has had to share this spot with other competitors throughout the week. With only the top 10 pros fishing on day four, Hickey should have his favorite honeyhole all to himself.
In addition, pro Clayton Meyer of Las Vegas participates in this edition of Fishing 101. Meyer, who won the East-West Fish-Off on Lake Amistad, teaches viewers how to rig a drop-shot, a technique used by many of the 10 pro finalists.
FSN broadcasts "FLW Outdoors" Sunday mornings. Check local listings for show times and channels in your area.
FLWOutdoors.com also provides an online guide listing upcoming episodes on "FLW Outdoors."
FSN is broadcast to more than 81 million homes through its network of 20 regional sports channels. Established in 1996, FSN is the only cable network that supplies national, regional and local sports programming. FSN serves as the cable TV home to 62 of the 82 MLB, NHL and NBA teams based in the United States, and produces more than 4,500 live events each year. FSN has an extensive catalog of original national programs, including "Best Damn Sports Show Period" and "Beyond the Glory" documentary series, along with national packages of collegiate sports. Based in Los Angeles, FSN is part of the vast FOX Sports television family. For the latest up-to-the-minute sports news and opinions, visit the FOX Sports/FSN website at www.FoxSports.com.
"FLW Outdoors" is also broadcast internationally to more than 429 million households in such countries as Germany, China, South Africa, Australia, Malaysia, Russia, Hungary and the United Kingdom, making it the most widely distributed weekly outdoor-sports television show in the world.
Tournament anglers aren't the only ones winning big this season. With the introduction of FLW Fantasy Fishing™, FLW Outdoors® offers anyone the opportunity to enter for their chance to land the catch of a lifetime with the opportunity to win $7.3 million in cash and prizes. Players can become a virtual pro angler by signing up for Player's Advantage, providing them with exclusive insider information that could guide them to a $100,000 victory at every Wal-Mart FLW Tour® stop and the Forrest Wood Cup. Player's Advantage will give them an edge over the competition and increase their shot for a $1 million cash grand prize that will be awarded to the FLW Fantasy Fishing cumulative points winner.
Those who visit FantasyFishing.com today can sign up for Player's Advantage and FLW Outdoors will include a $15 Wal-Mart gift card.
FLW Outdoors, named after Forrest L. Wood, the legendary founder of Ranger Boats, is the largest fishing tournament organization in the world. In 2008 alone the organization is offering more than 90,000 anglers the chance to win over $40 million through 230 tournaments in 10 circuits targeting bass, walleye, redfish, kingfish and striped bass. FLW Outdoors is also taking fishing mainstream with the largest cash awards in the history of fantasy sports, $7.3 million.
For more information about FLW Outdoors and its tournaments, visit FLWOutdoors.com or call (270) 252-1000.
For more information about FLW Fantasy Fishing and Player's Advantage, visit FantasyFishing.com.