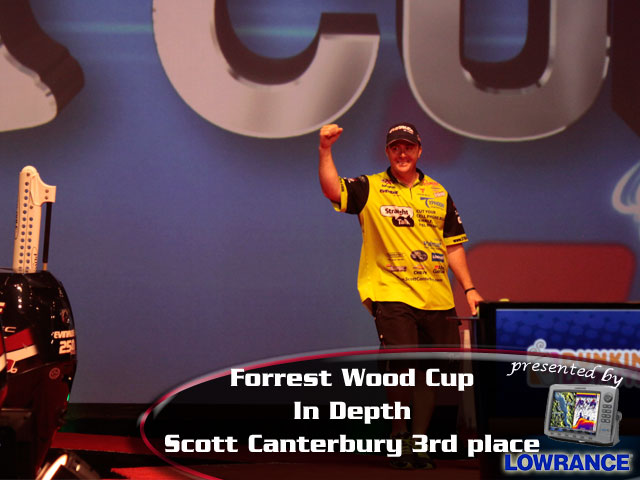 Forrest Wood Cup In Depth Scott Canterbury 2nd
Story and photos by Dan O'Sullivan

Scott Canterbury entered the 2012 Forrest Wood Cup as one of the least known, best anglers in the business. From the moment he hit the FLW Tour in 2008, Canterbury has steadily proven how strong, and passionate an angler he is. It's not that Canterbury is unknown, but when people think of the best angler on tour, his quiet, gentle spirit almost allows folks to look past him.
The 2012 Forrest Wood Cup just might prove to be his coming out party.

A shallow water angler by nature, Canterbury used dogged determination and a tireless work ethic to become the highest finishing deep water angler at the Lake Lanier Cup. "I put a lot of work into figuring out the bite at Lanier," he said. "I figured it would take 52 to 54 pounds to win, and short of Jacob (Wheeler) having a great event, I accomplished everything I set out to do; it was a blessed week."

So, how did his blessed week begin? It stated during the pre practice period.

Practice
Canterbury said that he spent six days pre-practicing on Lake Lanier, despite the fact that he doesn't usually pre-practice a lake. "Lanier is so big that I felt like I needed to spend some extra time there," he said. "So, I spent two days there after the lake Champlain event driving around and getting a feel for Lanier."

When he still felt like he needed more time, he spent four more days after his family took a vacation to the beach. "I found some decent stuff deep, and started kind of piecing my program together," he said. "In fact it was pre-practice that I found my real ace in the hole; a double drop shot rig."

Having only spent a couple hours shallow during his pre-practice, Canterbury - normally a dedicated skinny water aficionado - spent the first half of his first official practice day on the bank, before turning his attention back to deep water fishing. "If I could change one thing, that would be it," he said. "I would have spent more time looking for the shallow water bite."

He never looked at the bank again in practice. he said he covered 50 to 60 spots a day in practice looking for the best deep water holes. He said that he would work them quickly, making only seven or eight casts with his hooks bent over before moving on.

He decided to focus deep, he even said that he located his primary starting spot on his first day of his pre-practice periods.

The Weapons
Being that he decided to focus deep, Canterbury had three different finesse rigs at the ready. He had a shaky head and a variety of dropshot rigs at the ready, and just in case, he had a buzzbait ready. "I was ready to completely focus deep, but I just had to have something ready, just in case," he said.

He threw his finesse worms on a variety of Abu Garcia Veritas spinning rods from 6'10" to 7'3", which he paired with Abu Garcia Revo Premier size 30 spinning reels. He alternated his line size based on the type of rig he was throwing. For his single bait dropshot rig with a Jackall Crosstail Shad, he used 6-pound-test Berkley Trilene 100% Fluorocarbon, and for the shaky head and the double bait dropshot rig with a Jackall Flickshake on the bottom hook and a Crosstail Shad on the top hook, he chose 8-pound-test Berkley Trilene 100% Fluorocarbon.

For his buzzbait, he used a 7' medium-heavy action Abu Garcia Veritas rod matched with a 7.9:1 Revo MGX reel and 65-pound-test Big Game Braid.

Tournament
After all of the pre-planning and the foresight about fishing deep, Canterbury started the first morning of tournament shallow, with the buzzbait. "I was going to my first spot and looked into a pocket and saw fish schooling," he said. "I decided to see what I could do, so I threw the buzzbait and mixed in a soft plastic jerkbait and caught a quick eight to 10-pound limit."

He said that the quick limit really did a lot for him comfort level and allowed him to turn his attention to his primary brushpiles. He said that he never stopped on the spots he decided would be his primary areas during practice. "I could see them on my fishfinder, but I didn't want anyone to see me fishing them," he said. "But on the first day of the event, I made my first drop on them and caught a five pound spotted bass at 2:00 in the afternoon."

He followed that up a half an hour later with a four and a half pound spot of another one of his brushpiles, and headed to the check in. His limit pushed the scales to 16 pounds, 9 ounces, which put him in the lead for a while, until Jacob Wheeler weighed in. Canterbury ended the day in second place.

Day two proved to be a grind for him. After starting shallow again looking for the quick flurry he encountered on day one, he had one two pound largemouth after a frustrating day of missing the bite. With a 4:30 check-in, he turned to his deeper water pattern and was only able to catch three more fish. At 3:00, while he was heading back towards the vicinity of the Laurel Park takeout, he made a stop and put his fifth keeper in the boat.

His 12-pound, 7-ounce limit was solid, but he still found himself slip in the standings to fourth.

Day three started out slow again. After two hours, Canterbury did not have a fish in his livewell fishing offshore, so he returned shallow and once again, picked up his buzzbait. The first pocket he stopped in produced a five and a half and three pound largemouth before the shallow bite cooled again.

He returned to his deeper brushpiles and used his double dropshot rig; which triggered fish into biting better than a single offering. "I had eight or nine keeper bites that afternoon on that rig," he said. "It left me feeling a little better than I did on day two." His 13-pound, 5-ounce limit moved him back into second place.

He started out the morning hot, but because he was using a pair of hard to get Japanese colors of Jackall baits, he suickly ran out of the baits he had remaining. "I was using a color called Tsunami on the Flick Shake and a Violet Shad in the Crosstail Shad," he said. "When I ran out, it took me a little bit to figure it out, but it changed after lunch."

He caught a four pounder on a brushpile not long after noon, then stayed deep with his dropshot and double dropshot the rest of the day. He closed the tournament with a 10-pound-7-ounce limit, which kept him in second place for the championship with a total weight of 52 pounds, 12 ounces.

Wrapping Up
Canterbury said that he is proud to have beaten everyone but the winner. "I worked hard at this event, and I really was able to put together a strong plan, then adjust when I needed to," he said. "I thought it would take 52 to 54 pounds to win, and I hit my goal weight. If it wasn't for a great tournament by Jacob (Wheeler) I'm the Forrest Wood Cup Champion."

The real turning point for him was the five pounder taken on the first day. At a time when he was starting to weigh out the benefits of staying deep or turning shallow, he caught a fish that focused him and allowed him to slow down. "If I hadn't caught that fish, I don't know if I move to the next deep brushpile," he said. "I was starting to rethink my program and that fish kept me at it.

"It was truly a blessed week, and I'm really happy to have done this well," he said. "Of course I would love to have won it, but the $100,000 (second place prize money) makes finishing second easier to accept, and I just got outfished, so overall, it was a successful week."
Read more like this at AdvancedAngler.com