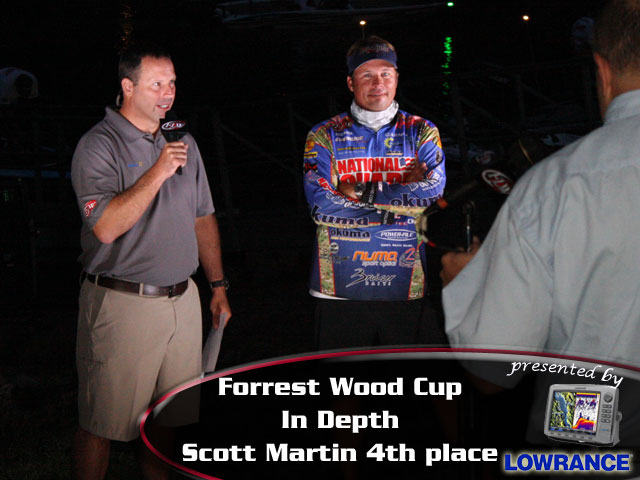 Forrest Wood Cup In Depth Scott Martin 4th place
8/17/2012 - story and photos by Dan O'Sullivan

Yesterday we sat down with fifth place finisher of the 2012 Forrest Wood Cup, David Dudley, and went over how he strategized his pre-practice, practice and the tournament. Today, it's time to turn our attention to the fourth place finisher Scott Martin from Clewiston, Fla.

After finishing the 2010 Forrest Wood Cup in last place; having placed only one bass on the scales during the event, Martin was not looked upon as a favorite by most pundits - including myself. I made the same mistake of looking at past history on the lake, and the pressure that Martin would be feeling as the defending Forrest Wood Cup Champion, and gave him little chance to repeat.

I forgot one or two important things. A - Martin won the 2011 Forrest Wood Cup on Lake Ouachita by fishing primarily an offshore pattern. B - Martin is a competitor who does not enjoy being thought of as a one dimensional angler.
So, I take this moment to eat a small amount of crow, and find out how he made such a dramatic improvement from his first Cup in 2010 on Lake Lanier to his appearance this year.

Practice
Martin said that he spent four days on the lake prior to the lake going off limits. He said that he made the decision to fish offshore prior to arriving at the lake because the past Cup made him believe that this year's event would be won deep as well. "I played the odds and figured that steady, solid bags were going to win," he said. "I knew that there were potentials for catching big bags of largemouth, but I didn't feel that they would last for four days."

So, he fired up his Ranger / Evinrude and set about to marking as many brushpiles and timber lines as he could on his Garmin fishfinder / chartplotters. he said that he marked bunches of them, but found issue with many of those he was marking. "It was easy to find stuff to fish in 20 to 30 feet of water," he said. "But, finding stuff in 30 to 40 feet was the difficult part; I really wasn't finding those, and I thought that was the range I'd need to catch the bigger spotted bass."

Armed with hundreds of waypoints following pre-practice, Martin returned for the official practice days and attempted to weed out the unproductive ones. He said he relied heavily on what he saw on his Garmins, and how fish responded to offerings to come up with his final list of spots to fish. "I probably ended up with 75 or so waypoints that I thought gave me a good chance," he said. "I noticed that my Garmin would display clouds of baitfish on piles that were active, so when I would be easing up to them, I would cast out with a topwater bait or Fish Head Spin and see if they would respond. when they did, I knew I had a decent waypoint."

He said by the time practice was over, he was able to visualize what his quality waypoints looked like. "Maybe it comes from all of my saltwater fishing," he said. "But, I could visualize schools of spotted bass swimming in a circle around a brushpile, and once the bait would arrive, the bass would attack the brushpile and I would be able to get bit."

The Weapons
Martin said he relied primarily on three lures to produce results during the tournament. A dropshot rig with a six-inch long Bruiser Baits Diamond Tail Worm in a custom color poured for the Cup, a Fish Head Spin tipped with a small soft jerkbait and finally a River2Sea Rover 98 in Ghost Minnow color.

He threw the dropshot on an Okuma Citrix 6'9" medium light action rod matched with an Okuma Raw II size 30 Spinning reel. He spooled the reel with 7-pound-test Sunline FC Sniper Fluorocarbon and tied a 1/0 TroKar TK180 Finesse Worm Hook and a3/8-ounce River2Sea Tungsten Tear Drop weight.

The Rover was thrown on a 7' medium-heavy Okuma Helios rod and Helios reel with a 6.2:1 retrieve speed and 50-pound-test braided line tied with a loop knot for more action. Finally, the Sworming Hornet Fish Head Spin was used on a 7' medium action Helis rod and reel with 12-pound-test Gamma Fluorocarbon line.

"I experimented a lot with line diameters in practice trying to find exactly the right combination," he said. "By the time the tournament started, I had exactly the right combination to get the bites I needed."

Tournament
Martin said that he started the first day of the tournament feeling like he had the right plan, but still felt uneasy with his history on the lake. "I couldn't wait to catch a keeper, and then catch the second one because I knew it would put me at ease," he said. "I caught my first and second keeper in the boat on my second stop of the morning, and it made me feel a little more relaxed."

At around 11:00AM, he had four fish in the box, and he started making his moves through his brushpiles. "It really came on around that time, and I was making four or five casts over the brushpiles with the Rover and the Fish Head Spin," he said. "That afternoon bite really seemed to pick up, and that would be the theme for the rest of the week."

He ended the day with 14 pounds, 9 ounces; good for sixth place.
Day two started much the same way, he waited until 8:30Am before landing his first keeper. However, he was able to put his limit in the boat by 10:00 AM, which weighed around 11 pounds. When he stopped on one of his waypoints that he didn't visit on day one, he got on a flurry. "I saw them schooling and started casting the Rover," he said. "It was every cast for about 15 minutes and I culled up to my 14-pound, 11-ounce limit."

That weight would move him up to third in the standings behind Jacob Wheeler and Jay Yelas with a total of 29 pounds, 4 ounces.

Day Three turned out to be his turning point. he said he had avoided looking at the weather to keep from getting any preconceived notions in his head for each day of the tournament. Several media members began asking him what they thought the weather change to sunny skies would mean during morning interviews. Then, when his father; legendary angler Roland Martin, joined him in a video interview and started talking about how the sun was going to come out and that his son was going to make a big move; he started to think about it.

"I let myself start planning for the sun to come out, and didn't fish the conditions that day," he said. "I'd find myself looking up at the cloudy skies wondering when the sun would come out, and I didn't concentrate like I should have." His 10-pound, 7 ounce limit was enough to keep him in the top five, but he started the final morning in fourth place, nearly 10 pounds behind the leader.

He said he fished the final day pretty loose in his mind. He said he didn't feel any pressure to perform, so he just read the conditions and ran the conditions. When he reached 10:30Am without a keeper in the boat, he knew he had to make an adjustment, so he picked up the Fish Head Spin and a Fish Head Dude, a lure similar to a Scrounger Head, and he even caught a pair of keepers on a deep diving crankbait. He caught a 12-pound, 1-ounce limit, which made his total weight 51 pounds, 12 ounces and kept him in fourth place for the
Championship.

Wrapping Up
Martin said that he felt as good as he could have about a tournament that he didn't win. "I really wanted to win this year," he said. "I wanted to show my friends, family and sponsors that last year wasn't a fluke. I felt quite a bit of pressure to try and repeat. It wasn't pressure that any of them put on me, I put it on myself, but it was there."

That being said, he felt like he had some unfinished business with Lake Lanier after his last place finish in 2010. "I wanted to learn how to fish deep, and how to target spotted bass like the Cody Meyers and Bret Ehrlers do," he said. "I feel like I proved to myself that i can fish like that when I need to, and I had a decent tournament.

"I'm never really satisfied though as an angler," he said. "I want to keep pushing myself forward and learning new things; I feel like this week was one of those times that I did that."