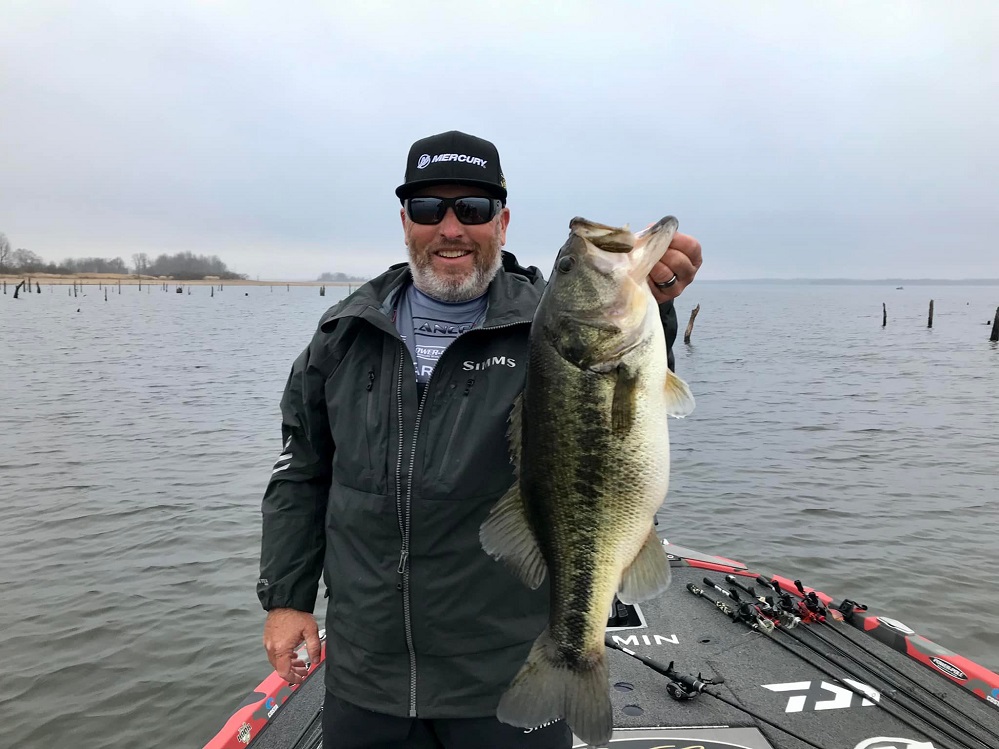 The seasons are changing and cooler weather is on the horizon, so gearing up for the colder weather is a must if you want to continue fishing. As a man who makes his living outside and on the water, Arizona pro Brett Hite ensures that he's always comfortable, no matter the weather. That includes having the right gear and being ultra-prepared with extra items.
ProDry vs. CX
Among Simms rain jackets and bibs, the ProDry has been a name known for quality for years. More recently, they released the CX, which is a lower-priced option. Hite likes them and uses each, varying depending on where he's fishing. Each is well-built and suitable for even the most serious of bass anglers.
"I wear two suits, the ProDry and the CX, which costs a little less but is still a very good rain suit," he said. "I find myself wearing the CX more back home in Arizona because it's a lighter feeling suit, but both are excellent suits, and I wear them both a lot. The ProDry has more bells and whistles with Velcro cuffs over the sleeves and stuff like that, but you would not be disappointed with either of them."
Hite likes both of them for the little things that Simms adds. "They spend a lot of money on stuff like quality zippers so they last longer," he said. "The best suit material without quality components is no good if it doesn't last you a long time. Even simple things like how well they fit, how comfortable they are, and how the hood cinches make a big difference when you are on the water a lot."
Layering and Taking Care of Your Gear
According to Hite, even the best rain gear on the market won't keep you completely warm and comfortable if you don't layer correctly. That's why he's a big fan of wearing the right gear beneath his bibs and jacket when temperatures dip in the fall and through spring.
He prefers to wear Simms' variety of base layers and simply chooses the correct version based on how cold it is outside. They offer lightweight and heavyweight base layers. Hite also avoids the popular hooded sweatshirt if rain is in the forecast.
"Everyone wears hoodies, but for one, they are very uncomfortable under your rain jacket because they bunch up in the back," he said. "I like a quarter zip like the Thermal Qtr Midlayer Zip Top anytime there is a chance of rain. This makes it so you can zip your rain jacket tight and all of the way up, so there are no openings for the rain to get in. That little bit of rain that gets through allows moisture to get in and wicks across your entire body, making you colder than anything."
Hite also makes a point to wash his rain gear at least once a season. "Most people don't think about it, but a quality rain suit will only stay good if you take care of it," he said. "You can wash them, and I do it once a year to help rejuvenate the fabric and there are some products you can use to help it, too. Doing these things helps the outer layer repel water and will make your suit lighter during the day because it won't soak in as much water."
Hands and Feet
Keeping your hands and feet warm is essential to staying comfortable. That's why Hite always has gloves and extra boots in his boat.
"I always have a pair of Simms Challenger Deck Boots in my boat," he said. "I keep them in the front of my rod locker with an extra pair of socks in a ziplock bag. I keep a spare set, just in case it rains and your socks get wet. They're rubberized boots that are super comfy and since they are Simms, they look good, too."
For gloves, Hite has utilized Simms for years and has settled on the fold-over mitten style gloves, such as the GORE-TEX ExStream Foldover Mitt.
"I like the fold-over more than the fingerless because you can hop into the seat and make a run and just fold over the mitten, so your fingers aren't freezing while driving," said Hite. "I always have a set in my boat because you will be more efficient fishing if your hands aren't cold. The Simms gloves are awesome, and I've been using them for years and years, even before they got into the bass fishing world."
Rain gear has evolved over the years and the new generation is comfortable and highly water resistant. Selecting the right suit, taking care of it, and adding the correct layering pieces and accessories will allow you to fish in any weather.