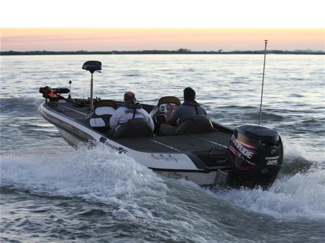 BETHEL ISLAND, Ca - Like the ever popular carousel ride at a local carnival or county fair, the California delta is a fishery that seems to never lose its luster or popularity with bass anglers. And this Saturday, at Russo's Marina, the Future Pro Tour's central Valley anglers will get their "turn to ride" as the Tour makes its third and final stop on the popular San Joaquin river system.
Many central valley anglers are admittedly none to familiar with this vast maze of sloughs and levies, but are in no way backing down from the challenge it presents. 'I'm really looking forward to fishing this event, as it will help me learn alot more about one of the best bass fisheries in the world' noted Jim Moulton, new owner C&C Marine in Modesto who fishes mostly central valley impoundments.
Robert Morey of Modesto, who used last week's northern region delta event as a pre-fish, also noted the advantages of expanding ones fishing horizons and visiting waters that are not too familiar. 'I have dabbled with the delta over the years, fishing it on occasion, but fishing this Tour has caused me to really focus on the nuances of the delta, and concentrate my efforts on learning river systems, shallow water techniques, and tidal fluctuations'.
This will be the 5th stop for the Future Pro Tour's central valley region, and anglers are anxious to get started again after a long summer break. The June 14th Pine Flat event was the central region's last outing, and if these anglers haven't prepared themselves to do battle with the California delta's monster bass by replacing light line with heavyweight, braided, or fluorocarbon products… someone is in for a long and frustrating day! ln Last week's northern region FPT event it took over 30 pounds to win, with fish coming out of tules...so you do the math!
On Friday, the evening before the event we will host our traditional pre-registration seminar at the Hook, Line, and Sinker in Oakley, from 4-7pm, featuring some of the best bass professionals in the west giving central valley anglers valuable information on how to catch delta bass in the summer.
Late signups will be taken the morning of the event at Russo's Marina from 4-7pm, with $5 per angler limited memberships available for those that just want to fish this event.
The host hotel for this event will be the Comfort Suites in Oakley where I am told there are still rooms available for Friday night. (925-755-1222)
We look forward to seeing you all there!
FPT
www.futureprotour.net
(916) 768-0938
Vince Harris
President/Director, Future Pro Tour Tournament Trails
3117 Merrywood Dr.
Sacramento Ca, 95825
(916)768)0938
www.futureprotour.net
vince@futureprotour.net