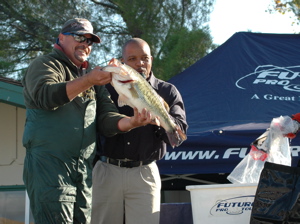 ROCKLIN, Ca. - One thing Northern California's amateur anglers can be sure of is that the Future Pro Tour, now approaching it's seventh year, will never compromise on trying to deliver the best tournament experience possible to those that want to build their bass fishing skills. And, as the winter months diminish and the anticipation of a new spring approaches, the Future Pro Tour stands ready to deliver a 2009 season that will for sure be its best yet.
Premier sponsors will re-join the tour in 2009, providing Future Pro Tour anglers even greater opportunities to win larger cash prizes and more incentive bonuses than ever before. At the same time, the FPT will continue to keep as a priority, its mission to provide an affordable place for amateur level anglers to increase their bass fishing knowledge through a series of organized, in-depth, how-to seminars given by the west's top bass professionals, scheduled throughout the year at all FPT pre-event registrations and selected sponsor sites.
Increased television coverage on Comcast Sports TV beginning with the March 21st season opener at Lake Berryessa (to be aired on Comcast April 4th) will be on tap as the event winners will be featured on each show in a special segment dubbed "Champions Corner", and will have the opportunity to share techniques, and promote any sponsors they may have.
Angler of the year bonuses as well as limited sponsorships from manufacturers such as Lucky Craft, Lamiglas, Limit Lures, and Gamakatsu USA, will be back again for 2009 giving those that desire to someday take their game to the next level, an introduction into the world of product promotion.
And speaking of sponsors... joining the Future Pro Tour's current family of premier sponsors for the 2009 season will be:
Toyota Motor Corp - Manufacturers of the Toyota Tundra, who will be with us in full force at each event, giving anglers the opportunity to test drive the best full-size tow vehicles on the market, while taking advantage of special pricing at all Toyota dealerships.
The Bait Barn – Featuring one of most expansive selections of tackle available, will stand ready to deliver outstanding service to all FPT anglers in the central valley. Look for announcements regarding pre-event store specials and event bonuses on the FPT website.
Added features for the 2009 tour
A more efficient check-in/weigh-in system, as our 20 foot event trailer is being retrofitted with a raised stage, electronic leader board, and much more efficient aerated weigh tubs, to help better manage our events and improve on our fish handling processes. A new and automated weigh-slip process will be installed to help us provide anglers with printed results and points standings - before they leave the event.
Future Pro Tech – A series of FREE "hands on" training seminars conducted at various sponsor sites featuring a lecture/lab format hosted by trained experts that will help educate you on all of today's "hi-tech" products. (See FPT website for dates and times).
Paybacks for 2009
As it was last season, payout will be dispersed after each event, and has been designed to ensure that if you earn a check, you will always double your basic entry fee!
Bonus Awards
For 2009 the Future Pro Tour will offer a wide variety of bonus programs that will help you add to your "take home pay" after fishing FPT events.
Some of these bonus programs for 2009 are:
The inaugural NAVIONICS Cup, a competition that promotes angling excellence while introducing bass fishermen to the world's leading electronic mapping technology. Participants in this program will have the opportunity to compete against each other for the prestigious NAVIONICS Cup title, and win a sponsor package like none other offered in amateur-level bass fishing. The NAVIONICS Cup title will be awarded to the top teams in both central and northern regions and each team will receive the following:
o Placement on the NAVIONCS promotional team
o Custom decaled NAVIONICS boat wrap
o A NAVIONICS Platinum Chip
o Custom embroidered tournament shirt, cap and jacket commemorating the NAVIONICS Cup title
o Paid entry fees into the 2010 Future Pro Tour season
o A $500 gas card to help with 2010 fuel expenses
Ranger Cup* cash will be available at all Future Pro Tour events, so if you own a Ranger – of any year and model, and sign up for Ranger Cup, and you may earn extra cash for your angling prowess.
Costa Del Mar* – "Champion's Choice" award – Where the winners of the event who own a pair of Costa Del Mar glasses, receive two pairs of premium eyewear.
Lamiglas Rods* – "Big Stick" award – Where the overall big fish of the event wins a premium Lamiglas rod – and is honored with the George Gomes memorial trophy.
ABU Garcia* "Fish of A Lifetime" award – Where the anglers who catch the two biggest fish of the event - caught on a REVO model reel, each receive an ABU Garcia REVO model reel.
MAACO Auto Painting & Collision Repair* - "We've got you covered" award – Where the overall big fish winner receives a $250 paint service from MAACO Auto Painting & Collision Repair.
*Please see details for all bonus programs on FPT website
And for the youth, who participate in FPT events, our exclusive "Future Future Pro" Division will be back again in 2009 featuring a special trophy for the highest finishing team with an angler 16 years or younger, and participation trophies for all kids that enter – in both regions. In addition, SKIP'S Music, recipient of the prestigious 2007 Musical Retailer of the Year award (an international award) will provide "concert grade" sound systems for our events, and again host the "Rock N Rods" program that helps introduce our angling youth to the world of music. Last year, FFP angler Jared Cook won the "Rock N Rods" drawing and was awarded by SKIP's Music, a musical instrument package of his choice – worth over $1,500 – just for fishing a Future Pro Tour event!
And don't miss out on the 2009 Future Pro Tour Classic, which features the most prestigious title in amateur team bass fishing, as we will again award the winners of this all-amateur year end championship, a fully-rigged Ranger 188vs powered by an Evinrude 150 E-Tec, Minn Kota/Humminbird and NAVIONICS mapping chip, valued at over $35,000.
So get ready for our season openers March 7th on Don Pedro (central region), and March 21st on Lake Berryessa (northern region) as we kick off the best FPT season ever!
You can participate in two divisions, 0-90hp or 91hp and up and the entry fees are just $90 per team, so what are you waiting for?...call today so you can get in on all the fun! We can't guarantee that you will catch fish, but we can guarantee that you will learn a lot about bass fishing and have a whole bunch of fun in the process!
See you all in March!
Vince Harris President Future Pro Tour Tournament Trails
For more information regarding the Future Pro Tour, please call the FPT offices at (916) 768-0938 or logon to www.futureprotour.net
The Future Pro Tour is presented in part by:
Ranger Boats
Evinrude Outboards
Thunder Valley Casino
Toyota Motor Corp
Humminbird
Minn Kota
Lucky Craft
Lamiglas
NAVIONICS
Berkley
ABU GARCIA
Sawyer Cook Insurance
West Marine
Costa Del Mar
MAACO Auto Painting
Vince Harris
President/Director, Future Pro Tour Tournament Trails
3117 Merrywood Dr.
Sacramento Ca, 95825
(916)768)0938
www.futureprotour.net
vince@futureprotour.net