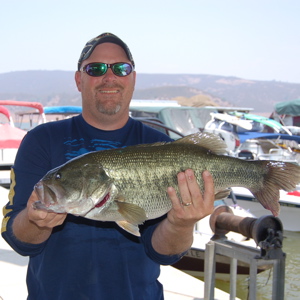 Sunday was the last stop of the year for both 100% BASSand the Mother Lode Region.With 27 boats checking in at Barrett Cove on Lake McClure, we found ourselves in for a quick day. By Rule, Fish and Game only lets us fish for 6 hours during the summer, so everyone's game plan had to be quick and precise. The Bite turned out to be what I call a medium bite, with a little over half the field weighing in a 5 fish limit. Most of the fish were caught on the bottom using brown jigs or dart heads with craw colored worms. It seemed like a lot of fish were caught between 20 and 40 feet deep, however the teams that kept one rod focused on the surface found an occasional nice bite, with several fish in the 3 – 5 pound range came on spooks and small top water swimbaits.
Finishing on top were Riverbanks Jeff Frey and Jason Remmer with their 3rd top 5 finish of the year which allowed them to become the Anglers of the Year for this region. This is no small accomplishment as the competition in the Mother Lode includes 4 Tournament of Champions winners and of course many former Anglers of the Year. On this day, the guys had it all with a 5 fish limit that racked out at 14.43 pounds and topped the field by over 3 pounds. This also included the "Berkley Trilene Big Game" Big Bass of the day, a beautiful largemouth weighing 7.79 pounds. (pictured right is Jason Remmer with the lunker). During the awards, Frey told us they spent the entire day fishing the main lake, dragging Brown Jigs off of points and Senko's in the backs of coves that still had steep banks. Jeff took the time to thank their sponsor, St. Croix Rods, Autolife, Super Pork and Modesto Hitch. It definitely paid off as they took home $3365 for a reward. Congratulations to Jeff and Jason for a great tournament and a great year.
Second place went to long time BassCat Owner and 100% BASS anglers, Jay Bradshaw and Bill McAninch of Fresno. These two had a very good day catching over 20 fish, with their best five tipping the scales at 11.20 pounds. Their limit also had the 3rd largest fish on this day, a very nice 5.06 pound largemouth. Bradshaw told us after the tournament how they also used brown jigs and but they had a couple of good bites on a top water JACKALL BONNIE. I guess swimbaits are just the key to a good day, all year long as they spent the day running between the Horseshoe and the North part of the main lake. All that running around was rewarded with $1900. Good job guys and thanks for taking the time to thank your sponsors, Fish on Jigs, Yamale&Horn Engineering, On Top Roofing, Mossdale Boats, and Jackall Lures.
Third place went to Steve D'Orsay of Tuolomne and Bill Caldera of Sonora. These two had the second big bass of the day, a 6.02 pound fish that anchored a five fish limit of 10.66 pounds. Steve thanked Black Oak Casino as he told of the day's enjoyment. Fishing dart heads with little 4 inch craw worms can be very interesting, except when you hook up with a big one, like they did. The hook up on light line is the best feeling in the world, when it works and it worked for them to the tune of $1265. They told everyone at the award how they ran points on the main lake all day, focusing on the 20 – 50 ft range.
With a weight of 8.58 pounds, our forth place team was father and son Bill and Billy Dehart of Clovis and Pleasanton. They took home $400 for the day while the 5th place check of $300 went to Bruce Wallace of Sonora and Robert Ratzlaff of Columbia.
100% BASS would like to thank the fine sponsors that make the difference between fishing and the quality events we are able to provide as a result of their support. BassCat Boats, Mercury Outboards, Mossdale boats in Tracy, Berkley Trilene, Spiderwire Braid, Persuader Bass Baits, Walton's Pond in San Leandro, Hook, Line & Sinker in Oakley, Phil's Props in Redding, MF Finesse Custom Worms, Comfortroll, Comfort Suites of Oakley, Jims Pro Bass Tackle in Paso Robles, Cal West Concrete Cutting, Kosich & Callahan Insurance Services, Black Dog Baits, CoverLure, Castillo Badillo, Puerto Vallarta, Mexico, Angels Inn Motel of Angles Camp and Russo's Marina on Bethel Island.
For complete details please see our website at www.100percentbass.com