Fishing on Saturday turned out to be pretty good considering for 3 days straight the wind had blown and by noon it was howling again. That being said, it sure didn't slow down the fish or the anglers. When everyone was checking in at Russo's Marina, all they could talk about was bed fishing and would the wind lie down and let them do it. It didn't, but those who figured out the flip bite, had really good days.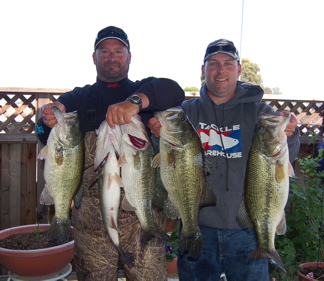 Bob Garrigan and Darren Phelps with their 31.60 pound limit.
Most fish were reportedly caught on Jigs in either Black/Blue or Brown/Purple combination. There was also a pretty good 8 inch worm bite going on in the middle Delta. While there weren't any of the monster Delta Largemouth this day, there were 10 fish over 7 pounds brought in with 6 of those over 8 pounds which included the Persuader Baits Big Bass of the Day. That fish was caught by Randy Lee of Sacramento and it weighed in at 8.91 lbs.
Take top honors this day went to Brentwood's Bob Garrigan and Stockton's Darren Phelps. These two have been fishing together for just a few years, but are starting to show everyone they will be force to be reckoned with from now on. Their 5 fish limit (seen right) tipped the scales at 31.60 pounds with an 8.04 Lb anchor fish. This weight was the narrowest victory in years at 100% BASS, as they won by only 2 hundredths of a pound. During the awards, Garrigan told us they Flipped Black and Blue Revenge Jigs all day, focusing there efforts in the back waters of the central Delta. Tulles were the key and we had to work the baits very slow, said Garrigan. I guess it paid off as they received two very nice plaques sponsored by the Hook, Line, & Sinker in Oakley, and what everyone really wants, the winner check in the amount of $4390. Congratulations to Bob and Darren for a great day of fishing.
Tom Lutz and Ash Twigg with their 31.58 pound limit.
Second place went to Tom Lutz of Vacaville and Ash Twigg of Oakley. It must have been hard missing the top slot by such a small margin, but these guys handled it like real pros. Their 5 fish (seen left) of course weighed 31.58 pounds and included an 8.45 pound kicker. Lutz said they were on the same pattern as the winners, only the focused on the Franks Tract Area using Brown and Purple Pepper Jigs. Tom also took the time to thank sponsor Mossdale Boats (Home of BASSCAT in Northern California) for their support. For their hard work, they received $2155 and a pair of those nice plaques from "The Hook".
Finishing in third place was Tony Mello and Ron Lopes of Brentwood and Galt. These two also had a big bag of fish and missed out by less than _ a pound, totaling 30.16 pounds for their 5 fish. It just goes to show how competitive this sport can be and why every fish counts. Lopes said at the weigh in, they had a completely different pattern then most, as they fished in the windy areas of Franks Tract and used Spinnerbaits and Chatterbaits all day, in most white or white/chartreuse. Ron wanted to thank Quantum, Sufix, Eye Surrender and his partner Tony for supporting their fishing. They took home $1315 for their efforts and memories of what might have been.
Fourth place went to legendary angler and Hall of Fame member Dee Thomas of Brentwood and partner George Dagnino of Martinez. They weighed in 5 fish for a total of 29.30 pounds and they also had a nice kicker of 8.26 pounds. These fished netted them $1470 and the applause of everyone at the weigh in. Rounding out the top 5 were father and Son Bud and Kyle Porter of Stockton. Their fish weighed 27.10 pounds and brought them $875.
Congratulations to all and we hope to see many more of you at Brandon Island State Park for our next event on May 10th.
100% BASS would like to thank the fine sponsors that make the difference between fishing and the quality events we are able to provide as a result of their support. BassCat Boats, Mercury Outboards, Mossdale boats in Tracy, Berkley Trilene, Spiderwire Braid, Persuader Bass Baits, Walton's Pond in San Leandro, Hook, Line & Sinker in Oakley, Phil's Props in Redding, MF Finesse Custom Worms, Comfortroll, Comfort Suites of Oakley, Jims Pro Bass Tackle in Paso Robles, Cal West Concrete Cutting, Kosich & Callahan Insurance Services, Black Dog Baits, CoverLure, Castillo Badillo, Puerto Vallarta, Mexico, Angels Inn Motel of Angles Camp and Russo's Marina on Bethel Island.
For complete details please see our website at www.100percentbass.com