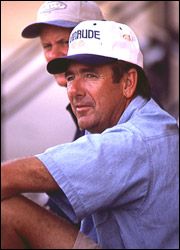 Who was the first angler to tally more than $1 million in BASS tournament winnings? How about the only angler to win four BASS MegaBucks titles? If you said Larry Nixon, you'd be right, but there's much more to his career.
Nixon is third in number of CITGO Bassmaster Classics fished with 23, including a win in 1983 on the Ohio River. His 18 consecutive Classic appearances between 1977 and 1994 are second only to Rick Clunn's 28 straight. His five Top 5 Classic finishes are third best all-time.
These accomplishments – and too many more to list – have helped Larry Nixon earn the sixth spot in the Greatest Angler Debate.
The Greatest Angler Debate presented by John Deere started with a list of 35 top anglers from the world of competitive bass fishing. That list was pared down to the sport's 10 best in January. Fan voting began in January and ended in March. The process ranked the pros third through tenth. The top two candidates will face-off in a second round of voting that begins June 15.
Several weeks ago, the countdown began with angler number 10, Mark Davis. Since then, ninth ranked Gary Klein, eighth ranked Jay Yelas and seventh ranked Hank Parker have been profiled. This week it's Larry Nixon's turn at number six. He'll be profiled on Saturday, May 14, at 9:00 a.m. ET on ESPN2.
Arkansas' Larry Nixon announced his presence on the cast for cash tour with authority, finishing in the top 40 in each of his first five events and taking second place in his Classic debut in 1977. Three seasons later, in 1980, Nixon earned his first of two Bassmaster Angler of the Year awards. He won his second in 1982 and followed it up with a Classic victory on the Ohio River in 1983. Despite all this success, however, it may be the BASS MegaBucks tournaments that did the most to cement Nixon's reputation as an all-time great.
The Megabucks format was much different from other BASS events. In MegaBucks, ten tournament finalists rotated through a ten-hole fishing course on the final two days. The Bassmaster Elite 50 events have a similar format today.
Nixon excelled on the fishing courses, winning a quarter of all MegaBucks events. In one stretch of five events between 1988 and 1991, he won four times, setting virtually every MegaBucks record in the process, including heaviest winning total, heaviest one-day catch and largest bass caught.
With 14 career BASS wins, two FLW Tour victories and 80 top ten finishes in 255 BASS events, Nixon is clearly one of the sports legends. He's finished in the money in more than two-thirds of the BASS events he's fished and in the top 10 nearly a third of the time. If his winnings on both the BASS and FLW tours are totaled, Nixon has better than $2 million to his credit.
At least a few of the experts are surprised that Nixon didn't finish higher in the Debate. One of them is Bassmaster Senior Writer and Greatest Angler Debate commentator, Tim Tucker.
"I'm stunned that the fishing fans didn't vote him into the top five," Tucker said. "In my mind, he's either number three or four. He's done it all. I think what hurt him in the voting is that he isn't flashy. He doesn't dance or scream in the boat or call attention to himself. Also, I think some debilitating injuries in recent years have limited his success, and fishing fans – like most sports fans – tend to have short memories."
Had the Greatest Angler Debate been conducted in the 1980s, there's little doubt that Nixon would have fared much better. Most of his success occurred during that time. Nevertheless, he's still a fierce competitor, posting two top 12 finishes on the 2005 CITGO Bassmaster Tour and an eighth place finish in the Elite 50 season opener on Smith Lake in Alabama.
"My greatest accomplishment is that I was able to teach a lot of people how to fish," Nixon said recently. "They've learned through my television program, my tapes and my personal appearances."
With characteristic modesty, Nixon offered his take on being named one of the ten greatest anglers of all-time.
"It's just a great honor to be on this list with these other guys," he said.
Nixon's contemporaries and rivals know where he ranks in the sport and have been very vocal in their support of the Arkansas pro.
Fellow Greatest Angler Debate semifinalist Rick Clunn was adamant about Nixon's status on the list.
"In my mind, there are only four guys who should really be considered in the Greatest Angler Debate," Clunn said. "They are Larry Nixon, Roland Martin, Denny Brauer and me."
The youngest member of the 10 semifinalists, Kevin VanDam, was equally effusive with his praise of Nixon.
"I could make a good case for any one of these guys as the winner, but in my mind it comes down to Clunn, Nixon and Brauer," VanDam said.
Though he may not have ranked as high as Clunn and VanDam would have him, Nixon's stellar career has placed him safely within the ranks of the sport's greatest stars.
On Saturday, May 14, at 9:00 a.m. ET on ESPN2, BASS Saturday will profile Larry Nixon. Fans will find stats and stories on the Greatest Angler Debate in the pages of Bassmaster Magazine, BASS Times, Bassmaster.com and on the weekly ESPN Outdoors radio show. On June 15, the debate heats up again as the fans choose between the top two anglers during a second round of voting on Bassmaster.com.
The debate will conclude in Pittsburgh — at the 2005 Classic — when two champions are crowned. One will be given the Classic trophy and the other – or perhaps even the same angler! – will be hailed as the greatest angler of all time.
Since its inception in 2001, ESPN Outdoors has strived to inform and entertain anglers, hunters, campers and people of all ages who enjoy the outdoors. ESPN Outdoors is committed to increasing awareness of outdoor activities, a direction best exemplified by daily television programming totaling nearly 1,000 hours annually on ESPN and ESPN2.
For more information, contact ESPN Outdoors Communications at (407) 566-2208.