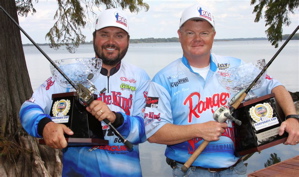 Florence, Ala. – It took three long days of fishing on Alabama's Pickwick Lake in Florence, Ala. to crown the first Champions of the PAA Corporate Cup presented by OPTIMA® Batteries. When Mark Rose and Greg Hackney led their Haynes Hardwood team to the scales at Florence, Alabama's McFarland Park, they claimed the inaugural championship trophy for their own.
The Strike King pros and their corporate partners Randy Haynes and Tony Browning brought 30 bass from the waters of the famous Tennessee Valley Authority waters that weighed 92.86 pounds to finish two and a half pounds ahead of T-H Marine's team, a Corporate Cup sponsor.
The Haynes Hardwood team used a series of tactics to coax their fish in to biting. While Haynes and Browning threw crankbaits on outside ledges looking to fill the limit, Hackney and Rose spent their time looking for kicker fish. "Mark and I did things a little differently, but for us, the intent was to get the big bite," Hackney said.
The pair of touring pros said the team keyed on mussel beds on offshore ledges, but they used different lures to accomplish the task. Hackney used ¾ and 1-ounce Strike King Tour Grade green pumpkin craw Football Jigs with Rage Craws as the trailer. Meanwhile, Rose chose another bait to trigger larger fish, a Strike King Sexy Spoon in Sexy Shad color.
For Rose, the lift and drop retrieve was key. "I would make long casts and snap the spoon off the bottom and allow it to flutter down," Rose revealed. "The fish would strike as it fluttered to the bottom." The technique was responsible for several fish throughout the three day event, including the 5.78-pound largemouth that was the final day's OPTIMA® Batteries big bass.
While Rose was lifting and dropping the spoon, Hackney was targeting shell beds with the football jig. While the shell beds were important, it was subtle bottom features that produced the bigger bites; including two smallmouth that eclipsed five pounds, one of them on the final day.
"The key was to drag the jig across the bed until I came into contact with a rockpile," said the Louisiana angler. "When I found a rock I would give the jig a short pop with the rod tip, and they would strike on the fall." He said that the key to the action of his jig was that the Rage Craw requires less movement to trigger the action of the bait, which meant he could be more precise with his retrieve. Their combined effort produced enough weight to claim the Corporate Cup trophy, and the $100,000 top prize.
The Corporate Cup was the first event of its kind, where PAA Tour Level pros were paired with corporate partners in pursuit of the top prize. The PAA Corporate Cup presented by OPTIMA® Batteries special one hour television show will air on WFN in November, 2008.
About the Corporate Cup presented by OPTIMA® Batteries
The PAA Corporate Cup presented by OPTIMA® Batteries will be held October 9 – 11, 2008 on Alabama's Pickwick Lake in conjunction with Florence – Lauderdale Tourism. The event will feature a unique format utilizing PAA Tour level members paired with corporate partners sharing the thrill of professional competition. Presented in conjunction with Florence-Lauderdale Tourism, The PAA Corporate Cup will be unlike other Pro-am styled events in that all contestants will be competing for a share of a sizeable purse.
PAA Corporate Cup Sponsor Information:
The PAA Corporate Cup presented by OPTIMA® Batteries is sponsored by OPTIMA® Batteries, MTM Recognition, T-H Marine ATLAS jack plate, WFN, Vicious Fishing, Alabama Mountain Lakes and Florence-Lauderdale Tourism Board, State of Alabama, Shoals Distributing – Budweiser, Catch-A-Dream.
OPTIMA® BlueTop™, YellowTop™ and RedTop™ batteries are now available through leading battery distributors throughout the globe. Consumers should look for the unique colored top and six-pack design that OPTIMA® is known for throughout the world. OPTIMA® has more than 10,000 dealers nationwide and global distribution; for the nearest retailer, consumers can also call 1-888-8-OPTIMA (1-888-867-8462) or visit www.optimabatteries.com.
T-H Marine Supplies, Inc. has been serving the marine industry since 1975. They are a family owned and operated marine supply manufacturer that takes pride in every product that leaves their factory. They are boaters and fishermen who design products for boaters and fishermen. Find them on the web at: www.thmarine.com
Vicious Fishing is a family owned company from Dora, Ala. who manufactures premium co-polymer, fluorocarbon and braided fishing lines for fresh and saltwater use, as well as a line of soft plastic lures. The company also licenses and markets many other products in conjunction with other manufacturers through the Vicious brand, believing that all parties can benefit from the strength of a united marketing, sales, and field staff/tournament team to quickly reach consumers. Visit www.vicious-fishing.com to find out more.
For more on visiting Florence – Lauderdale, Alabama, visit: www.visitflorenceal.com and for Alabama Mountain Lakes click: www.alabamamountainlakes.org.
For more information about the Professional anglers Association or The PAA Corporate Cup presented by OPTIMA® Batteries, visit: www.fishpaa.com.