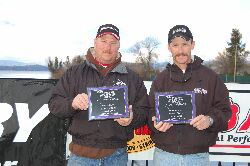 This Weekends team tournament at Clear Lake will be remembered as much for the weather as the fishing. As everyone was checking in at Konocti Vista Casino, All anyone was talking about was the weather. Clear Lake had received a light dusting of snow overnight and everything was frozen solid. It makes morning preparation tuff which turned out to describe the bite as well. As in any tournament, someone always finds the big ones, however, and on this day, most of the fish were 2-3 pounds and were caught on worms and jigs, not swimbaits, which is typical this time of year. I guess when the water temp drops 8 degrees (47 the morning of the event), this is how the fish react.
Like I said, someone always gets on them, and today was no different. Darron Hage of Cloverdale and Stephen Seals of Windsor did just that. Their 5 fish limit totaled out at 29.01 pounds and was anchored by the second big fish of the day, a lunker 10.01 pound bass. Hage said they caught most of their fish on Brown Jigs at the south end of the lake in about 15 feet of water. The fun part of the day was a 20 minute period when they pulled up to a Tullie pocket, pitched a Lucky Craft Ghost Minnow in and the big fish ate. Then hey pulled a 6 and a 5 out within minutes and the tournament was won. It happens just that fast and all of a sudden you're thanking everyone for coming and wondering where will we put the trophies. No one ever wonders about where to spend the money, they took home $3200 and I'msure it will be gone soon. Congratulation to Darron and Stephen for a great day of fishing.
Second place went to local nice guys James Dowdy and Ross England of Kelseyville. Their limit was a very respectable 23.68 Lbs, and included the 4th biggest fish of the day, a 6.92 pound bass. At the awards they talked a little about how the day happened, but in short, it was a lot of bounce around using Purple worms on dart heads while the other partner had a brown jig with purple trailer. The purple paid off as they also receive a pair of nice trophies and a check for $1530.
Finishing in third place was Healdsburg's Obie Bowman and Cloverdale's Jarod Adams. The big fish of the day was in this bag. The 10.34 pound fish helped bring their total weight to 22.57 Lbs. These guys had a little different pattern than most everyone else which helped in bringing in a quality limit. They used Crankbaits in crawdad colors all day long, fishing the south end of the lake in 10-15 feet. They took home $1700 which include $400 for big fish.
Forth place was awarded to Sandy McGeoch and Jesse James of Lakeport for their bag of 5 weighing 12.97 Lbs. They also had a big fish, the 3rg biggest of the day, and 8.59 pounds as its total. They received a total of $1075 while the fifth place check of $655 went to Jason Kincanon of Yolo and Dan Ramos of Woodland.
After the awards, we raffled off two $1000 gift certificates from Mossdale Boats in Tracy, Ca. These Certificates were discounts towards the purchase of a new BassCat and since ownership is transferable, they are like money in the bank. The winners were Jody Jordan / Albert Berends, and Larry Grimm / Mike Nichelini. Congratulations to all four and I hope you take a look at a new Basscat now that you have these discount certificates.
100% BASS would like to thank the fine sponsors that make the difference between fishing and the quality events we are able to provide as a result of their support. BassCat Boats, Mercury Outboards, MossDale boats in Tracy, Bridgestone Tires and Gill's Tires in Stockton, MinnKota Trolling Motors, Humminbird Electronics, Berkley Trilene, Spiderwire Braid, Persuader Bass Baits, Solar Bat Eye Protection, Walton's Pond in San Leandro, Hook, Line&Sinker in Oakley, Phil's Props in Redding, FishingWorld.Com, MF Finesse Worms, TackleWarehouse.com, Comfortroll, Comfort Suites of Oakley, Sig Fish Inc, and No Sweat Mist.
For complete tournament results, please visit our web site at –www.100percentbass.com.
Bob Kornhauser – Owner 100% BASS – 530-274-1397