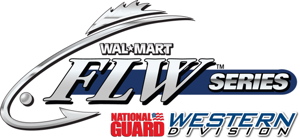 TRI-CITIES, Wash. (Sept. 17, 2008) – Pro Paul Hall of Soap Lake, Wash., landed a five-bass limit weighing 14-15 Wednesday to lead day one of the Walmart FLW Series® National Guard Western Division tournament on the Columbia River. He now holds a slim 1-ounce lead in the $1 million tournament.
"Today I went to some spots that I hadn't touched in practice and was anxious to see if they had any fish on them," said Hall, who is fishing in only his second FLW Series event. "It took me until noon to catch my fifth biggest fish."
Hall said he caught a total of 25 fish throughout the day, including 20 keepers. Hall targeted certain weedlines he had found and was throwing reaction baits to provoke strikes. Hall said he switched to fishing ledges in the afternoon when the action slowed down.
Hall said his slim lead wouldn't make him alter his plan of attack going into the second day of competition.
"I'm going to do the same thing tomorrow," Hall said. "The pattern I have is kind of a slow pattern, and you have to grind it out to see if it will work. I hope I can get some fish early and maybe find some new stuff for the third day."
Eric McFarland of Meridian, Idaho, trails Hall in the No. 2 spot with five bass weighing 14-14.
Rounding out the top five pros are Ronald Hobbs Jr. of Graham, Wash. (five bass, 14-12); R.J. Bennett of Roseville, Calif. (five bass, 14-7) and David Kromm of Kennewick, Wash. (five bass, 14-01).
Cameron Smith of Dana Point, Calif., earned the day's $329 Snickers Big Bass award in the Pro Division thanks to a 5-pound, 8-ounce bass he caught.
Overall there were 535 bass weighing 998 pounds, 1 ounce caught by 119 pros Wednesday. The catch included 89 five-bass limits.
Pros are competing this week for a top award of $125,000 plus valuable points in the hope of qualifying for the BP East-National Guard West Fish-Off and a shot at advancing to the $2 million, 2009 Forrest Wood Cup, where the winning pro will earn as much as $1 million – the sport's biggest award.
James Cadell of Escalon, Calif., leads the Co-angler Division with five bass weighing 14-11 followed by Gary Haraguchi of Brentwood, Calif., in second place with five bass weighing 11-7.
Cadell caught his bass while fishing with pro Brandon Craner of Filer, Idaho, who is currently in 20th place with five bass weighing 11-02.
Rounding out the top five co-anglers are Mike Iloski of Escondido, Calif. (five bass, 10-14); Jason Bryan of Spokane, Wash. (five bass, 10-11) and Team National Guard co-angler Justin Lucas of Folsom, Calif. (five bass, 10-8).
Cadell earned $212 for the Snickers Big Bass award in the Co-angler Division thanks to a 4-pound, 9-ounce bass he caught.
Overall there were 350 bass weighing 554 pounds, 14 ounces caught by 114 co-anglers Wednesday. The catch included 29 five-bass limits.
Co-anglers are competing this week for a top award of $25,000. Like the pros, the top 30 co-anglers from both FLW Series divisions after four qualifying events are complete will advance to the East-West Fish-Off for a shot at qualifying for the Forrest Wood Cup.
Anglers will take off at 6:30 each morning from Columbia Point Marina located at 660 Columbia Point Drive in Richland, Wash. Thursday and Friday's weigh-in will be held at the marina beginning at 3 p.m. Saturday's weigh-in will be held at the Walmart store located at 2801 Duportail Street in Richland beginning at 4 p.m. Children will also be treated to a Family Fun Zone prior to Saturday's weigh-in from noon to 4 p.m. at Walmart. Activities in the Family Fun Zone include a trout pond, a Ranger boat simulator and assorted fishing-themed games. All activities are free and open to the public.
In FLW Series competition, pros and co-anglers are randomly paired each day, with pros supplying the boat, controlling boat movement and competing against other pros. Co-anglers fish from the back deck against other co-anglers. The entire field competes for the first three days, and co-angler competition concludes on day three with the winner determined by the heaviest accumulated three-day weight. The top 10 professionals continue competition on day four, and the winner is determined by the heaviest accumulated weight from all four days.
Coverage of the Columbia River FLW Series tournament will be broadcast to 81 million FSN (Fox Sports Net) subscribers in the United States as part of the "FLW Outdoors" television program airing Nov. 23. "FLW Outdoors" is also broadcast in Canada on WFN (World Fishing Network) and to more than 429 million households in the United Kingdom, Europe, Russia, Australia, Africa, Asia, and the Middle East through a distribution agreement with Matchroom Sport, making it the most widely distributed fishing program in the world. The program airs Sunday mornings at 11 Eastern time in most markets. Check local listings for times in your area.
Tournament anglers aren't the only ones winning big this season. With the introduction of FLW Fantasy Fishing™, FLW Outdoors® offered anyone the opportunity to enter for their chance to land the catch of a lifetime with the opportunity to win $7.3 million in cash and prizes. Players could become a virtual pro angler by signing up for Player's Advantage, which provided them with exclusive insider information that could have guided them to a $100,000 victory at every Walmart FLW Tour® stop and the Forrest Wood Cup. Player's Advantage gave them an edge over the competition and increased their shot for the $1 million cash grand prize awarded to the FLW Fantasy Fishing cumulative points winner. Visit FantasyFishing.com today to find out more information and to register for next season.
FLW Outdoors, named after Forrest L. Wood, the legendary founder of Ranger Boats, is the largest fishing tournament organization in the world. In 2008 alone the organization is offering more than 90,000 anglers the chance to win over $40 million through 230 tournaments in 10 circuits. FLW Outdoors is also taking fishing mainstream with the largest cash awards in the history of fantasy sports, $7.3 million.
For more information about FLW Outdoors and its tournaments, visit FLWOutdoors.com or call (270) 252-1000. For more information about FLW Fantasy Fishing and Player's Advantage, visit FantasyFishing.com.
Total awards are based on a full field of 200 boats in every tournament.