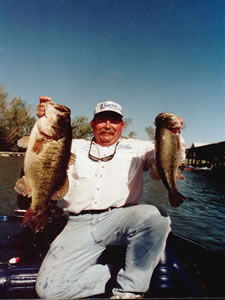 How many times have you said to yourself or to some of your friends, "I just seem to fish better when there is no pressure". Come on how many times have you said that? Tell the truth. I think we have all said this once or twice. I know we all have thought this from time to time.
You know, it is like fun fishing with your friends and there really isn't a loser. Picture this. There you are fishing not doing so well. You and your partner are thinking you could sure use some help or this is going to be a long day. All of a sudden you see your friends, even the new guys you just met the day before. You pull up along side them, and asked them how their doing and what types of lures they are throwing. And guess what, they tell you. They tell you all that they are doing. They show you the baits they are using and even give you some. Can you image that? This is during a tournament. You're fishing against them and they are helping your out. How great would that be? Then guess what? You win the tournament and you didn't break any rules. Your friends that shared all that information are now coming up to you shaking your hand and patting you on the back. Isn't that unbelievable! But it's true. I have been involved with Bass Fishing since the late sixties. I have been fishing tournaments for a long time. Fishing against the best. I wish just once that I could go up to Robert Lee, or Bobby Barrack on the Delta during a tournament and have them give me the baits and show me the spots and say to me "have fun I hope you do well".
Welcome to the Honor Bound Men of Promise Team Tournament April 9, 2005. Held at Lake Oroville, California. I have been with the Honor Bound Tournament committee for the last seven years. Year after year, I see everyone walking away a winner. Believe me when I say, "in more than one way". Everyone there is fishing a team tournament with no pressure, and it is alright if you don't win. Quite honestly, this is the only Bass Tournament where winning this tournament is just part of it. Everyone really walks away a winner.
The Honor Bound tournament was put together by just a few guys seven years ago. It was just a thought from my friend Dave Tencati. Dave Tencati a professional Angler and the Host of Western Fishermen's Video Library. David has produce two Delta fishing Videos with his good friend Bobby Barrack. David wanted to bring his love for God together with his love for Bass Fishing and Share them with you. That's right the tournament isn't just about winning a bass tournament. The Bass Fishing is the method in which a message is passed on to you. There will be a light paint brush of Christianity shared. Fellowship and friendships are truly the focus of this event.
The tournament has grown. California Department of Fish and Game has given this tournament a permit for fifty teams. The Honor Bound Committee makes up of about twenty volunteers. The Prizes all donated by some of the biggest names in the Bass Fishing business. Berkley, G-Loomis, Snag Proof, Lure Jensen, just to name a few. There are so many companies and professional anglers now involved it is unbelievable. Jay Yelas who has been involved in the Honor Bound Tournament for Three years now keeps telling me Jerry "God is good". You have in look into the number of great anglers and tackle manufactures that are supporting our efforts... Big Fish money, trophies, Barbeque, Tackle, Rods, and other great outdoor items all as prizes. Great time with Good people. Sign up as a team and find out for yourself.
To find out more or to register for the April 9, 2005 event, contact me at www.jerryfournier.com or dave_tencati@hotmail.com. Let us send you a CD on last year's tournament so you can see for yourself.
Merry Christmas Everyone and God Bless