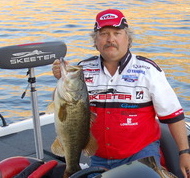 National Bass West San Diego Region had 67 teams this weekend and paid back $13,440 in cash, with a total entry and option fee of $260.
Deron Johnson and Jerry Warner weighed in 5 fish alive for 19.15 pounds with a big fish of 5.24 pounds and took home $4460 for the win. Scott Mcintosh and Randy Lewis weighed in 5 fish alive for 16.64 with a 4.85 pound big fish and claimed $2065. The big bass of the tournament (an 11.04# bass out of El Capitan is amazing.) was also the biggest bass of the year for El Capitan. Kelly Salmans, an Aim Marine Skeeter Team Angler, caught his bass on a Spros lipless crank bait in shallow water! Kelly and his partner Charlie Willits weighed in 4 fish alive for 16.47 pounds and took home $2105 in winnings.
Mike Kempsey from Frank Motors, showed up at the lake at 4:15 a.m. ready to help in anyway that he could. In September our daughter, Melissa was in yet her 2nd car accident this year and she totalled her sister Sarah's car. The Lord was once again watching over her and she was able to walk away from this accident. We took Sarah down to Frank Motors and she left there with a Toyota 4 Runner. Mike Kempsey and the Frank Motors staff treated us so well and the price that we got on the car was incredible. During the weigh-ins there was Mike Kempsey again wanting to help in anyway he can. During the award ceremonies, Mike Kempsey donated $50 to the first team out of the money who was present. John Kerr, an AIM Marine Skeeter Team Angler and his son Jordon Kerr were the lucky ones to get this money. In fact Jordon, John's son, was the one who caught their biggest bass of the day. We anticipate that one day Jordon will follow in his father's footsteps and win the US Open like John did. To be young and have the passion for fishing like Jordan does is such a wonderful thing to witness. I personally have seen Jordan fish in a tournament with bitter cold temperatures, with absolute pouring down rain, and then come back the next day and do it again.
Kyle Georgi's mother, was gracious enough to bring out chili for the anglers to go along with their hamburgers and hotdogs.
Below, is a listing of the winning teams with their prizes listed last. For the complete results, please visit our website at www.nationalbasswest.com