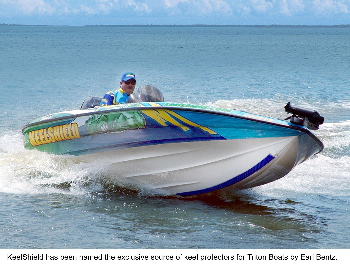 CELEBRATION, Fla. – KeelShield, Inc., a leading provider of boat hull protection products, and BASS, the worldwide authority on bass fishing, announced today that the Illinois-based company is joining the BASS Federation Nation as a supporting sponsor through the 2008 BASS Federation Nation National Championship.
"We are excited about the growing and successful Federation Nation," said Don Rucks, BASS vice president and general manager. "Bringing a company such as KeelShield aboard – one that is supportive of growth and enhancements in the fishing industry – is another step in the right direction."
With the agreement, the KeelShield brand will be featured at the Federation Nation Divisionals, the Federation Nation National Championship (Jan. 17-19, 2007; Neely Henry Lake, Ala.) and the 2007 Federation Nation BASS Club Regionals and World Championship.
Additionally, KeelShield will serve as a presenting host of four Federation Nation Divisional welcome dinners through the 2007 Federation Nation season.
"We are proud and excited to be a part of BASS as we consider it to be the premier fishing organization in the world," said Sue Rogers Smith, president and CEO of KeelShield. "This is one way we can show our thanks to the Federation Nation and those anglers who have supported us over the years."
KeelShield is featured prominently on CITGO Bassmaster Elite Series angler Ray Sedgwick's boat design and tow vehicle. Sedgwick, of Cross, S.C., is a three-time CITGO Bassmaster Classic qualifier.
For the week of June 5-12, Sedgwick's boat received the most fan votes in the Hottest Rig Running contest on www.Bassmaster.com. Sedgwick's boat automatically qualifies for the final round of fan voting, July 10-16, with 10 other finalists. The winning angler will receive $15,000.
Also, KeelShield sponsors Mercury Marine Women's Bassmaster Tour presented by Triton Boats angler Susan Gregory. Gregory, of Long Beach, Miss., is a longtime Federation Nation angler.
BASS is the worldwide authority on bass fishing, sanctioning more than 20,000 events through the BASS Federation Nation annually. Guided by its mission to serve all fishing fans, BASS sets the standard for credibility, professionalism, sportsmanship and conservation, as it has for nearly 40 years.
BASS stages bass fishing tournaments for every skill level and culminates with the CITGO Bassmaster Classic. Through its clubs, youth programs, aquatic resource advocacy, magazine publishing and multimedia platforms, BASS offers the industry's widest array of services and support to its nearly 550,000 members. The organization is headquartered in Celebration, Fla.
For more information, contact BASS Communications at (407) 566-2208 or visit www.bassmaster.com.