OAKLEY, CA (October 12, 2005) — WesternBass.Com announced today the signing of KeelShield, The Ultimate in Hull Protection, as the newest addition to its sponsor group.
Not a scuff 'cause it's Gator Tuff.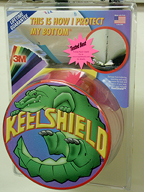 KeelShield helps you maintain your boats appearance and improve performance. Finally, a product that protects your watercraft's hull and looks as good as it protects. Once installed boat owners have no more worries from damage or abrasion when beaching your watercraft. You'll have less stress while operating in shallow water or around sand bars and more confidence around docks or when pulling up on the concrete ramp picking your partner up.
KeelShield, made one at a time, available in 5'' and custom 12'' widths. Each one cut to length from our recommended sizes or have it cut to the exact color and size that you need. All boats and pwc's are different lengths and colors so we should have one that matches your hull giving you the choice.
The KeelShield patented design even takes your watercraft's performance one step further. Product testing shows that its grooved design actually enhances performance by adding directional stability on all boats and improving water flow to the impeller on jet-driven watercraft.
Add a KeelShield keel protector to your watercraft and concentrate on enjoying your boat, not worrying about your gelcoat!
A revolutionary marine product, KeelShield keel protectors are made of urethane polymers -not a plastic blend, PVC or PVC-based Polycore. KeelShield protectors come ready to install complete with one of the strongest 3M Marine adhesive systems available. A Lifetime Warranty on Abrasion, Adhesion are covered. Learn more about our warranty. KeelShield protectors give boat and watercraft owners the strongest, most durable protection available. By using PELLETHANE, an incredibly durable material from DOW PLASTICS, With bright and vibrant colors from BASF.
Available colors include White, Black, Light Gray, Dark Gray, Royal Blue, Navy Blue, Teal, Lime Green, Emerald Green, Yellow, Red, Purple, Indigo and Off White. Custom color information available upon request. Call our toll free number below for more information.
Also keep on the look out for TransomShield. This protector is an easy to install shock absorbing clear UV stable urethane polymer that is only 12 mil. thick. It defends your transom areas above the swim platform from the cracks, chips, scratches and scars caused by water-skis, wakeboards and all types of water sports equipment.
Look for it by name , look for the 'Gator.
For more information on KeelShield check out their website at http://www.keelshield.com/or call 1-888-594-5335 or send an email to cburleigh@interorealestate.com.
WesternBass.Com is a suite of web sites for bass fishing enthusiasts of all types; shore anglers, tubers, competitive tournament anglers, club anglers and non-tournament anglers all use and share the sites along with industry professionals, manufacturers and Pro Anglers. The site was originally created in 1996.
WesternBass.Com features reports, forums, classifieds, chat rooms, lake specific information, an ever expanding library, BASS WEST USA archives, partner pairings, video and book rentals and special 'Nutcase' events. Also featured is video programming on WesternBass.TV and audio on radio.westernbass.com. Striped Bass are a highlight on stripers.westernbass.com.
Sponsors of WesternBass.Com include Skeeter Boats, Yamaha Outboards, G3 Boats, Northlake Ford, Bass West / AC Pro Shop, Yamamoto Bait Co., Walton's Pond, The Hook, Line & Sinker, Phil's Props, Jay Liu's Service, Persuader Bass Baits, Glory Hole Sports, Galaxie Marine / BassCat – Triton, Tracy Oasis Marina-Resort, Reaction Innovations, Bass Weekly Radio, C&C Marine, National Bass West Inc., Sawyer Cook & Co. Bass Boat Insurance, Dave's Bass Shack, Tackle Warehouse, 1-800-BASS BOAT, International Sportsman's Expositions, Fred Hall and Associates, Extreme Angler, American Bass, Suction Coolie Cup, Pro's Soft Bait Glue, Beauty and the Bass Calendar, Nor-Cal Fishing, AIM Marine, Anglers Marine, Save Phace, Gone Fishin' Marine, Sacramento Pro Tackle, Snag Proof Mfg Inc., WON BASS, Maritech Industries, No Sweat Mist, Mark Lassagne/Farmers Insurance, Bay Tackle in El Cerrito, ComforTroll, Charles Burleigh/Intero Real Estate KeelShield Hull Protector.
Affiliated guides include Cooch's Fishing, Rich Thiel's Guide Service, Larry Hemphill - Instruction/Guide Service, Bass Fishin' with Richard Pounds, Randy Pringle: The Fishing Instructor, Don Levett Guide Service, The "Maine" Guide, Johnny Mac's Shasta Lake Guide Service, Golden State Guide Service & Instruction, Johnny C's Bassin1A Guide Service, Bob Myskey Guide Service, Dave Gliebe Guide Service, Bob Thein Guide Service, Dave Mckenzie's Bay Area Backwaters Guide Service, Donnie Vachon Gudie Service, Paganelli's Bass Fishing Experience, Dean Sault Guide Service, A day on the Water Bassin' with Jerry Fournier Bobby Barrack Back To Class Guide Service.
For more information, contact WesternBass.Com at (925) 679-9575 or visit http://www.westernbass.com/.