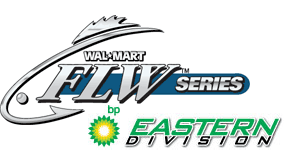 CLEWISTON, Fla. (Jan. 26, 2008) – Team BP pro J.T Kenney of Port Charlotte, Fla., caught a five-bass limit weighing 19 pounds even Saturday to win $125,000 in the $1 million Wal-Mart FLW Series® BP Eastern Division tournament on Lake Okeechobee with a four-day catch of 20 bass weighing 68-13.
The catch gave him the win by a solid 4-pound, 5-ounce margin over Jimmy McMillan of Belle Glade, Fla., who caught a total of 18 bass weighing 64-8 and earned $50,000.
"I actually caught all of my fish the first two days and today on a spot I found in 2001 when the lake was this low," said Kenney, who won a 2002 FLW Tour event on Lake Okeechobee. "I've been waiting for seven years to fish that spot again. I knew if it ever got to this level again and I fished in a national tournament, I'd win it. And I did."
Kenney opened the tournament in seventh place Wednesday with five bass weighing 17-3. On Thursday he added another five bass weighing 23-2 using a ½-ounce shad-colored Berkley Frenzy Rattler to capture the lead. He then caught five bass weighing 9-8 Friday to make the crucial top 10 cut in first place after he had to change tactics because wind muddied the areas he'd fished the first two days of competition. Kenney focused his efforts on the rim canal and managed to bag his limit. On Saturday he sealed his victory using a gold Berkley Frenzy Rattler in the dirtier water.
"My spot was out in the middle of a flat, and it's got a bunch of this little shrimp grass on the bottom," Kenney said. "Out of nowhere, there's a football field-sized place that's about a foot deeper than everything else. And it's just dumb. I mean, there are so many fish in there it's unbelievable."
Kenney said on the second day of competition both he and his co-angler, Carl Norris Jr. of Hodgenville, Ky., each caught about 50 keepers from the area and pulled 46 pounds, 10 ounces from it.
"They were still biting and I said, 'We're stopping. We're done,'" Kenney said.
McMillan, the local favorite, proved to be a tough adversary on Lake Okeechobee. His knowledge and experience paid off during the tournament and almost earned him an FLW Series champion title. On the third day of competition, he weighed only three fish. Those three fish weighed 19 pounds even.
McMillan focused on the south end of the lake and credits a shiner-colored Lucky Craft LVR D-7 for his success. He fished the lipless crankbait in depressions on the main lake.
"I was going to fish that bait and live or die by it," McMillan said. "I thought the fish were moving in, and I caught my biggest fish on the third cast this morning. I lost a big one at 11 a.m., and I wanted to stay until I caught another big one, but it never did come."
Rounding out the top five pros are Tommy Biffle of Wagoner, Okla. (20 bass, 62-8, $40,000); Greg Hackney of Gonzales, La. (20 bass, 61-11, $30,000) and Mark Rose of Marion, Ark. (20 bass, 61-8, $20,000).
Takahiro Omori of Emory, Texas, caught the biggest bass of the tournament in the Pro Division Friday – a 9-pound, 13-ounce largemouth – that earned him the day's Snickers Big Bass award of $500. That fish also is the largest bass ever weighed in an FLW Outdoors BP Eastern Division event.
Overall there were 50 bass weighing 160 pounds, 12 ounces caught by 10 pros Saturday. The catch included 10 five-bass limits.
Robert Wood of Jupiter, Fla., won the Co-angler Division and $20,000 Friday with a three-day total of 14 bass weighing 34 pounds, 14 ounces followed by Ben Kurth of West Saint Paul, Minn., in second place with 15 bass weighing 33-14 worth $10,000.
Wood opened the tournament in second place Wednesday with five bass weighing 13-15 while fishing with pro Mary Divincinti of Clinton, La. On Thursday he jumped into the lead on the strength of a five-bass catch weighing 11-15 while fishing with pro Steve Wilson of Lufkin, Texas. He wrapped up the win Friday with a four-bass catch weighing 9-0 while fishing with pro Greg Bohannan of Rogers, Ark.
"It's an awesome win," said Wood, who made his FLW Series debut at Lake Okeechobee. "My goal was to get 10 pounds a day, and I did it.
"I fished with three great pros this week," Wood added. "Today we were in the Kissimmee River Carolina rigging all day, and Greg was picking up fish pretty steady. I was just slowly pulling them in here and there." Wood said he had three fish in the livewell and was having trouble getting another bite when Pugh relocated to another spot.
"Greg started cranking, and I started cranking out of the back of the boat," Wood said. "I was throwing a Gambler crankbait that runs five to six feet deep and we were casting to a bank at a 45-degree angle and cranking it back over a ledge. That's when I got my fourth and final fish."
Rounding out the top five co-anglers are Tom Ridley of Valdosta, Ga. (15 bass, 33-10, $9,000); Ryan Kidd of Wetumpka, Ala. (15 bass, 33-9, $8,000) and Derrick Snavely of Rogersville, Tenn. (15 bass, 33-0, $7,000).
Dennis Sprayberry of Lehigh Acres, Fla., caught the biggest bass of the tournament in the Co-angler Division Friday – a 9-pound, 3-ounce largemouth – that earned him the day's Snickers Big Bass award of $300.
Coverage of the Lake Okeechobee FLW Series tournament will be broadcast to 81 million FSN (Fox Sports Net) subscribers in the United States as part of the "FLW Outdoors" television program airing March 9. "FLW Outdoors" is also broadcast in Canada on WFN (World Fishing Network) and to more than 429 million households in the United Kingdom, Europe, Russia, Australia, Africa, Asia, and the Middle East through a distribution agreement with Matchroom Sport, making it the most widely distributed fishing program in the world. The program airs Sunday mornings at 11 Eastern time in most markets. Check local listings for times in your area.
The next FLW Series BP Eastern Division tournament, hosted by the Decatur Morgan County Convention and Visitors Bureau, will be held March 26-29 on Wheeler Lake in Decatur, Ala. Boats will launch from Ingalls Harbor in Decatur and the final weigh-in will be held at the Wal-Mart located at 2800 Spring Ave. SW in Decatur.
After four qualifying events are complete in the BP Eastern Division, the top 30 pros and 30 co-anglers will advance to the BP East-National Guard West Fish-Off Nov. 20-22 at a yet to be announced site. There they will face the top 30 pros and 30 co-anglers from the National Guard Western Division for a shot at advancing to the $2 million, 2009 Forrest Wood Cup. The winning pro at the Forrest Wood Cup will earn as much as $1 million – the sport's biggest award.
Tournament pros aren't the only ones winning big this season. With the introduction of FLW Fantasy Fishing™, FLW Outdoors® will be awarding the largest fantasy sports payout in history. Players can become a virtual pro angler by signing up for Player's Advantage, providing them with exclusive insider information that could guide them to a $100,000 victory at every Wal-Mart FLW Tour® stop and the Forrest Wood Cup. Player's Advantage will give them an edge over the competition and increase their shot for a $1 million cash grand prize that will be awarded to the FLW Fantasy Fishing cumulative points winner. Those who visit FantasyFishing.com today can sign up for Player's Advantage and FLW Outdoors will include a $15 Wal-Mart gift card.
FLW Outdoors, named after Forrest L. Wood, the legendary founder of Ranger Boats, is the largest fishing tournament organization in the world. In 2008 alone the organization is offering more than 90,000 anglers the chance to win over $40 million through 230 tournaments in 10 circuits targeting bass, walleye, redfish, kingfish and striped bass. FLW Outdoors is also taking fishing mainstream with the largest cash awards in the history of fantasy sports, $7.3 million.
For more information about FLW Outdoors and its tournaments, visit FLWOutdoors.com or call (270) 252-1000. For more information about FLW Fantasy Fishing and Player's Advantage, visit FantasyFishing.com.
FLW Outdoors historically maintains a 98 percent live release rate in all of its bass tournaments.