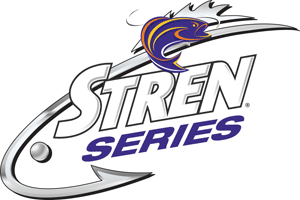 LAKE HAVASU, Ariz. (Feb. 23, 2008) – Pro Justin Kerr of Simi Valley, Calif., caught a five-bass limit weighing 12 pounds, 1 ounce Saturday to win the Stren Series Western Division tournament on Lake Havasu with a four-day total of 20 bass weighing 53-14. For his victory, Kerr earned $25,000 cash
Expressing his relief and good fortune, Kerr said, "I guess it was my time to win. I came into a spot today at about 1 o'clock, and I looked down and saw a bass before I even got to the spot. I was wondering why it wouldn't try to swim away, and I pitched my worm in there with my drop-shot. It ate it, and I caught it. It had one eye, so it was its bad side, and it never even saw me coming. I must've been really fortunate today, and God was on my side."
Kerr fished the main lake all day and caught most of his fish on soft plastics on a drop-shot. He caught several key fish flipping.
"The wind was down today," Kerr said. "It was really, really beautiful. I was glad we had a 3 o'clock weigh-in, because the fish were really turning on at about 2:45 today, and guys ran out of time, and that probably really helped me, too. I had my limit by 12:30 today and I didn't think I had enough at 12 pounds; I thought I'd need about 14 or so."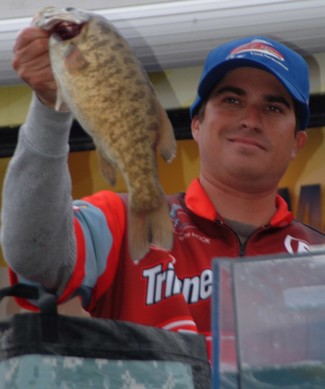 Kerr opened the tournament Wednesday with five bass weighing 9-13. On Thursday he added another five bass weighing 19-00 to capture his lead. He then caught five bass weighing 13-00 while fishing in the river Friday to make the crucial top 10 cut in first place.
Rounding out the top five pros are Terrence Rath of Lake Havasu City, Ariz. (20 bass, 53-08), $8,301; Robert Lee of Angels Camp, Calif. (20 bass, 48-05, $7,741 plus $5,000 Ranger bonus); Mike Folkestad of Yorba Linda, Calif. (19 bass, 46-14, $6,641); and Tim Wilsterman of Lake Havasu City, Ariz. (19 bass, 46-13, $5,810).
Bret Gouvea of Redding, Calif., caught the biggest bass of the tournament in the Pro Division Thursday – a 5-pound, 4-ounce largemouth – that he caught on a five-inch swimbait in a trout pattern, which earned him the day's Snickers Big Bass award of $250.
Lee also earned a Ranger Cup bonus of $1,500 as the highest finishing participant in the Ranger Cup incentive program.
Overall there were 46 bass weighing 103 pounds caught by 10 pros Saturday. The catch included 7 five-bass limits.
J.R. Wright of Truckee, Calif., won the Co-angler Division and $5,000, including a 198VX Ranger boat, with a four-day total of 12 bass weighing 25-12.
"I think a big part of it was my Powell rods, which really made a difference for me," Wright said. "What made a big difference, too, was that I prefished with a pro, Cody Meyer. We travel all over, and he just gives me a lot of confidence and helps me figure out which baits to use and helps me out in the long run. We have a good time."
Wright caught his bass split-shotting a 4 ½- to 6 ½-inch purple worm and throwing a 4-inch green-pumpkin tube.
Wright caught three bass weighing 6-13 Wednesday. He then caught one bass weighing 2-08 Thursday while fishing with pro Edward Cummings of Oro Valley, Calif., to take 28th place. On Friday, he paired with pro Troy Lindner of Los Angeles to add five more bass weighing 10-01 to make the top 10 cut in 7th place. Finally, on Saturday, he sealed the win with a three-bass catch weighing 6-06 while fishing with pro Gary Key of Phoenix.
Rounding out the top five co-anglers are Joseph Obrien of Spanish Springs, Nev. (12 bass, 25-09, $3,461); Ted Romero of Lakewood, Calif. (13 bass, 25-06, $2,813); Sean Kimble of San Leandro, Calif. (12 bass, 24-11, $2,164); and John Weisfuss of Oxnard, Calif. (14 bass, 24-03, $1,731).
Lester Albury of San Marcos, Calif. caught the biggest bass of the tournament in the Co-angler Division Friday – a 5-pound, 8-ounce largemouth on a green-pumpkin stick bait – that earned him the day's Snickers Big Bass award of $131.
Overall there were 18 bass weighing 33 pounds, 1 ounce caught by 10 co-anglers Saturday. There were no five-bass limits.
The next Stren Series Western Division event, hosted by Konocti Harbor Resort & Spa, will be held April 16-19 on Clear Lake in Kelseyville, Calif. Boats will launch from Konocti Harbor Resort & Spa in Kelseyville and the final weigh-in will be held at the Wal-Mart located at 15960 Dam Road in Clearlake.
After four qualifying events are complete in each of the Stren Series' five divisions, the top 40 pros from each division will advance to the $1 million Stren Series Championship in Branson, Mo., Nov. 5-8 for a shot at $140,000. The highest-finishing pro from each division at the championship will also earn a spot in the $2 million 2009 Forrest Wood Cup, where they will compete against top pros from the Wal-Mart FLW Tour®, Wal-Mart FLW Series®, Wal-Mart Bass Fishing League® and TBF (The Bass Federation) for bass fishing's biggest prize – $1 million.
Tournament pros aren't the only ones winning big this season. With the introduction of FLW Fantasy Fishing™, FLW Outdoors® offers anyone the opportunity to enter for their chance to land the catch of a lifetime with the opportunity to win $7.3 million in cash and prizes. Players can become a virtual pro angler by signing up for Player's Advantage, providing them with exclusive insider information that could guide them to a $100,000 victory at every Wal-Mart FLW Tour® stop and the Forrest Wood Cup. Player's Advantage will give them an edge over the competition and increase their shot for a $1 million cash grand prize that will be awarded to the FLW Fantasy Fishing cumulative points winner.
Those who visit FantasyFishing.com today can sign up for Player's Advantage and FLW Outdoors will include a $15 Wal-Mart gift card.
The top 40 co-anglers from each Stren Series division will also advance to the championship, where they will fish for as much as $70,000. The highest-finishing co-angler from each division at the championship will then advance to the 2008 Forrest Wood Cup.
FLW Outdoors historically maintains a 98 percent live release rate in all of its bass tournaments.
FLW Outdoors, named after Forrest L. Wood, the legendary founder of Ranger Boats, is the largest fishing tournament organization in the world. In 2008 alone the organization is offering more than 90,000 anglers the chance to win over $40 million through 230 tournaments in 10 circuits targeting bass, walleye, redfish, kingfish and striped bass. FLW Outdoors is also taking fishing mainstream with the largest cash awards in the history of fantasy sports, $7.3 million.
For more information about FLW Outdoors and its tournaments, visit FLWOutdoors.com or call (270) 252-1000. For more information about FLW Fantasy Fishing and Player's Advantage, visit FantasyFishing.com.