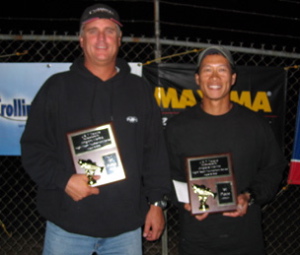 OAK VIEW – Jeff LeMieux of Santa Clarita and Dung Vu of Downey made two decisions on Saturday evening, August 19th. Their first decision proved to be a very good one, but their second one not so good. Their first decision was to enter the final 2006 J&T Tackle Night Team Tournament Series event at Lake Casitas, which they won rather handily with an outstanding five-fish limit weighing 28.24 pounds. However, their second decision was that they chose not enter all of the side options, including the very popular $50 Monster option. Their decision not to "pony up" the extra $110 in option money is one that will haunt them for years. (They did enter the Big Fish option, but did not have one of the top three big fish). While LeMieux and Vu were extremely happy to win the night tournament series finale, their second decision cost them $2,445 in winnings.
"We started out in the Wadley Arm and had a blow-up on a frog and caught one small keeper on a 12-inch Red Shad colored worm," Vu told the awards ceremony crowd. "We then went to the backside of the island and caught several big fish on June bug colored Brush Hogs," added Vu. In spite of their expensive lesson, LeMieux and Vu earned a total of $1,150 in winnings for their first-ever J&T Tackle Night Team Tournament Series victory.
As you might have guessed by now, the runners-up at the August 19th Lake Casitas night tournament series finale were ecstatic that the winners did not entered all of the options, because they did. That team, Larry and Eric Elshere of nearby Ojai, brought in a very impressive limit weighing 22.38 pounds. "We caught five of our fish on worms and my dad caught one fish on a crankbait," Eric told listeners. "That's it. Six bites, six fish," he added. Because the popular father/son team had wisely entered all of the options, their total winnings came to an incredible $3,095.
Third place went to yet another father/son team, that of Dennis and Mark Taylor of Simi Valley, whose limit tipped the scales at 21.70 pounds. "We had quite an unusual night out there tonight," Dennis told the audience. "We caught a four pounder on a buzzbait, two fish on crankbaits, and two fish dropshotting seven-inch Midnight and Black-Grape colored Roboworms. We didn't have any big fish, just a solid limit of four and five pounders" added the elder Taylor. For their efforts, the pair walked away with a total of $1,175 in winnings.
Finishing in fourth place were John Barron and Jerry Holden of San Dimas with a nice limit weighing 18.99 pounds good enough for $730, and fifth place went to the father/son team of Ken and Kenny Webb of Newport Beach with a limit weighing 16.78 pounds earning them $710.
Big Fish of the contest was a very long 8.62 pounder weighed in by yet another father/son team, that of Andy and Pete Vincioni of Moorpark and Simi Valley respectively. Pete's big bass helped the pair to a sixth place finish and $710 in winnings. Pete also received a brand new pair of DSO polarized fishing glasses for catching the largest bass of the contest.
Of the 42 teams entered in the August 19th Lake Casitas night tournament series finale, 32 teams brought fish to the scales. There were 120 fished brought to the scales for a total weight of 368.43 pounds. This figures out to be an impressive per fish average weight of 3.07 pounds. Of the 120 fish weighed in, all but two were released alive; a 98.33% survival rate. There were sixteen 5-fish limits posted in the contest.
The August 19th J&T Tackle Night Team Tournament Series finale also brought an exciting end to the Heavyweight Award race. The Heavyweight Award offered additional prize money to the three teams with the heaviest combined total weight from all four tournaments. Teams had to fish all four series events to be eligible for the Heavyweight Award. First place in the Heavyweight Award went to Mike Brakebill of Moorpark Park and Chris Rodino of Simi Valley with a phenomenal combined total weight of 79.90 pounds (nearly a 20 pound per tournament average weight), earning them $1,800 in winnings. This brought Brakebill and Rodino's 2006 total series winnings to a record shattering $12,665.
Second place in the Heavyweight Award went to Josh Logerot and Rob Tomlin of Castaic with a combined total weight of 67.13 pounds, which earned them $1,080. Third place in the Heavyweight Award went to the aforementioned father/son team of Larry and Eric Elshere, whose 66.32 pound total added $720 to their total series winnings.
Although Dennis and Mark Taylor finished "just out of the money" in the Heavyweight Award standings, their fourth place 66.24 series total weight earned them a brand new Cul-M-Rite XL scale valued at $200, courtesy of series co-sponsor Advanced Fishing Technologies (AFT). Ironically, the Taylors also had the lucky winning raffle ticket for a special drawing for those teams that fished all four series events. Their prize was a brand new Lowrance X-135 SONAR unit valued at $400, courtesy of the Trolling Motor Doctor, another series co-sponsor.
Other raffle prize winners included Paul Bailey and Tom Ritchey, who picked up a brand new Daiwa rod and reel combo (courtesy of Daiwa), and winning a huge box containing 100 packs of assorted Roboworms valued at over $400 (courtesy of Roboworm) was the team of Fred Vecht and Reed Wheeler.
The entire staff of J&T Tackle wishes to thank everyone who participated in the 2006 J&T Tackle Night Team Tournament Series. Thanks also to the outstanding and very generous co-sponsors of the series. They are: Daiwa, DSO Eyewear, Revenge Baits, Huddleston Deluxe, Maxima, ABU Garcia, Roboworm, The Trolling Motor Doctor, Tru-Tungsten, and Cul-M-Rite XL Scales. An extra special thanks to Rick and Cindy Grover of Anglers Marine for providing the trophies and a $250 gift certificate for each event. Without the support of all of these great co-sponsors, this series would not have been possible.