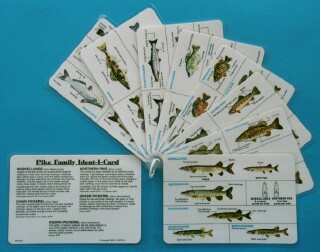 The Ident-I-Card Company has available a product designed to assist the angler with fast, accurate, at-a-glance identification of freshwater fish. Not only are these cards handy for veteran anglers, but they are also great for helping the novice to identify the many different fish they may encounter while on the water. Young anglers will enjoy learning about our aquatic friends through the use of these cards. They are a valuable teaching tool for those who spend their time sharing fishing knowledge with others. These waterproof 4"x6" cards will fit easily into a vest pocket or tackle bag and are laminated to provide many seasons of service.
The set of eight different Fish Ident-I-Cards™ illustrate in lifelike color all of the major freshwater fish families. These families include: Bass, Pike, Trout, Salmon, Sunfish, Crappie, Perch & Walleye, and Catfish. The front of each 4"x6" card illustrates a family of fish with identifying characteristics highlighted. Each back gives scientific and common names, record weights, preferred water temperatures, and a brief description of each fish, 48 fish in all.
Fish Ident-I-Cards™ are available over the Internet on a secure server to provide safe online ordering. The complete set of 8 cards sells for $9.95, and comes complete with a plastic ring to keep the cards together.
For more information and other products available, check out their website (www.identicards.com) or contact the Ident-I-Card Company, P.O. Box 485, Prior Lake, MN 55372. Phone: 1-800-734-7443