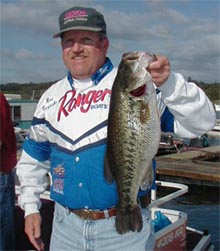 Several months ago, I wrote an article about a company that revolutionized the bass fishing industry with their great products; the company being Tru-Tungsten and their outstanding line of tungsten weights and other products. And while Tru-Tungsten still manufactures the finest tungsten fishing products on the market today, the company has grown significantly over the past year; so much so that what was once their slogan has now become the parent company name, Fish Harder Companies.
You'll notice that "Companies" is plural, and with good cause. Fish Harder recently acquired one of the country's most popular lure manufacturing companies, Picasso fishing products.
"Picasso has always had a great reputation in the industry" notes Fish Harder Companies president Dan Vesuvio. "When we acquired the company, I turned their entire line over to several of our pro staffers with one simple instruction – Make them better. When you've got guys like Luke Clausen, Marty Stone, Gerald Swindle, and Ken Cook on your staff, you can pretty much guarantee that they are going to come up with some great stuff, and that's exactly what they did," adds Vesuvio.
It takes but one trip to your local tackle retailer to see that tungsten weights are quite expensive. And while many may simply accept the cost as all part of the deal to have the best, not everyone can justify (or afford) doing so. This is where Picasso comes into play. Picasso products are not made of tungsten, but they are also not made entirely of lead either. They are made of an alloy that is much harder than pure lead and are coated with a super tough material called Duraseal™, which makes them much harder and far more sensitive than plain lead. But perhaps the best feature of the Picasso line of products is that they are less expensive that their big brother Tru-Tungsten products.
Picasso products include a full line of Pro Metal Worm Weights, designed in part by former BASSMASTER Classic winner and FLW Tour Championship winner Luke Clausen. They also have two outstanding shaky head jigs called the "Shakedown" and the "Powerhead" designed by Clausen and Gerald Swindle respectively. The Shakedown features a virtually indestructible super strong (patent pending) nickel titanium spring which effectively locks your plastic bait to the jig head and comes in 1/16, 3/32, 1/8, 3/16/ and 1/4 ounce sizes. The Powerhead, designed by fellow BASSMASTER Angler of the Year Gerald Swindle, comes in the more traditional jig sizes of 1/8, 1/4, 3/8, and 1/2 ounce sizes to accommodate larger plastic bait offerings.

Pro Metal
Worm Weight

Shakedown

Powerhead
But (in my opinion) the patriarch of the Picasso family belongs to the jig line designed by 1991 BASSMASTER Classic champion and legendary pro angler Ken Cook with his incredible "Fantasy Football Jig". (Come on; admit it – This is the best name you have ever heard for a football head jig, isn't it? Why didn't I think of it?). The Fantasy Football Jig comes in a dressed version and an undressed version. The dressed version, as its name implies, comes with a silicone skirt and is available in 14 eye catching (and bass catching) colors. The undressed version comes without a skirt for those who prefer to add their own skirt or plastic trailer. The undressed jig heads come in ten popular colors that will match just about any plastic bait (or pork) trailer color on the market. Both versions of the Fantasy Football Jig feature a recessed line tie which helps reduce hang-ups when fished in rocks or other nasty structure. They also have a uniquely textured head to increase vibration while falling through the water. Each dressed Fantasy Football Jig comes with a removable tungsten Rattle Pod. Picasso also offers a full line of more traditional dressed and undressed Spider Jigs, available with either a wide gap hook or a standard round bend hook.

Fantasy Football Jig
(dressed)

Fantasy Football Jig
(undressed)

Spider Jib
(Dressed w/ Wide Gap Hook)

Spider Jig
(Undressed w/ Round Bend Hook)
In addition to their great worm weights and jigs, Picasso also has a huge line of buzzbaits and spinnerbaits, including their Tournament Force spinnerbait line designed by pro angler Marty Stone. And for a Western connection, Picasso offers a monster 7 1/2 inch tube bait called the "Ish Tube" designed by (you guessed it) Western pro angler Ish Monroe. The Ish Tube is the ideal bed fishing bait and works best when fished with a Picasso 12/0 (yes, you read it right – a twelve aught) "Ish Pro X Hook".

Ish Tube
(7 1/2 inches long)

Ish Pro X Hook
(12/0)
As you can see, Fish Harder Companies have really stepped up to the plate to offer anglers a complete line of affordable fishing products while maintaining the utmost in quality. They are a company with its ear to the rail constantly listening to the wants and needs of recreational and tournament bass anglers. And with the addition of Picasso to their already great Tru-Tungsten family, it is now a lot easier to Fish Harder.
Thanks for your time and always remember: "The shortest distance between two points is a reef!"
Ron Cervenka