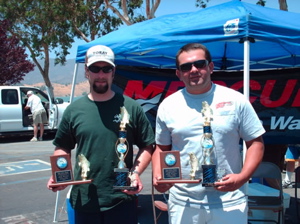 June 28, 2008 Lake Castaic – Today was the 2008 Top Stick Tours' final stop at the same lake where the season began. Though one of the cornerstones of the Top Stick Tour is to only visit a particular lake once during the season, this years' challenge was just to find venues to field a full season of 5 events as multiple influences wrecked havoc on the original schedule. At least 2 competitors were not complaining about the scheduled finale.
Pro Angler Manas Malikian and Amateur Angler Andrew Levy were able to rise above the fray and weather a very tough Castaic bite to claim the Tour victory today. According to Malakian, their 14.25 lb. winning limit was an all day ordeal. "We started throwing topwater right away hoping to get some early bites, but we did not have a fish until 9 AM." said Malakian. Then, he said they reverted strategy in able to get a confidence building limit in the boat. "Once we started fishing worms we had 20 fish in the next hour." Problem was that that the quick limit only weighed about 8 pounds.
"I knew that once we had a limit on plastics, we needed to cull pounds, not ounces," said Malakian. Finding a good down-wind, mudline pattern became the difference for the winning team. Throwing a McUnderspin and other reaction baits into wind-blown banks, Malakian and Levy were able to continue catching quality bass throughout the day. "Rock banks with outside weedlines that were getting wind were key areas for us," stated Malakian. "When I got a 4 pounder I got real excited about our chances to do well."
Manas and Andrew had to sweat out almost the entire weigh-in at the Mercury Marine "Made in the Shade" seats. Set up to seat the leading anglers with the best possible vantage point during weigh-in, and heavily shaded, the "Made in the Shade" spot is one seat no angler wants to give up. As it turned out, Manas and Andrew were never really challenged for their seats and ended up winning the event by nearly 3 pounds, cashing the Pro $3,500 while the Am purse was worth $1,200.
As the 2008 Top Stick Tour finished its regular season, Mike Hart led the Pro Angler of the Year race from wire to wire and walked away with this years' title. Am Chris Koda finished off a solid season, and held off defending champ Daniel Kurz and hopeful Mike Robinett to win the competitive Am AOY Title. Both anglers will be recognized at the TOC at Lake Cachuma in September and will have comped entries to the 2009 Tour.