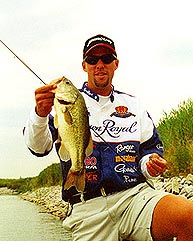 Yes this is normally reserved for Questions and Answers with Aaron, but with this his second Western Points title in as many years we just want to say thanks for being part of Westernbass.com Aaron!
It's no secret Aaron Martens loves Clear Lake. In B.A.S.S. last Western Open Event ever for the West (as B.A.S.S. announced earlier this year) fittingly the West's Shining star Aaron Martens claimed both the California CITGO BASSMASTER Western Open Championship and the season points championship on the CITGO BASSMASTER Western Open series once again as he had in 1999/2000. B.A.S.S. has taken a lot of heat from its Western anglers with there decision to change formats and eliminate the Western Trail. This victory is somewhat a historic event considering their leaving, Martens is a fitting representative for the West.
The truth of the matter is Martens should have had the B.A.S.S. biggest three-day stinger the last time they were here, his honesty as a competitor allowed Velvick the win and the Big B.A.S.S. stinger that was broken by Rojas. Yes it's true during a past event Martens released a ten-pound monster that he had hooked on the outside of the lower jaw that would have given him the win two years ago. Although he could not see the fish it was a sight fishing event and hooked illegally.
This is why Martens said, "I wanted this bad," when he claimed $35,000 for the win. Martens added, "I love this lake. Of all the lakes we fish, this is my favorite lake in the country. So I worked extra hard for this. I can't wait to come back here next year with the Tour."
Martens also assured me that B.A.S.S. will not only return here next year with the scheduled Tour stops, They will be back on the West Coast with their Pro/Am events the following year. Martens said, "B.A.S.S. told me we will be returning to the West with the Pro/Am series events". B.A.S.S. has slated to start in the East with Pro/Am style events in 2003. Martens added, "I was told they weren't doing Pro/Ams here next year because they could get the right permits". This is interesting news, as B.A.S.S. has not yet released any information regarding this issue.
While the weather of the past week was barely cooperative Martens still manage to catch 67 pounds 15 ounces of bass over the three-days of competition to claim the victory by a scant 10 ounces over fellow Californian Skeet Reese. Reese ended the event with 67-5 followed by Mark Crutcher, 66-12; Steve Klein, 64-11 and day two leader Mark Kile, 64-2. "The wind kind of messed up fishing for us today," explained Martens. "So my partner and I put our heads together and tried some flipping and some swimbaits."
Martens top choices throughout the event included a Zipper Grub by Robo Worm, a Mission Fish and large swimbaits.
"It was a war going into this last day," said Reese who found success on Terminator Snapback plastics rigged with Extra Edge sinkers. "I struggled to get a small limit sight fishing then decided to make a gamble on a spot I hadn't fished in two years. I went for broke throwing a big swimbait and caught a nine pounder in the last 15 minutes of the day."
With the last Western Invitational complete here are the four anglers qualifying for the CITGO BASS Masters Classic from the West, Aaron Martens, Nevada's Jack Gadlage, and Californians Luke Clausen and Mike O'Shea. Maybe the sun is only setting a while on the chance to become a B.A.S.S. star from the West. Martens continues to set the standard for Westerns anglers as he shines bright on the B.A.S.S. Trail, but continues to do well on the FLW tour as well. If You would like to ask Aaron a question you can check out Ask Aaron at Westernbass.com
Martens said, "I encourage the questions and I am looking forward to answering more." So Get your questions in. Enjoy!