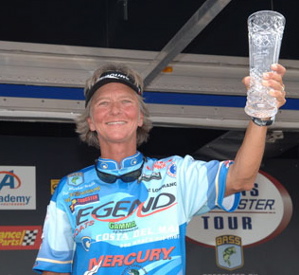 GADSDEN, Ala. — Two lures she nicknamed "Randall" and "Bobby" helped Pam Martin-Wells of Bainbridge, Ga., to a winning overall weight of 36 pounds, 1 ounce, Saturday at the second stop of the 2008 Women's Bassmaster Tour presented by Academy Sports & Outdoors.
"Randall is a friend of mine who taught me how to swim a jig, so a 'Randall' is a jig, and Bobby is my sister, and she taught me how to use a weightless Wave Worms Tiki Stik, which I used to catch all my biggest fish Thursday, so that's a 'Bobby,' " said Martin-Wells, who netted $1,000 and a $50,000 Triton/Mercury boat rig in the three-day competition on Alabama's Neely Henry Lake.
She won by a margin of more than 9 pounds over two pros who tied for second place at 26-15: Juanita Robinson of Highlands, Texas, and Lucy Mize of Ben Lomond, Ark. Placing fourth with 26-10 was Kim Bain of Alabaster, Ala., the winner of the season opener last month on Texas' Lewisville Lake.
Fifth with 25-4 was the 2007 Toyota WBT Angler of the Year, Sheri Glasgow of Muskogee, Okla., who recovered from a slow start — 33rd place on the first day — to make the top five.
Fans can go to Bassmaster.com for all the details of the Neely Henry competition. The site has photo galleries, stories, standings, and the latest on the season-long race to capture the 2008 Toyota WBT Angler of the Year crown and a Bassmaster Classic berth.
This season's Angler of the Year will make history, becoming the first woman to earn a much-coveted berth in the 2009 Bassmaster Classic, Feb. 20-22 on the Red River out of Shreveport-Bossier City, La.
Bain held on to her lead in the standings, and Mize and Robinson moved into the top five. Martin-Wells racked up enough points with her win to push her from 17th place into fifth in the standings.
"This entire year with the WBT and BASS is huge with the announcement of the Classic berth," Martin-Wells said. "I was disappointed because I didn't have such a great start at Lewisville, so this win is a step in the right direction."
Saturday's victory was the third WBT win for Martin-Wells. She holds the titles to the 2005 WBT Preview event and the 2006 WBT Championship — the circuit's first — on Mitchell Lake, which like Neely Henry is a Coosa River impoundment.
Martin-Wells said much of her weight came from grass along the shallow shorelines of Neely Henry, but she used a combination of techniques.
"After I caught one fish this morning, it was on. I was culling by 6:30 this morning," she said. "But every day, the fishing's been different, even though I started in the same place each day, a 20-minute run from the launch ramp all the way to the southern end of the lake."
She took her Saturday limit in 40 minutes, after which she culled to improve her weight to 13-11.
"I started out each morning in grass," Martin-Wells said. "I had some deep patterns, but they weren't panning out because there was no current, no water moving. But today a ski boat kept running back and forth, and I thought, 'Maybe a fish will think that's current.' So I pulled over and caught a 4-pounder."
Mize was in 24th place after Day 1, but she put it together to jump into the tie for second place.
"I was fishing chunk-rock banks, riprap and retainer walls early in the day when it was overcast, all on the south end of the lake," said Mize, who holds title to the 2007 WBT stop on Kentucky and Barkley lakes. "Then I would go to a Carolina rig and a deep-diving crankbait as the day wore on, working humps and ridges."
Robinson, who won the 2007 WBT event on Texas' Lake Amistad, said lack of current during competition hours was an obstacle to beefing up the weight of her daily bags.
"I had limits early. Today I was culling by 7 in one spot," she said. "But I just didn't get a big bite. I knew I had to get to them before the sun came up, and when it did, the bass disappeared."
In the co-angler division, the winner of the first-place package of a Triton/Mercury rig valued at $25,000 plus $500 was Marilyn Biszmaier of Louisville, Ky., who led Day 2 and closed for the win with 16 pounds, 8 ounces.
Second in the co-angler competition with 16-2 was Stacy Zhelesnik of Hoboken, N.J. Lesli Lively of Palestine, Texas, had a total of 15-12 for third place.
The next stop for the WBT will be June 19-21 on Old Hickory Lake out of Gallatin, Tenn. The tour's presenting sponsor, Academy Sports & Outdoors, will host the final-day weigh-in at the Madison, Tenn., store. All WBT events are free and open to the public.
Sponsors of the Women's Bassmaster Tour include Academy Sports & Outdoors, Toyota Tundra, Advance Auto Parts, Lowrance, Mercury, Skeeter, Yamaha, OPTIMA Batteries, Triton Boats, Legend Boats, MoGills and Mustang.
Local hosts include the City of Gadsden Parks & Recreation Department.