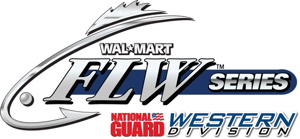 HENDERSON, Nev. (May 8, 2008) – Extreme Pringles pro Sean Minderman of Spokane, Wash., caught a five-bass limit weighing 11 pounds, 12 ounces Thursday to retain the lead in the $1 million Wal-Mart FLW Series® National Guard Western Division tournament on Lake Mead with a two-day catch of 10 bass weighing 25-05.
"I love fishing this lake. Everyday is good out there," Minderman said. "It feels really great to have another good day and to remain on top of the leader board but it wasn't as easy today.
"I struggled to get the bites today. The fishing is starting to get tougher and tougher but I still like the lake."
Minderman is making a 45-mile one-way run each day. He is targeting fish in cuts with depths ranging from 3 to 15 feet and doesn't plan on changing his strategy going into the third day of competition.
"There were a lot more boats in my area today and without the wind the bite were a lot slower. But I feel really good about how each day has gone the last two days."
"I'm going to commit myself to pretty much the same thing tomorrow," said Minderman. "But it's very important to conserve your water as much as possible. I look to cover new water tomorrow as well. I hope to catch around 12 pounds again."
Minderman now holds an 4-pound, 3-ounce lead over second place pro Jason Hickey of Weiser, Idaho, who managed to haul in a total of 10 bass weighing 21-02 during the first two days of competition.
"The numbers are defiantly out there," said Hickey, who has earned more than $41,000 in career earnings with FLW Outdoors. "It's a matter of getting the big bite on this lake."
"I started out throwing a crankbait early and caught a few fish. Then, later in the day, I switched to a finesse bait and caught a few more fish after that."
Hickey is catching all of his bass on one spot that is only a 50-yard stretch.
"Today was defiantly different than yesterday. The wind had the shad blown back and the stripers were feeding. It was hard to weed through the stripers to catch a bass, Hickey said. "Very few bass are caught when stripers are in the area. I was able to focus on the bass today since the wind was calm and that really helped.
"I plan on staying in that same area. Hopefully, the boat traffic there will decrease over the next two days."
Rounding out the top five pros are David Kromm of Kennewick, Wash. (10 bass, 20-13); Sean Stafford of Fairfield, Calif. (10 bass, 20-12) and Michael Rooke of Lake Havasu City, Ariz. (10 bass, 20-04). Wade Headrick of Draper, Utah, earned the day's $309 Snickers Big Bass award in the Pro Division thanks to a 4-pound, 3-ounce bass.
Overall there were 470 bass weighing 763 pounds, 5 ounces caught by 104 pros Thursday. The catch included 78 five-bass limits.
Pros are competing this week for a top award of $125,000 plus valuable points in the hope of qualifying for the BP East-National Guard West Fish-Off and a shot at advancing to the $2 million, 2009 Forrest Wood Cup, where the winning pro will earn as much as $1 million – the sport's biggest award.
Tournament pros aren't the only ones winning big this season. With the introduction of FLW Fantasy Fishing™, FLW Outdoors® offers anyone the opportunity to enter for their chance to land the catch of a lifetime with the opportunity to win $7.3 million in cash and prizes. Players can become a virtual pro angler by signing up for Player's Advantage, providing them with exclusive insider information that could guide them to a $100,000 victory at every Wal-Mart FLW Tour® stop and the Forrest Wood Cup. Player's Advantage will give them an edge over the competition and increase their shot for a $1 million cash grand prize that will be awarded to the FLW Fantasy Fishing cumulative points winner. Those who visit FantasyFishing.com today can sign up for Player's Advantage and FLW Outdoors will include a $15 Wal-Mart gift card.
Aaron Leon of Henderson, Nev., leads the Co-angler Division with a two-day total of 10 bass weighing 16-05 followed by Boris Antolos of Torrance, Calif., in second place with 10 bass weighing 15-10.
"Everything went really well today," Leon said. "I have never been in the lead before in an FLW tournament. It is a great feeling."
Leon is focusing on three main baits; drop-shot, jig and top-water to catch his Lake Mead limit.
"I have stuck with the same plan for the last two days and that is to fish a little deeper than the other competitors. I think that is what has put me on top," Leon said. "Tomorrow, I plan to stay focused and give it my best. Hopefully I will stay on top."
Leon caught five bass weighing 8-01 while fishing with pro Dustin Baker of Lakeside, Calif., Wednesday and five bass weighing 8-04 while fishing with pro Larry Hopper of Tustin, Calif., Thursday.
Rounding out the top five co-anglers are John Browning of Payson, Ariz. (10 bass, 15-01); Tucker Clarke of San Diego, Calif. (10 bass, 14-12) and Troy Crawford of Phoenix, Ariz. (10 bass, 14-09).
Tommy Cardoza of Lakeport, Calif., earned $191 for the Snickers Big Bass award in the Co-angler Division thanks to a 3-pound, 7-ounce bass he caught while fishing with pro Rusty Brown of Tustin, Calif.
Overall there were 292 bass weighing 434 pounds, 8 ounces caught by 96 co-anglers Thursday. The catch included 26 five-bass limits.
Co-anglers are competing this week for a top award of $25,000. Like the pros, the top 30 co-anglers from both FLW Series divisions after four qualifying events are complete will advance to the East-West Fish-Off for a shot at qualifying for the Forrest Wood Cup.
Anglers will take off at 6:30 each morning from Callville Bay-Forever Resorts located in Lake Mead Recreation Area. Friday's weigh-in will be held at the marina beginning at 3 p.m. Saturday's weigh-in will be held at the Wal-Mart store located at 300 E. Lake Mead Drive in Henderson beginning at 4 p.m. Children will also be treated to a Family Fun Zone prior to Saturday's weigh-in from noon to 4 p.m. at Wal-Mart. Activities in the Family Fun Zone include the Kellogg's trout pond, a Ranger boat simulator and assorted fishing-themed games. All activities are free and open to the public.
In FLW Series competition, the entire field competes for the first three days, and co-angler competition concludes on day three with the winner determined by the heaviest accumulated three-day weight. The top 10 professionals continue competition on day four, and the winner is determined by the heaviest accumulated weight from all four days.
Coverage of the Lake Mead FLW Series tournament will be broadcast to 81 million FSN (Fox Sports Net) subscribers in the United States as part of the "FLW Outdoors" television program airing July 6. "FLW Outdoors" is also broadcast in Canada on WFN (World Fishing Network) and to more than 429 million households in the United Kingdom, Europe, Russia, Australia, Africa, Asia, and the Middle East through a distribution agreement with Matchroom Sport, making it the most widely distributed fishing program in the world. The program airs Sunday mornings at 11 Eastern time in most markets. Check local listings for times in your area.
FLW Outdoors, named after Forrest L. Wood, the legendary founder of Ranger Boats, is the largest fishing tournament organization in the world. In 2008 alone the organization is offering more than 90,000 anglers the chance to win over $40 million through 230 tournaments in 10 circuits targeting bass, walleye, redfish, kingfish and striped bass. FLW Outdoors is also taking fishing mainstream with the largest cash awards in the history of fantasy sports, $7.3 million.
For more information about FLW Outdoors and its tournaments, visit FLWOutdoors.com or call (270) 252-1000. For more information about FLW Fantasy Fishing and Player's Advantage, visit FantasyFishing.com.
FLW Outdoors historically maintains a 98 percent live release rate in all of its bass tournaments.