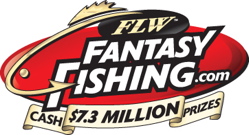 MINNEAPOLIS (Aug. 21, 2008) – Michael Thompson has dreamed of becoming a law enforcement officer, some day. He and his wife, Penny, have dreamed about building their dream home, some day. And with a 12-year-old son and an 11-month-old daughter, they've dreamed about saving enough money for their children to go to college…some day.
Some day is closer than they think, because today, Michael Thompson, 33, a stay-at-home dad from Minneapolis, Minn., who is studying to become a police officer, made fantasy sports history by becoming America's first FLW Fantasy Fishing champion, and the official winner of its $1 million grand prize. Thompson's payday is the largest payday in fantasy sports – ever – even including fantasy football.
In a suspense-filled moment from the Colonial Center in Columbia, S.C., before a throng of fans, Thompson ripped open a three-foot card to reveal that he had come in first place in the season-long chase for the FLW Fantasy Fishing $1 million grand prize.
"This is unbelievable, I simply can't believe it…it's a dream come true!" said Thompson, an avid bass angler. "I simply started playing FLW Fantasy Fishing because I love fishing and because it was fun. We have a lot of dreams and this will help us make many of them come true."
Irwin Jacobs, chairman of FLW Outdoors and the creator of FLW Fantasy Fishing, an international online fantasy fishing game launched in February 2008, presented Thompson with his $1 million check. FLW Fantasy Fishing is an international, online fantasy fishing game (www.fantasyfishing.com). Fantasy fishing players in 122 countries around the world picked bass pros who fished in seven Walmart FLW Tour tournaments, the nation's premier professional bass fishing circuit.
"When we launched FLW Outdoors, I dreamed about the biggest payday in pro bass fishing, when the champion of the Forrest Wood Cup could claim the first $1 million prize in pro bass fishing," said Jacobs. "Fifteen years later, we achieved my personal goal of awarding $1 million to our Forrest Wood Cup champion, not once, but as of last Sunday, two years in a row."
"A $1 million prize for pro fishing seemed unbelievable 15 years ago. That's why today's $1 million FLW Fantasy Fishing grand prize is so incredible. Imagine, winning a million dollars with the click of a mouse from the comfort of your living room," Jacobs added. "With the excitement that FLW Fantasy Fishing has created all over the world in the past year, I have no doubt there will be many more like Michael Thompson who will become FLW Fantasy Fishing millionaires in the years to come."
A graduate of Buffalo (Minn.) High School and a resident of St. Michael, Minn., a suburb of Minneapolis, Thompson has been a stay-at-home dad while he works toward finishing law enforcement school, with a goal of some day working in the Wright County Sheriff's office, where he volunteers. In his spare time, Thompson is an avid bass angler and bow hunter.
And what will he do with $1 million? Thompson and his wife, Penny, say they'll pay off Thompson's Ranger Z20 bass boat, buy Penny a new car, and start thinking about building a new home on a piece of land that they've dreamed about buying for many years.
To reach first place, Thompson entered all seven FLW Fantasy Fishing tournaments, which began in February 2008 with the kick-off of the Walmart FLW Tour, the nation's premier professional bass fishing circuit. Before each tournament, Thompson, like other FLW Fantasy Fishing players all over the world, would log on to www.fantasyfishing.com and select ten bass pros who fished in the Walmart FLW Tour tournaments. Thompson had learned about FLW Fantasy Fishing by watching FLW Outdoors, a weekly, hour-long television program broadcast on FOX Sports Net, with a global reach of 500 million households.
The key to Thompson's success was his ability to consistently score a significant number of points in each of the seven FLW Fantasy Fishing tournaments. Thompson, like many of the other top 15 winners, subscribed to Player's Advantage, an online "tip" tool offered by FLW Fantasy Fishing. Packed with stats and expert advice about FLW Tour bass pros, Player's Advantage provided Thompson an extra edge in picking the ten FLW Tour bass pros for his fantasy team before each tournament.
Thompson solidified his first place spot by selecting Michael Bennett, 24, a bass pro from Lincoln, Calif. (Sacramento area), to come in first place in last weekend's Forrest Wood Cup, a bass tournament that represents the pinnacle of professional bass fishing. Bennett won the Cup and its grand prize, $1 million.
"FLW Fantasy Fishing has been the single best thing that ever happened to professional and recreational bass fishing," said Forrest Wood Cup champion Michael Bennett. "It's setting a new benchmark and attracting record numbers of new fans to our sport."
Coming in second place was James Brown, 26, a resident of Lodi, Calif. An avid bass angler who dreams of one day becoming a bass pro and fishing the Walmart FLW Tour, Brown won a brand new Ranger Z19 bass boat powered by a Yamaha engine, valued at $52,000. Earlier this season, Brown won a $5,000 Walmart gift card, which he says, was quickly used to purchase items for his eight-month-old baby daughter, Tatim. With his new bass boat, Brown says he will sell his existing Ranger Z20 bass boat.
"This is absolutely great. I love Ranger bass boats and it will be great not to have a monthly boat payment anymore," said Brown, a foreman with a company that installs septic tank systems. "Playing FLW Fantasy Fishing has been a lot of fun and I can't wait until the start of next season."
In addition to Thompson and Brown, the other top 13 FLW Fantasy Fishing winners included:
3rd place: Mr. Steve Reed, Davis, Calif. -- Chevy Silverado truck, valued at $40,000.
4th place: Mr. Carl Trussell, Orange, Tex. (Beaumont, Tex.) -- Ranger Reata boat powered with an Evinrude Engine, valued at $36,000.
5th place: Mr. Steve Braun, Hartland, Wis. (Milwaukee) -- $25,000 Walmart Gift Card, presented by Proctor & Gamble
6th place: Mr. Tim Potoczny, Gurnee, Ill. (Chicago) -- $20,000 US Savings Bond, presented by the National Guard
7th place: Mr. Jim Stallard, Wilmington, N.C. -- $20,000 BP Gas Card
8th place: Ms. Dixie Canterbury, Odenville, Ala. (Birmingham) -- $15,000 Walmart Gift Card, presented by Snickers
9th place: Mr. Jeff Nelson, New Brighton, Minn. (Minneapolis-St. Paul) -- $10,000 Walmart Gift Card, presented by Castrol
10th place: Ms. Madge Austin, Elmhurst, Pa. (Scranton, Pa.) -- $10,000 Walmart Gift Card, presented by Land O' Lakes
11th place: Mr. Peyote Perryman, Raleigh, N.C. -- $10,000 Walmart Gift Card, presented by Berkley
12th place: Mr. Gary McMullin, Overland Park, Kan. – Prize: $10,000 Walmart Gift Card, presented by Kellogg's
13th place: Mr. Ron James, Oshawa, Ont. – Prize: $8,000 US Bank Cashier's Check
14th place: Mr. Brent Meyer, Crawfordville, Fla. (Tallahasee, Fla.) – Prize: Yahama Grizzly 450 Hunter All-Terrain Vehicle, valued at $8,000.
15th place: Mr. Ken Sessions, Pace, Fla. (Pensacola, Fla.) -- Can-Am Outlander 400 All-Terrain Vehicle, valued at $8,000.
Fantasy Fishing Makes Fantasy Sports History
In its first season, FLW Fantasy Fishing has rocketed to the top of the fantasy sports world, gaining fans from all over the globe attracted to the game's $7.3 million in cash and prizes, representing the highest payout of any fantasy sports game in the world. This new twist on fantasy sports has been recognized as a game changer in the world of fantasy sports, as well as other professional sports seeking to gain recognition and major sponsors. RotoNation, a leading fantasy sports Web site even went so far as to say FLW Fantasy Fishing is "revolutionizing" fantasy sports.
More than 4,400 prizes were awarded during FLW Fantasy Fishing's first season, including seven $100,000 prizes, to the player who came in first place at the conclusion of each fantasy fishing tournament, and the game's $1,000,000 grand prize, which was awarded to the player who obtained the most points over seven tournaments. Prizes were awarded to players as far away as the United Kingdom, Australia, Japan, Indonesia, Poland, South Africa, Estonia, and several other countries throughout the world.
The online game was launched in February 2008 with the kick-off of the 2008 Walmart FLW Tour bass fishing tournament series. Prior to each Walmart FLW Tour tournament, FLW Fantasy Fishing participants logged onto www.fantasyfishing.com to select a fantasy team of ten FLW pro bass anglers who were scheduled to fish in each Walmart FLW Tour tournament. Fantasy fishing players earned points at the conclusion of each tournament, based on the performance (placement in the designated tournament) of their fantasy team pro anglers. The Walmart FLW Tour included the following tournaments:
Lake Toho (Kissimmee, Fla.): Feb. 28 – March 2, 2008
Lewis Smith Lake (Jasper, Ala.): April 3 – 6, 2008
National Guard Open – Lake Norman (Charlotte, N.C.): April 24 – 27, 2008
Walmart Open – Beaver Lake (Rogers, Ark.): May 15 – 18, 2008
Fort Loudoun-Tellico Lakes (Knoxville, Tenn.): June 19 – 22, 2008
Chevy Open – Detroit River (Detroit, Mich.): July 10 – 13, 2008
Forrest Wood Cup at Lake Murray (Columbia, S.C.): Aug. 14 – 17, 2008
Participants could win prizes for an individual tournament as well as accumulate points over seven designated tournaments to be eligible for a $1 million cash prize, which will be awarded to the participant with the highest overall points for the season. Seven $100,000 first-place prizes went to the participants who earn the most points for each tournament. A $5 million bonus was offered to the first player to correctly rank the top seven finishers in a tournament.
About FLW Outdoors
FLW Outdoors®, named after Forrest L. Wood, the legendary founder of Ranger® Boats, is the largest tournament organization in the world. In 2008 alone, the organization is offering more than 90,000 anglers the chance to win more than $40 million through 230 tournaments in 10 circuits.
Walmart and many of America's largest and most respected companies support FLW Outdoors and its tournament trails. Walmart signed on as an FLW Outdoors sponsor in 1997 and today is the world's leading supporter of tournament fishing. For more information about Walmart, visit Walmart.com. For more information about FLW Outdoors and its tournaments, browse FLWOutdoors.com or call (270) 252-1000.
FLW® is a registered trademark of FLW Outdoors, Inc. Note: For a complete list of rules for the FLW Fantasy Fishing, visit http://www.fantasyfishing.com.