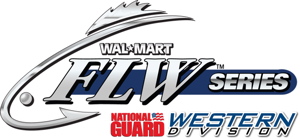 OAKLEY, Calif. (Oct. 11, 2008) – Pro Ishama Monroe of Hughson, Calif., caught a five-bass limit weighing 17 pounds, 2 ounces Saturday to win $125,000 in the $1 million Walmart FLW Series® National Guard Western Division tournament on the California Delta with a four-day catch of 20 bass weighing 70-06.
The catch gave him the win by a solid 6-pound, 13-ounce margin over Mark Tyler of Vian, Okla., who caught a total of 20 bass weighing 64-09 and earned $32,849.
"This is a great accomplishment," said Monroe, who claimed his first FLW Series victory. "I have won a lot of tournaments in my career and never an FLW event and I couldn't be happier."
Monroe flipped a Reaction Innovations Sweat Beaver using a 1- 1 ½- ounce weight this week on the Delta to catch his quality bass.
"The conditions on the Delta were perfect for my type of fishing," he added. "Even with the wind blowing as hard as it did I never had a problem getting bites.
"The first day I had about 50 bites and the second day got even better with around 60 bites. On days three and four I only had around 25 bites."
Even with all the bites he had earlier in the week, Monroe was beginning to wonder if he was going to pull off a victory halfway through the final day of competition.
"My motto today was-never give up," Monroe said. "At 12:30 I had two small keepers in the boat. I thought to myself-I need to relax and just fish. I fish the Delta often and I remembered a spot that I had fished in past years that produced big bites. As soon as I pulled up to that spot I caught my kicker fish."
Monroe's strategy this week was to catch as many fish as he could and hopefully by covering a lot of water he would be able to put together a winning limit.
Monroe opened the tournament in 13th place Wednesday with five bass weighing 16-03. On Thursday he added another five bass weighing 22-05 to capture the lead. He then caught five bass weighing 14-12 on Friday to make the crucial top 10 cut in first place.
Rounding out the top five pros are Mike Reynolds of Modesto, Calif. (20 bass, 61-00, $26,280); Charlie Weyer of West Hills, Calif. (20 bass, 57-14, $19,710) and Robert Lee of Angels Camp, Calif. (20 bass, 57-00, $13,138).
Jason Borofka of Salinas, Calif., caught the biggest bass of the tournament in the Pro Division Friday – an 10-pound, 4-ounce bass – that earned him the day's Snickers Big Bass award of $329.
Overall there were 46 bass weighing 111 pounds, 8 ounces caught by 10 pros Saturday. The catch included nine five-bass limits.
Team National Guard co-angler Justin Lucas of Folsom, Calif., won the Co-angler Division and $25,000 Friday with a three-day total of 14 bass weighing 35 pounds, 8 ounces followed by Carl Limbrick Jr. of San Diego, Calif., in second place with 14 bass weighing 29-00 worth $7,030.
Lucas opened the tournament in first place Wednesday with five bass weighing 15-10 while fishing with pro David Kromm of Kennewick, Wash. On Thursday he stayed in first place on the strength of four bass weighing 24-05 while fishing with pro Hal Zimmerman of Boise, Idaho. He wrapped up the win Friday with a five-bass catch weighing 11-03 while fishing with pro Michael Pellagrini of Santa Rose, Calif.
"I didn't think that I would win this tournament," said Lucas, who has won four FLW Series National Guard Western Division tournaments as a co-angler in two years. "I came into this tournament thinking about the points race and just hoping for a top-10. I always fish hard and this week it paid off and worked out in my favor."
Lucas, who won the FLW Series events in 2007 at the Columbia River and at Clear Lake, became the first co-angler to post the first back-to-back wins in FLW Series competition. At this year's Columbia River event Lucas won yet again taking home his third co-angler title. He now has four co-angler trophies and as announced today, he will be fishing as a professional on the FLW Series National Guard Western Division circuit in 2009 for Team National Guard.
"Next year, I will be fishing as a pro on this circuit and as a co-angler on the Walmart FLW Tour back east," Lucas added. "It's a totally different side of tournament fishing. I am looking forward to improving my skills and working hard to represent the National Guard as a boater."
Rounding out the top five co-anglers are Toshitada Suzuki of La Jolla, Calif. (15 bass, 28-08, $6,325); Michael Bryant of Discovery Bay, Calif. (13 bass, 27-07, $5,624) and Tony Pratt of Paso Robles, Calif. (13 bass, 25-06, $4,920).
Jason Crawford of Laguna Niguel, Calif., earned $212 for the Snickers Big Bass award in the Co-angler Division thanks to a 7-pound, 6-ounce bass.
Coverage of the California Delta FLW Series tournament will be broadcast to 81 million FSN (Fox Sports Net) subscribers in the United States as part of the "FLW Outdoors" television program airing Dec. 14. "FLW Outdoors" is also broadcast in Canada on WFN (World Fishing Network) and to more than 429 million households in the United Kingdom, Europe, Russia, Australia, Africa, Asia, and the Middle East through a distribution agreement with Matchroom Sport, making it the most widely distributed fishing program in the world. The program airs Sunday mornings at 11 Eastern time in most markets. Check local listings for times in your area.
After four qualifying events are complete in the National Guard Western Division, the top 30 pros and 30 co-anglers will advance to the BP East-National Guard West Fish-Off Nov. 20-22 at Falcon Lake in Zapata, Texas. There they will face the top 30 pros and 30 co-anglers from the BP Eastern Division for a shot at advancing to the $2 million, 2009 Forrest Wood Cup. The winning pro at the Forrest Wood Cup will earn as much as $1 million – the sport's biggest award.
Tournament anglers aren't the only ones winning big this season. With the introduction of FLW Fantasy Fishing™, FLW Outdoors® offered anyone the opportunity to enter for their chance to land the catch of a lifetime with the opportunity to win $7.3 million in cash and prizes. Players could become a virtual pro angler by signing up for Player's Advantage, which provided them with exclusive insider information that could have guided them to a $100,000 victory at every Walmart FLW Tour® stop and the Forrest Wood Cup. Player's Advantage gave them an edge over the competition and increased their shot for the $1 million cash grand prize awarded to the FLW Fantasy Fishing cumulative points winner. Visit FantasyFishing.com today to find out more information and to register for next season.
FLW Outdoors, named after Forrest L. Wood, the legendary founder of Ranger Boats, is the largest fishing tournament organization in the world. In 2008 alone the organization is offering more than 90,000 anglers the chance to win over $40 million through 230 tournaments in 10 circuits. FLW Outdoors also took fishing mainstream with the largest cash awards in the history of fantasy sports, $7.3 million.
For more information about FLW Outdoors and its tournaments, visit FLWOutdoors.com or call (270) 252-1000. For more information about FLW Fantasy Fishing and Player's Advantage, visit FantasyFishing.com.
FLW Outdoors historically maintains a 98 percent live release rate in all of its bass tournaments.