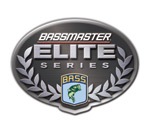 COLUMBIA, S.C. – Going after the big fish all day proved to be both gutsy and just what Rick Morris of Virginia Beach, Va., needed to take over the lead Friday in the Carolina Clash presented by Evan Williams Bourbon on Lake Murray. Morris' five-fish limit of 17 pounds, 7 ounces was enough on a slow day to push him ahead of Day 1 leader Grant Goldbeck of Gaithersburg, Md., and Toyota Tundra Bassmaster Angler of the Year contender Mike McClelland of Bella Vista, Ark.
Morris, who came into Day 2 in eighth place, now leads with 35-7 overall. McClelland is in second with a two-day total of 34-13, while Goldbeck dropped to third with 34-4.
Fishing fans can watch the on-the-water action from the Carolina Clash on The Bassmasters, which airs Saturday, May 24, at 9 a.m. ET on ESPN2. As always, streaming video of the daily weigh-ins in addition to photo galleries and analysis can be accessed on www.Bassmaster.com.
With gusts of wind up to 30 mph, some anglers struggled, but the cloud cover and the weather didn't faze Morris. After a slow morning, things picked up for him and he abandoned the small bite.
"I started off early in one of my sweet spots and I had a big giant follow me, then I went two hours without a bite. After three hours in the water I only had one fish, one real big one," Morris said. "I said, 'You know what? That 6-pounder just got me into the cut.' "
With that, Morris decided to stop throwing plastics.
"I had three big fish, so I just kept throwing the big baits," he said. "Topwaters, big spinnerbaits and other big baits. With an hour to go I said, 'I better catch a couple keepers,' because I only had three. I caught two keepers within five minutes.
"I can't complain. It's been a great week, I've been getting the big bites and I haven't lost any of them."
If Morris manages to hang on, the victory would be his first Bassmaster Elite Series win, worth $100,000 and valuable points in the Toyota Tundra Bassmaster Angler of the Year race.
Meanwhile, despite losing a few big ones right off the bat Friday, Goldbeck's 14-4 limit kept him optimistic about the weekend. The Day 1 leader kept after his same four preferred spots on Lake Murray and said with the luck he has had in those spots he didn't feel it was worth it to run all over the big lake in the high winds, as many anglers had done through both days.
"I had a few mechanical problems that scared me, so I thought, we'll camp out here and milk these spots for what they are," Goldbeck said. "All my best spots, noboby's messing with it at all."
Goldbeck capitalized Thursday on the success he found without throwing his favorite jig, but come Friday, he said he used the jig out of frustration after a slow morning.
"Actually, they started busting just as I first cast it," he said. "So I had to reel it in as fast as I could and throw a reaction bait to get one."
Rounding out the top five were Edwin Evers of Talala, Okla., with 33-15 overall, and Dave Wolak of Wake Forest, N.C., with 33-5.
Wolak had the Purolator Big Bass of the day with a 6-8 largemouth, while Goldbeck's 8-7 catch Thursday remains the Purolator Big Bass of the tournament so far. Missouri's Brian Snowden, who is sixth with 32-8, had the Berkley Big Bag of the day with 18-11.
In the co-angler division, Georgia's Travis McDermott maintained the lead going into the amateurs' final day of competition Saturday with 27-8 overall. Co-anglers are battling for a top prize of $25,000. McDermott leads Virginia's Jeff Freeman (25-11) and North Carolina's Clay Lowder (20-13).
Activities at the Carolina Clash include live musical performances at 12:45 p.m. Saturday and Sunday by Black Bottom Biscuits, and Cherry Dillinger. There will be a Berkley Beginner fishing class at 2 p.m. and a "Boat Performance with Skeeter" class daily at 2:15 p.m. both days.
On Saturday, fans can talk to the Elite pros during "Ask the Experts" at Bassmaster University, set for 2:30 p.m. at the weigh-in site.
Sunday's activities include the live taping at 2:30 p.m. of Hooked Up, hosted by ESPN Outdoors personalities Tommy Sanders and Mark Zona. The show, which airs on Bassmaster.com, will preview the final weigh-in. Live, streaming video of the Carolina Clash's daily weigh-ins begins at 3:30 p.m. ET on Bassmaster.com.
The local sponsor of the Carolina Clash is Capital City/Lake Murray Country RTB.
For more information, contact BASS Communications at (407) 566-2208 or visit Bassmaster.com. Visit ESPNMediaZone.com for ESPN's latest releases, schedules and other news, plus photos, video, audio clips and more.
Sponsors of the Bassmaster Elite Series include Toyota Tundra, Advance Auto Parts, Berkley, Lowrance, Mercury, Purolator, Skeeter, Yamaha, Evan Williams Bourbon, Longhorn, OPTIMA Batteries, Triton Boats, Costa Del Mar, MotorGuide and Ramada Worldwide.
About BASS
For 40 years, BASS has served as the authority on bass fishing. With its considerable multi-media platforms and expansive tournament trail, BASS is guided by its mission to serve all fishing fans. Through its industry leading publications Bassmaster Magazine, BASS Times and Fishing Tackle Retailer and comprehensive web properties in Bassmaster.com and ESPNOutdoors.com, the organization is committed to delivering content true to the lifestyle. Additionally, television programming on ESPN2 continues to provide relevant content from tips and techniques to in-depth tournament coverage to passionate audiences.
The organization oversees the prestigious Bassmaster tournament trail which includes the Bassmaster Elite Series, Bassmaster Opens, Women's Bassmaster Tour and the Bassmaster Classic, the ultimate celebration of competitive fishing. Through its grassroots network, the BASS Federation Nation, BASS sanctions more than 20,000 events annually.
BASS also offers an array of services to its more than 525,000 members while spearheading progressive, positive change on issues related to conservation and water access. The organization is headquartered in Celebration, Fla.