OAKLEY—Jarred Jennings of Stockton is the new WON BASS Delta Champion and he captured the title with an impressive 2-day total weight of 60.81-pounds. Jennings one of the younger pro anglers on the circuit was in twelfth place after day-one but came charging on day-two with an impressive 35.05-pound sack edging out second place seasoned pro anglers John Harper and third place finisher, the legendary Mike Folkestad.
WON Photo by Bill Mays
JARRED JENNINGS—shows what it takes to be the 2006 WON BASS Delta Champion. Jennings weighed in an impressive two-day total weight of 60.81-pounds as he flipped and frogged his way to the title.
For his efforts Jennings took home a total prize winning check for $26,125 and captured his first WON BASS Title. Jennings won the title with an arsenal of techniques, flipp'n and dipp'n Coast Lure black/ blue jigs, and Brush Hogs in Smelly Jelly. He also caught fish on frogs, and all of his fish were caught in the Franks Track and Mandaville areas of the Delta.
"I only pre-fished one day, I didn't want to hurt my fish in practice, I just history fished spots from past experiences," said Jennings.
It was touch and go if this tournament was going to materialize with the high water conditions on the Delta. Tournament Director Bill Hutcheson spent many hours on the phone with the water resource agencies try to see if the already closed Delta was going to allow boating. After getting some positive and encouraging answers, Hutch took a chance and said we are fishing.
"It's fair and the playing field is the same for all the anglers," said Hutcheson. Because of the Delta closure before the tournament many anglers did not get the usual pre-fish practice time on the water, but it didn't seem to hurt the anglers as they brought record weights to the scales.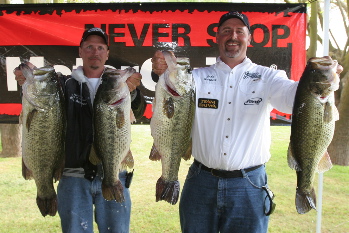 WON Photo by Bill Mays
NEW DELTA RECORD—John Harper of Sunol along with AAA Champion Mike Andrews of Oakley together set a new WON BASS one-day record of 37.83 pounds.
John Harper of Sunol broke the WON BASS one-day record on day-two with a 37.82-pound sack and finished in second place. Mike Folkestad of Yorba Linda finished in third and brought impressive bags to the scales both days, 26.45 pound on day one and 32.09-pounds on day-two for a total weight of 58.54 pounds. In forth place was the always a threat Delta pro Gary Howell of Stockton with 57.81 pounds. Paul Cormany of Anglers Marine fished in the number five spot with a two-day total weight 56.55 pounds. All the top 5 anglers had at least a one-day 30-pound plus sack
The AAA Championship went to Mike Andrews of Oakley, an outstanding angler that has many Delta Titles to his career with a total winning weight of 63.44 pounds. Andrews fished with John Harper on day-two and helped set the new WON BASS Delta Record. In second place was Dan Shigematsu of San Jose with a total weight of 58.32-pounds, in third place was Shawn Lewis of Burney with 53.91 pounds, forth went to Charles Huffman of Jackson with 53.40-pounds, and rounding of the top five was Rommel Bagay of Concord with 51.73-pounds.
Get ready the slug fest is not over, we have Clear Lake on the next and final stop of the WON BASS Tournament Trail. Clear Lake is another great California fishery with the big Florida strain bass that just keep getting bigger and bigger every year. Look for more records to be broken at this tournament and this tournament will decide a very close race for the Northern WON BASS Angler of the Year Title. John Harper is leading the race for the AOY title. Wayne Breazeale of Kelseyville is a local favorite on Clear Lake and is close behind as is Jimmy Reese, another Clear Lake local favorite that already has a Clear Lake Title to his credit in 2006. Richard Dobyns is in the race and look out he knows how to catch enough bass on Clear Lake to make it very interesting showdown.
You can get the complete coverage on the Delta tournament and the up coming Clear Lake tournament on the WON BASS web site at www.wonbass.com and the May issue of WON BASS.