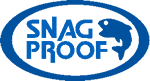 Snag Proof Co. has developed an improved bait, a line of rods and other merchandise to appeal to bass anglers across the county and beyond.
First up is the new Pro Series Poppin' Frog. Sporting premium Owner double hooks and a new silicone skirt that won't matt of melt in you tackle box. The spitting popping action is ideal for causing commotion and drawing attention from picky bass. The Pro Series Poppin' Frog transitions from open water to thick weeds with ease.
The Poppin' Frog will spray and pop water with every twitch of the rod. It can be cast in the thick weeds, sparse vegetation or any shoreline structure as well as open water. This special action combined with the premium Owner hook gives anglers a Popper that will call in the hawgs and land the trophy.
The Pro Series Poppin' Frog is available in four fish getting colors: 4200 black, 4202 green, 4205 chartreuse and 4207 white.
Also new from Snag Proof Co. is a line of Snag Proof Frog Rods. Official Snag Proof rods designed in cooperation with BASS pro angler Mark Rizk and 2iG-UltraStrike and Bass Medics.
The perfect blend of high modulus and high strain graphite provides superior sensitivity with unsurpassed durability. High quality components such as titanium carbide guides and premium Portuguese cork, no-mark protective finish and superior American workmanship gives you the perfect fishing catching tool.
Some time later this year Snag Proof Co. will also be releasig a complete line of tackle boxes and assorted fishing tools to help anglers spend more time fishing by being better organized.
Snag Proof produces 23 different styles of fish catching lures including Bobby's Perfect Frog, Wiggle Wog, Pro Series Tournament Frog, Harry's Round Frog , Frogzilla, Tournament Popper, Improved! SK Frog Ultra, Original Frog, Improved! Ultra Popper, Moss Mouse, The Weed Demon, Boss Rat, Mini-Minnow, Leech, Hawg Dog, Hawg Dog Lite | Super Curly, Hellgrammite, Soft Craw and the Deadly Worm.
Catalogs and brochures are available for Snag Proof and Sea Bay lures and are distributed at trade and consumer shows and seminars as well as through consumer requests.
For more information and a free full-color catalog, write to: Snag Proof Mfg,. Inc./Sea Bay Lures, 11387 Deerfield Road, Cincinnati, OH 45242 USA or Call 1-800-SNAGPRF (800-762-4773), or 513-489-6483. The Snag Proof Manufacturing Inc. web site can be found at http://www.greatlures.com/snag/index.htm.