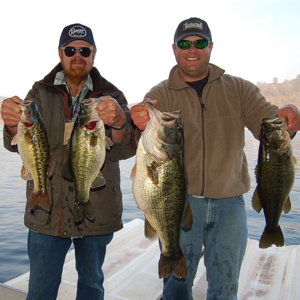 On a cold and Sunny day at Lake McClure in the Mother Lode Region of 100% BASS, two very special things happened. A record setting purse and the unveiling of the new 2007 Toyota Tundra, brought to us by Modesto Toyota World. This is an incredible machine and the timing was fabulous to go with a very nice day of fishing. Talk on the dock in the morning was of the 89 boat field as everyone anticipated a big purse and they weren't disappointed. We gave away $22,510, paying back to the top 18 teams in this event. During the weigh in we learned on thing, the bite at Lake McClure had slowed a little, but overall, anglers reported catching 20-25 fish during the tournament. The best lure of the day was a drop shot worm about 12 inches off the bottom along with a pretty good Jig bite and an occasional Swim Bait fish.
The winners check of $9015 is the largest in history of regular team fishing on the west coast, and was presented to Alex Niapas of Altaville and Tom Schachton of Murphys. Their day couldn't have been any better as Tom told everyone about the big fish of the day, a lunker Largemouth tipping the scales at 11.04 pounds. This bass allowed them to run away and hide from the field with a total weight of 24.24 pounds and over a 10 pound victory. While most of their fish were caught on Brown Jigs with pumpkin trailers or Dart Heading a Shad Worm, the big one came on a Swim bait about 1:30 in the afternoon fishing a key spot on the Main Lake. We spent all day fishing 4 small areas in sight of each other and focusing on waiting for the fish to move up, said Schachton. Their patients paid off with a pair of nice plaques from Modesto Toyota and again that record setting number, $9015. Congratulations on your great day, Alex and Tom.
Second place went to another legendary angler in the mother lode, Bub Tosh of Oakdale and Bill Allen of Waterford. Bub is home for the winter from the Bass Masters Tour and we are proud he came out and fished with up. These guys teamed up for a very nice 14.23 pounds that included the 4th big fish of the day, a nice 3.62 pound Spotted Bass. Tosh said, they caught all their fish in the Temperance arm of the Lake and the lure of choice was a dart head with a shad worm. They also received a pair of those nice trophies and not a bad check for second place, $3540. Good job Bub and Bill.
Third place was awarded to the current Anglers of the Year for the Mother Lode, Kyle Rassmussen and Joe Menzes of Angels Camp. They weighed in at 11.78 pounds for their 5 fish and were also using Dart Heads or a Reaction Innovation Brown Jig. Kyle said they spent all day at the lower end of the lake and focused on main lake points where the fish were most active. They received $2060 and had and very good start in defense of their title.
Finishing in forth was Tuolumne's Steve D'Orsay and Standard's Robert Vann with a very respectable 11.45 pounds for 5 fish. The Jewel of the day was in the bag, as the showed everyone at weigh in a Spotted Bass that weighed 5.00 pound (2nd big fish of the day). They were rewarded for their efforts with $1425 and big round of applause for their big fish.
Fifth place went to Tim Turner of Kerman who fished alone and was able to bring in 11.24 pounds. He took home $1250 while a check for $970 went to BassCat National Professional Vince Hurtado of Waterford and Jason Childs of San Jose.
100% BASS would like to thank the fine sponsors that make the difference between fishing and the quality events we are able to provide as a result of their support. BassCat Boats, Mercury Outboards, MossDale boats in Tracy, Antioch Toyota, MinnKota Trolling Motors, Humminbird Electronics, Berkley Trilene, Spiderwire Braid, Persuader Bass Baits, Powell Rods, Solar Bat Eye Protection, Walton's Pond in San Leandro, Hook, Line & Sinker in Oakley, Phil's Props in Redding, MF Finesse Custom Worms, Comfortroll, Comfort Suites of Oakley, Sig Fish Inc, and No Sweat Mist, Jims Pro Bass Tackle in Paso Robles, Cytosport and Cytomax energy drinks, Modesto Toyota, Cuesta Cadillac in Atascadero, Cal West Concrete Cutting, Kosich & Callahan Insurance Services and Russo's Marina.
For complete tournament results, please visit our web site at –www.100percentbass.com.
Bob Kornhauser
Owner 100% BASS
530-274-1397