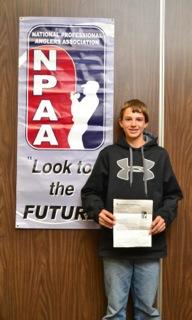 Forestville, WI- As the saying goes, "Some people talk; others do!" The National Professional Anglers Association new "Future Pro" program aimed at bringing more youngsters into the fishing fraternity is definitely in the "do" category. In fact, at a recent F-M Walleye Club meeting in Fargo, ND, 13 Future Pro anglers joined the prestigious organization.

These boys and girls, ages 7 to 16, became members and will realize significant benefits. Most importantly, they will become spokespeople for the fishing industry and "pass it along" by teaching other young people. Pat Neu, NPAA executive director said, "Our mission for years has been to grow the sport. I can think of nothing better than getting young people involved. Each of these new Future Pro Members has a passion for fishing that they can share with their friends in a positive way. Ultimately, we would love to see the "Future Pro" Members become a large percentage of our association's membership ranks assuring a future for the NPAA and the sport. "

Signing as a Future Pro was Blake Meyer, 15, son of Steve and Mary Beth Meyer, Moorhead, MN. He already has fishing in his blood and was part of the 2012 Angler Young Angler Championship team on Devils Lake. Even though math and science are his favorite school subjects, Blake wants to get better at what he loves - fishing. "My life revolves around fishing. I taught my sister to fish and hope to bring other young people into the sport."

Also among the inaugural class of Future Pros was Tony Agre, 16, son of Kyle and Rachael Agre, Fargo. "This pushes me further along the road to being a better fisherman and learning the tricks of the tournament world, also. I will fish with a buddy in the club's Wednesday night league to start." He was part of the 2010 Devils Lake Angler Young Angler winning team. Tony has helped his father with many youth programs and said, "I liked hearing fishermen closer to my age when I was young, and will keep that tradition going."

Tony's dad Kyle said, "There is a great synergy between our club and the NPAA. We have the same goals, and the Future Pro program will bring in the young people. We already conduct youth classes promoting conservation, sportsmanship and education, but our kids marching alongside will really help."

F-M Walleye Club board member Chad Maloy said, "It's important to get kids excited about fishing and on the water. This works! The parents liked it because it's affordable and reduces tackle costs for Future Pros. Kids relate to younger people." The next F-M Walleye Club meeting features fishing pro and guide Jeff "Gussie" Gustafson on ice fishing, Nov. 29 at Kelly Inn in Fargo. A youth class is also set.

Future Pros join the NPAA for $20, and have access to the attractive "members-only" tackle discount program. They receive newsletters, Future Pro decals, a Future Pro shirt, and no-charge admission to the Jan. 4-6, 2013 annual NPAA conference when accompanied by a NPAA member.

The NPAA is a non-profit organization focused on growing the sport of fishing and increasing the professionalism of its members. Supporting partners include Navionics, Mercury Marine, Evinrude Outboards, Yamaha, Lund Boats, Ranger Boats, Skeeter Boats, The Next Bite, Oahe Wings and Walleyes Guide Service, Outdoor First Media, Pure Fishing, Fish On Kids Books, Advanced Tex Screen Printing, Worldwide Marine Insurance, FLW Outdoors, AIM, North American Media Group, Frabill, Cabela's National Walleye Tour, John Butts Outdoors, J.J. Keller Fishing Team, The Reel Shot, U.S. Forest Service, Great Lakes Sea Grant, FPS Financial Planning Services, Off-Shore Tackle, Warrior Boats, Fin-Tech Tackle, Kingfisher Boats, Liddle Marketing, Mutual of Omaha, Northland Fishing Tackle, Optima Batteries, Simms Fishing Products, Pasha Lake Cabins, National Fleet Graphics, Arrowhead Promotion, G2 Gemini, Bait Rigs, Fishouflage, Foley Belsaw Outdoors and High Tech Fishing. More NPAA member and association news can be viewed at www.npaa.net.