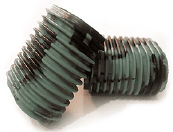 (Wadsworth, OH - November 17, 2005) Since their introduction at the 2005 Bassmaster Classic in Pittsburgh, Pennsylvania, Reel Grips™ continue to make a splash in the fishing industry.
Invented by Mark Shull, a competitive angler himself, Reel Grips™ are designed to improve an anglers grip on the reel handle during the retrieve. The soft rubber Reel Grips™ are molded sleeves that feature raised ribs. Traction, feel and comfort are just a few of the benefits you will enjoy throughout a long day of competitive or recreational fishing. They also aid in promoting proper ergonomic form, reducing fatigue.
These features have earned Reel Grips™ the trust of some of the top tournament anglers across the country. Most notably, Guy Eaker Sr., a B.A.S.S National Champion and Touring Professional with 30 years of competitive angling experience. "Reel Grips™ are the greatest fishing reel accessory I have ever seen," Eaker said. "I have Reel Grips™ on all my reels, and they are not about to come off."
Jeff Giarrizzo, Texas tournament trail professional, also feels strongly that Reel Grips™ are an important part of successful tournament angling. "Reel Grips™ have become an essential part of my fishing tackle; fishing without Reel Grip™ now would not be considered."
Reel Grip™ is available in two colors, black and camo, and is engineered to be compatible with most reels available on the market. With a suggested retail price of $4.99, it is a product that will leave most anglers scratching their heads wondering why they didn't think of it themselves. Visit www.reelgrip.com or toll free 877-336-REEL.