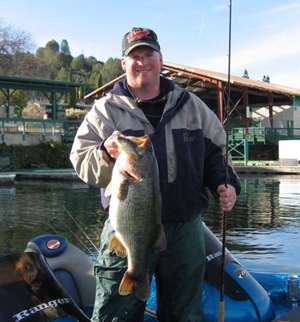 KELSEYVILLE Ca. - It was as though someone told the bass it was ok to come out of hiding and feed as the first day of the America's Vanity Cup 5-day pre-fish contest started off with fantastic weather and the first double digit fish of the week.
And no...if you think it was a local Clearlake angler who caught the monster you would be way off, as the team of Eric Lippincott and Eric Smith of Cheyenne, Wyoming and Spokane, Washington respectively, took 1st day pre-fish honors with a beautifully marked largemouth weighing 10.53 pounds.
"We ain't saying where we caught the fish", they commented, both looking as sly as a fox with a mouth full of feathers. All we are going to say is that we caught it shallow on a bluegill model swimbait, and think we know how to repeat the pattern were on", they added, clearly excited about drawing first-blood in this annual event.
For those that don't know, every day, for five days prior to the Vanity Cup event, the biggest fish over 10 pounds wins a cash award of up to $500! This pot is progressive in that if no one weighs in a fish over 10 pounds...the money rolls over to the next day! Talk about making pre-fish worth something!
And it's not too late...for those of you that just came back from the FLW Havasu event and want to get in on all the fun and BIG CASH to be had, come on down this weekend and be part of one of the most fun events of the season at THE best bass fishery in the U.S.A.
The weather forecast is calling for good conditions all week long which is sure to make the bite come alive for those teams looking for that great early spring Clearlake bite.
Stay tuned...as we will be posting day-by-day updates on NCBF for you to keep up with how the Vanity Cup event is progressing.
Hope to see you all there!
Jim Chute,
America's Vanity Cup Association