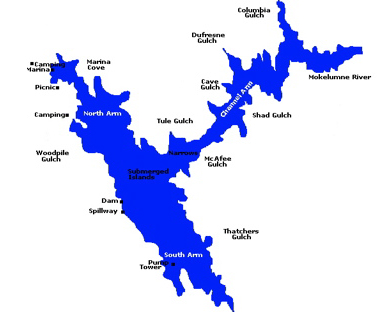 Nestled in the foothills of Northern California's Sierra Nevada mountain range, just east of Stockton CA, is one of the most treasured lakes the Mother Lode region has to offer. Its a small lake, measuring just 2,200 surface acres with 43 miles of shoreline.
Pardee Reservoir, it is just one of the many great smallmouth lakes California has to offer.
Its February and the air is as crisp and cold as it gets in the morning. The lake is nice and calm with barely a ripple on it from the few boats that visit this goldmine each day, most of them vying for the wonderful trout fishing the lake has to offer. You launch the boat and start heading out of the 5mph zone. Turning on your electronics you see that the water temp is only 46 degrees. As you idle across the lake you start to panic, maybe its too early in the year. Where do I begin? I know smallmouth like cooler water, but this is California, cold is something we are not use too. Well, if that is your train of thought, then this article is just what you need.
Pardee consists of three arms, the North, the South, and the river arm. From what I have learned by fishing and guiding on this lake over the past ten years, is that each arm has many points, humps, islands, rock piles, and creeks feeding into it. The water this time of year is usually gin clear compared to our other lakes and Delta, with up to 10'-15' of visibility. The lake is not what you would consider the best for structure fishing. There is little wood if any, mostly just broken branches that fall from the pines and oaks that surround the lake. There are very little weeds, just some short grass in some of the backs of the creeks and flats. The good thing about this lake compared to others in the region is it only fluctuates about 10' per year. If it dropped like our other Mother Lode lakes 50'-100', it would become a puddle.
You don't need a fast or expensive boat to fish Pardee. All three arms can be covered in a day. What you do need is good electronics. I have a Lowrance LCX111 on my consul and a LCX 19 on the bow. As I said before, what Pardee does have is a lot of underwater points, humps, and drop offs. Without a good unit you would not even know they were there. Most importantly you need a good unit to find the great rock piles that exist on these points that look like they are void of everything but mud and clay.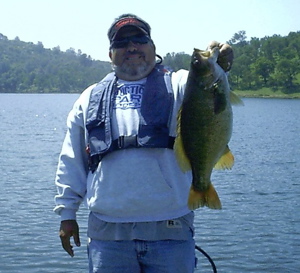 Author Vince Borges with a 7.35 pound Pardee smallmouth.
Smallmouth begin to concentrate this time of year on the main lake points and breaks in the 20'-30' depth range. I would start my day concentrating on those points with four basic lures. First, would have to be a 1/8 ounce darter head with a 5" Pro-Worms Straight tail pro cream or PCR model worm. My color choices would be Delta Red or Pro-Gold W/ Red flake if its clear or sunny, and Purple Death or Mean Green ( Aarons Magic) if there is cloud cover or low light conditions. I would fish this set up with a G Loomis 7' Medium spinning rod with 6-8 lb fluorocarbon line. Casting first to the shallower areas, then moving my boat shallow and casting deep and working it uphill with short hops and shaking of the rod tip. The reason to fish shallow first is if there are fish up there feeding, you do not want to spook them by parking your boat on top of them. My second lure of choice would be a ¼ ounce football head jig with a Yamamoto twin tail hula grub. I would fish this with the same rod as the dart head, but with 8-10lb fluoro.
My colors of choice would be cinnamon with red and blue flake or smoke silver if its sunny, and watermelon with black and gold, or purple with blue flake if it is overcast or cloudy. Sometimes, when the fish are not very aggressive you can trigger them into biting this lure by using quick pops of the rod to make it jump as much as 2-3 ft off the bottom and then using your rod to control a slow fall back down. Oftentimes, when you go to pop it again the fish will be there having hit it on the fall. Don't forget when using a twin tail grub that there is a top and bottom of the lure. You can not tell by looking at it, but if you hold it straight out from the body the tails will either come together ( bottom side up) or spread apart ( bottom side down). You want the tails apart to give the lure more action when being worked slow or subtlety. My third lure of choice would be a drop shot on 4-6lb fluoro with a Pro-Worm 4" Shaken Paddle Tail (SPT) or a Pregnant Leech. I would use the same colors as I mentioned for the darter head setup. And last but not least, a ¼ ounce football head brown jig with either a small pork trailer or a twin tail grub. I have found that the best colors are brown jig with a purple or blue trailer and what I call Mexican Gold, a brown jig with gold mylar and a watermelon with gold flake twin tail grub.
As the water begins to warm into the upper 40's to low 50's fish begin their migration to shallower water. By this I mean water that ranges from 10'-20' deep. Here they begin to group up and feed heavily before the spawn. You may see some huge smallies this time of year that will be cruising the banks in search of the right place to spawn. At this time of year I like to add a few extra lures to my arsenal that will give me the opportunity to catch a true trophy smallmouth. The first lure of choice would be a suspending jerk bait like a Lucky Craft Stacee or Pointer. Try different techniques with this lure changing the cadence and pauses untill you find what they are wanting. The second lure I would add would be a small swimbait. You can chose whichever one you have the most confidence in but my choice would be either a 6" Bass Trix or a Fish Trap on a ½ ounce head. I would try to match a perch or herring color. I have also been doing good using the ½ ounce Spin Trix head with my soft plastic swimbaits. These lures are great because they allow you to cover a lot of water in search of schooling small mouth. Third and probably the best bait for pre-spawn smallies would be a crankbait. I prefer a medium running lure this time of year like the Norman Middle N in Sunshine Gel- Coat or a Lucky Craft CB350 in Chartreuse Shad or Spring Craw.
I hope this helps you narrow down your selection and put the fear of cold water fishing to ease. Its a great starting point not just for Pardee but any reservoir that has smallmouth bass in it from Trinity to Don Pedro, Yes, I said Don Pedro. Good luck and I hope to see you on the water soon. If you do see me be sure to say hello.
Tight Lines and BIG Smallies to you!
Vince Borges
Sponsors include:
FishDelta.com
Pro-Worms
Costa Del Mar Sunglasses
Fish-On Insurance
Save Face
Bettencourt Baits