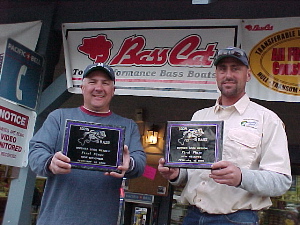 Sunday was a great day for lake fishing, sun shining, a slight breeze and the feel of big fish was in the air. Everyone checked in at The Glory Hole Tackle Store and headed for the lake, which is only 5 feet from full. New Melones Lake had been busting out big fish over the last few years, and while no Toads, were brought in, it seemed like everyone in the top 10 teams had a five pounder in the bag. Many teams reported catching fish deep, which explains why the swimbait bite was off and bottom fishing was on. The choice of lures this day seemed to be 6" plastic worms, shaking brass and glass or dead sticking.
First place went to Winter Olympic Gold Medalist Kyle Rasmussen and partner Joe Menzes, both from Angels Camp. With a 5.53 Lb kicker that was 2nd big fish of the day, Kyle and Joe ended with 5 fish totaling 18.65 pounds. At the awards, Rasmussen told us they went for broke and fished less than 5 feet deep all day, which was different than most everyone else. What was the same was their choice of lure, fishing Roboworm green weenie's and Senko's in smoke colors all day. Kyle said that Morman Creek was the best area to fish, but they did catch fish in other areas of the South Lake. They kind of liked the end of the day also, as we handed them the winner's share of the pot, a real nice pair of trophies and a check for $4885. Congratulations Kyle and Joe.
Second place went to Jeff Auxier of Modesto and Kim Moulton of Merced. These guys had 15.29 pound for their 5 fish and the 3rd biggest fish of the day, a 5.30 Lb. Largemouth. Unlike the winners, they had a completely different pattern, fishing Jigs down to 50 feet on main lake structure. It just goes to show how there is always more than one pattern going on at any one time. Their reward this day was $2750 and pair of trophies. Good job Jeff and Jim.
Finishing in third was team Autolife, Jeff Frey of Riverbank and Andy Lucas of Ceres. Their 5 fish tipped the scales at 14.68 pounds which was pretty good considering there big fish was only 4.24 Lbs. Frey said they caught their fish on Roboworms and Crankbaits fishing 15 – 30 feet on main lake points. He did mention that the better fish came drop shoting. Frey also took the time to thank his sponsors, Autolife, Modesto Hitch, Super Port, and St Croix Rods. Their take for the day was $1670.
Forth place went to last month winners Kevin Davidson of Riverbank and Bryan Cox of Oakdale. With fish that weighed 14.39, they took home $1180. Fifth place went to Ira Eads of Copperopolis and Shelley Gentry of Oakdale. Their fish weighed 14.20 Lbs and rewarded them with $695.
We would like to thank Ph Jigs and Glory Hole Sports for their donations of extra prize to be given away to the out of the money winners.
100% BASS would like to thank the fine sponsors that make the difference between fishing and the quality events we are able to provide as a result of their support. BassCat Boats, Mercury Outboards, MossDale boats in Tracy, Bridgestone Tires and Gill's Tires in Stockton, MinnKota Trolling Motors, Humminbird Electronics, Berkley Trilene, Spiderwire Braid, Persuader Bass Baits, Solar Bat Eye Protection, Walton's Pond in San Leandro, Hook, Line&Sinker in Oakley, Phil's Props in Redding, FishingWorld.Com, MF Finesse Worms, TackleWarehouse.com, Comfortroll, Comfort Suites of Oakley, Sig Fish Inc, and No Sweat Mist
For complete tournament results, please visit our web site at –www.100percentbass.com.
Bob Kornhauser – Owner 100% BASS – 530-274-1397