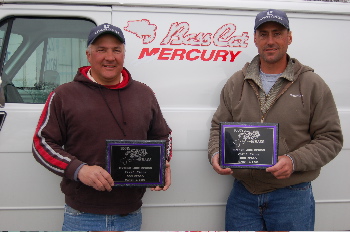 Lake Don Pedro is also famous for big fish, but on this windy day with the threat of rain all day, the legend did not appear. Mostly small bags of 5 fish limits were caught on worms or Crankbaits. The one thing of notice, spring is right around the corner as virtually every fish was a largemouth bass, meaning the spotted bass are deeper and the Blacks are taking over the bank.
Finishing on top for the second month in a rows were Kyle Rasmusen and Joe Menzes of Angels Camp. While no super big fish came in, Their 7.60 Lb bass anchored the winning weigh of 23.36 pounds. Given the conditions, this was one heck of a bag for the 5 fish limit in this tournament. Rasmussen said they tried for hours to get the big fish to bite big lures and "It just didn't work". About 10 am we fell back to what we used to do, Carolina rigging a brush hawg, and it all fell into place. This represents the best of what tournament fishing is all about. Adjust when the fish won't do what your original plan called for. The adjustment paid off as they took home a pair of nice plaques and a check for $4325. Congratulations Kyle and Joe for the second month in a row.
Second Place went to Ira Eads of Copperopolis and Shelly Gentry of Oakdale. These guys brought another nice limit, weighing in at 21.80 pounds. Eads was pretty quite at the awards, but he did say they caught all their fish in the Rogers arm, fish their sponsors (PRO worms) 6 inch worms on Dart Heads. " Most of our fish came in 10 – 30 feet of water", said Eads, We just keep moving around the cove until we find a school and them work them until the bites ended. For their efforts, they also received a nice pair of plaques and a check for $1690. nice job Ira and Shelly.
Third place was award to the team of Brian Ruthman and Vic Geis of Oakdale. Their 5 fish limit came in at 21.58 Lbs and was anchored by the 3 biggest fish of the day, a very nice 7.89 Largemouth. Ruthman said they also tried the swimbait thing, but could only manage one fish, so they went to Texas Rigging Brush Hogs and Roboworms. He also said, "We fish the main lake all day, moving from point to point, just hitting as many spots as possible. Third place money came out to be $2025, which include their big fish pot money.
Finishing in forth were Jeff Frey of Riverbank and Andy Lucas of Ceres. They took home $1385 while a fifth place of check of $975 went to Fresno's Scott Parsons and Roger Lockhart. Big Fish of the day was caught by Robert Marxmiller., this real nice 9.25 pound lunker.
100% BASS would like to thank the fine sponsors that make the difference between fishing and the quality events we are able to provide as a result of their support. BassCat Boats, Mercury Outboards, MossDale boats in Tracy, Bridgestone Tires and Gill's Tires in Stockton, MinnKota Trolling Motors, Humminbird Electronics, Berkley Trilene, Spiderwire Braid, Persuader Bass Baits, Solar Bat Eye Protection, Walton's Pond in San Leandro, Hook, Line&Sinker in Oakley, Phil's Props in Redding, FishingWorld.Com, MF Finesse Worms, TackleWarehouse.com, Comfortroll, Comfort Suites of Oakley, Sig Fish Inc, and No Sweat Mist.
For complete tournament results, please visit our web site at –www.100percentbass.com.
Bob Kornhauser – Owner 100% BASS – 530-274-1397