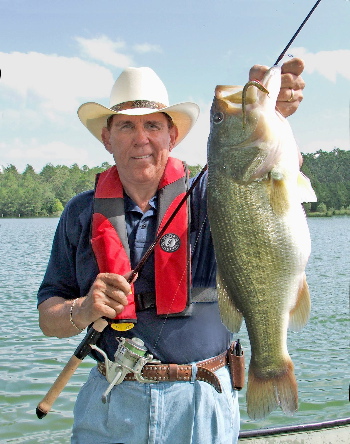 Ray Scott's hands and feet are bound with duct tape as he stands on the bow of a bass boat ready to plunge into the waters below.
Scott, founder of the Bass Anglers Sportsman Society (BASS) is making a dramatic point for a video production. The compact, streamlined safety vest he is wearing will rapidly inflate on contact with the water and pop him to the surface in under three seconds with his head firmly supported upright and out of the water.
"It's what would happen if an unconscious person fell into the water or was thrown into the water," he explains. "That's not an uncommon situation in a boating accident. The vast majority of boating accident fatalities are from drowning, not from impact or wounds."
The vest is one of Scott's favorite projects -- a Mustang PFD (personal flotation device) from Mustang Survival, Inc. The Vancouver-based company makes protective life-saving garments for everyone exposed to the most hazardous environments from recreational boaters and off-shore sailors to jet fighter pilots and even NASA astronauts.
Scott, well known and often honored for his safety advocacy in boating and fishing has joined up with Mustang to bring the vest centerstage in the bass fishing world. The Mustang PFD has already appeared in the spotlight at the recent Bassmasters Classic in Pittsburgh where the vest was required on-the-water gear for the world's top fishermen.
Scott is an enthusiastic spokesman for Mustang. "I'm thrilled to be with Mustang and I'm thrilled that BASS has chosen Mustang as their official safety vest. It's a marriage made in heaven as they say."
Scott has been a safety "fanatic" ever since he pioneered professional bass fishing tournaments in l967. One of his very first rules was to require competitors to wear a fastened PFD anytime the engine was cranked. Not doing so was an automatic disqualification for the day's fishing. "That's how serious I was," he says. "And it didn't take long for the fisherman to catch on."
"In those early days of BASS Tournaments," says Scott, "I would wake up in the middle of the night in a sweat. I was so afraid of accidents – especially drowning. I'm proud to say BASS tournaments have an amazing safety record considering all the anglers we've put on the water.
"I've been preaching life vests ever since," he continues. "And frankly, I'm still appalled at the junk out there that passes for safety vests. They may be Coast-Guard approved, but most will say in the small print the vest will not keep an unconscious person's head out of the water."
Compliance has always been a hassle in the tournaments, admits Scott. "Comfort is key. The typical vest was so hot and bulky, no one wanted to wear them. When you have big bucks riding on every cast you make and you're in a boat eight or more hours at a stretch, it makes a huge difference."
That's why Scott is so excited about the Mustang Inflatable Vest. "They are extraordinarily comfortable; you don't even know you have them on. As a matter of fact, at the BASS Federation tournament this past April, many of the anglers weighed in with their vests still on. They forgot they were wearing them, that they had them on all day.
"As a gag, I've even worn a unit under a suit jacket when I've made a safety presentation. The jacket comes off, I pull the ripcord and whoosh, instant safety vest. People are amazed."
Ironically, Mustang launched its first product the same year Scott started his bass fishing organization which now claims over 500,000 members and is the world's largest sportfishing organization. Under Scott's influence, the organization was the nexus of today's multi-billion dollar bass fishing industry.
In l967 when Scott was starting the bass fishing revolution, Mustang was starting its own flotation revolution with the introduction of its Float Coat which provided both warmth and buoyancy in the water. Since that time they have become the world leader in recreational, industrial and military survival equipment. Even the NASA astronauts on a space shuttle launch are wearing Mustang PFDs.
"The mechanics are so simple for the consumer," says Scott. " And that's the result of incredible engineering on the part of Mustang." The vests are inflated by a simple CO2 cylinder when the activation cord is pulled. The automatic model inflates instantly when immersed in water and the unit can be used over and over again by simply replacing the CO2 cylinder. It can also be inflated by a mouth tube in a couple of breaths. A safety inspection window on the unit reads red or green to indicate when the inflatable is "armed" and ready to use.
"There's just no excuse anymore," says Scott firmly. "As far as I'm concerned, the first piece of equipment that goes into a boat is not a rod or a reel or a tacklebox or lunch. It's a safety vest."