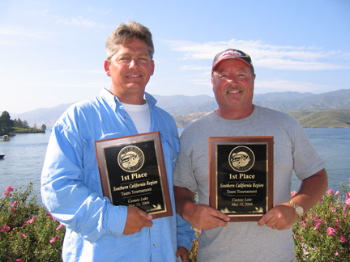 CASTAIC – As anticipated, Castaic Lake generously provided WON BASS Southern California Region team tournament anglers the very best that it had to offer. The region's May 13th tournament saw a field of 52 teams, with every one of them weighing in fish. The fishing was so good, in fact, that only four teams failed to bring in a five-fish limit of bass; and one of those by choice.
Topping the field were Mike Reese and Dave Poolman of Ventura with a limit of bass weighing an impressive 17.27 pounds. Included in their bag was a healthy 5.20 pounder, the second largest bass of the contest. "We threw nothing but Senkos all day long," Reese told the awards ceremony audience. "We concentrated on scattered brush in water that was more clear than dirty. It was a great day for us today," he added. For their efforts, the popular pair earned a total of $3,720 for their first ever WON BASS victory.
Finishing in second place at Castaic Lake was the team of Jason Christmann of Moorpark and Gil Valadez of Anaheim. Fishing the tournament solo, Christmann managed a five-fish limit that tipped the scales at 16.80 pounds and included a beautiful 7.80 pounder, the largest bass of the day. Christmann, who had to leave immediately following the weigh-in, reportedly caught his fish sight fishing; a technique utilized by many fishing the May 13th Castaic event. Christmann received a total of $1,790 in winnings for his exceptional finish. He also received a brand new Huddleston Deluxe ROF-12 swimbait for catching the largest bass of the tournament.
Third place went to the husband/wife team of Boris and Cathy Antolos of Torrance with a fine limit weighing 16.11 pounds. Like Christmann, Team Antolos caught all of their fish sight fishing. The couple walked away with $840 in winnings for their excellent third place finish.
Finishing in fourth place were long-time WON BASS veterans Hugh Mitchell and Doug Norvell of Oxnard with a limit weighing 15.97 pounds, good for $790, and finishing fifth were Doug Frasco of Thousand Oaks and Ron Smith of Castaic with a limit weighing 15.60 pounds earning them $390.
Winning the new and very popular "Ten Pound Option", which goes to the team with the total weight closest to 10.00 pounds without going over, was the team of Randy Brandes of Simi Valley and Richard Rawnsley of Newbury Park with four fish weighing 9.90 pounds. Ironically, Brandes and Rawnsley actually had a five-fish limit that was over ten pounds, but they elected to release one of their fish to try to be the team with a total weight nearest to ten pounds. While a tremendous risk (to say the least), their gamble paid off, as they collected $880 for winning the Ten Pound option. Even though Brandes and Rawnsley's decision to release their fifth fish may have seemed like a good idea at the time and earned them a pretty good chunk of change, it may end up costing them a lot more than it was worth in the long run. They are currently in 25th place in the WON BASS Southern California Region point standings and, as it stands right now, only the top 19 teams will qualify for the 2006 Tri-States. Was releasing their fifth fish a good decision, or was it a bit of short sightedness? With one tournament remaining, that remains to be seen.
Speaking of the WON BASS Southern California Region point standings, the stage is once again set for a down-to-the-wire finish. Currently leading in the Anglers of the Year points race are Jim Olivarez of Anaheim and Frank King of La Habra with 560 points. However, only 13 points back are brothers Billy and Bobby Nelson of West Hills with 547 points. Four points behind the Nelsons are Bob Roady of Torrance and Dennis Taylor of Simi Valley with 543 points. With seven teams within 56 points of the leaders, the June 3rd season finale at Lake Casitas will, undoubtedly, be a wild one.
The WON BASS Southern California Region staff wishes to again thank its great regional supporters for generously providing our anglers with their great products and services. They are: Bonzai Lures, Bill's Custom Baits, Taylor Tackle, Huddleston Deluxe, The Trolling Motor Doctor, and Tru-Tungsten. Thanks also to Sr. Lifeguard John Ragsdale and the rest of the great staff at Castaic Lake for their assistance with our event.
The WON BASS Southern California Region will conclude its 2005-2006 season on Saturday, June 3rd at Lake Casitas. In addition to determining the region's 2006 Anglers of the Year team, the Lake Casitas season finale will also determine which teams will represent the Southern California Region at the prestigious 2006 WON BASS South Tri-State Team Championship. On-site registration for the June 3rd Lake Casitas season finale will be at the Lake Casitas snack bar on Saturday morning from 3:30 am to 5:00 am. Teams are reminded that they must check in prior to the 5:00 am deadline, or they will go out last and be due in with the first flight. For more information on the June 3rd Lake Casitas team tournament, check out the WON BASS website at www.wonbass.com.
5-13-06 WON BASS So. Cal Region Castaic Lake Results:
http://www.wonbass.com/team/results/south/southern_california/6_castaic.html
2005-2006 WON BASS So. Cal Region standings (after 6 events):
http://www.wonbass.com/team/results/south/southern_california/socal_ytd_standings.html