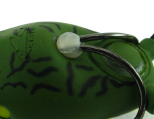 (Richmond, CA, December 26, 2006) Frog fishing fanatics rejoice – Bully Wa is back on the scene and better than ever. Bully Wa is a hollow bodied weedless frog designed to be the answer to all the frog questions. And with River2Sea's enhanced water seal on the hook shanks, Bully Wa is now one of the most versatile frogs on the market.
This new bead feature on the belly of the frog minimizes the amount of water that enters during the retrieve, yet allows air to escape on hookset. Once again, Bully Wa sets the standard for all the facets of frog fishing.
Bully Wa is uniquely designed to be the easiest open water-walking frog on the market without sacrificing its effectiveness on matted grass. Most importantly is that Bully Wa's design continues to deliver one of the most impressive hook gaps through body composition and component placement.

Bully Wa's most prominent and distinguishable feature is the noticeable "keel" on the belly of the frog. This keel acts as a rudder to enable Bully Wa to easily walk the frog for nearly every level of angler. This keel also gives Bully Wa more presence on floating grass mats because it acts like a knife, leaving an impression in the mat as it moves.
Bully Wa comes in eight colors and features Gamakatsu EWG Double Hooks to stick and hold when fish strike. Any way you look at it, this is one frog that will "Bully" the bass into striking.
The Bully Wa 65 is available for immediate shipping.
Model Description Size Product Action Retail (Map) Price
F-BW65 Bully Wa 65 2 1/2" 5/8 oz Topwater Floating $7.99
Colors
01 (Coot), 02 (Yellow Head), 03 (Mud Bird),
04 (Copper Green), 05 (Ghost), 06 (Dirty White),
07 (Lemon Lime), 08 (Armed Forces)