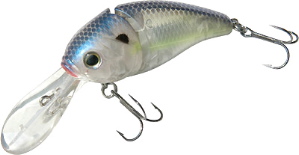 (Richmond, CA December 15, 2006) Crankbaits account for a large number of bass catches each year. Now, thanks to additions to our V-Crank family of jointed crankbaits from River2Sea, that number is about to climb again.
Featuring a jointed body, the River2Sea V-Crank is a family of crankbaits that deliver big presence in the water and big fish to the boat. V-Crank divers come in two sizes, while the V-Crank Wake comes in one size.
V-Crank's main feature is a jointed body that sports not only two hinges for superior strength, but also a set of metal clickers in each side of the joint. This clicker not only gives V-Crank added sound attraction, but it also creates a distinctive vibration pattern that drives game fish crazy.
River2Sea's V-Crank 60 is a medium depth diver that runs in the five to seven foot range, and the larger V-Crank 75 will dive to the six to eight foot range depending on line size. Both are slow floating baits, which adds to their effectiveness in fishing around shallow cover. The newly introduced V-Crank Wake is a floating, surface running plug that leaves a wake behind to draw fish closer.
V-Crank is available in nine of River2Sea's best finishes and features premium Daichi treble hooks to grab and hold fish that strike.
V-Crank is available for immediate shipping.
For more information go to htp://www.river2seausa.com/