(Richmond, CA February 9, 2006) Bass that thought they could hide from jerkbaits in deeper water had better beware because River2Sea's Fetch Minnow has arrived.
Fetch Minnow is designed to be the world's premier jerkbait, and after a year of research and development, that goal has been achieved.
Fetch Minnow casts further and runs deeper than other baits in its class and suspends at pause thanks to River2Sea's exclusive Tungsten Force Weight Transfer System. With three premium Daichi treble hooks Fetch Minnow will retrieve her quarry when they strike.
Fetch Minnow is available in two sizes, 88 and 108 millimeters. Fetch Minnow 88 will run in the seven to nine foot range, while the 108 is capable of reaching past the elusive 10 foot mark. Fetch Minnow comes in eight of River2Sea's premium colors
"You go hunt 'em, and this bait will fetch 'em."
Along with the Fetch Minnow, River2Sea also introduces a lure made with a nod to the classic shape of a game fish's favorite forage. The Jerk Shad will fool fish anyplace shad are present.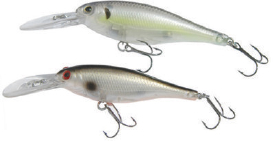 Jerk Shad is the first lure of its type to incorporate a weight transfer system in the form of River2Sea's Tungsten Force System. This system allows Jerk Shad to be cast further and run deeper than other baits in its class.
Truly a versatile bait, Jerk Shad is a capable compact jerkbait or a shad bodied crankbait with an exceptionally wide wobble.
In two sizes, 78 and 88 millimeters, Jerk Shad will run in the seven to ten foot range. With six available premium finishes, Jerk Shad will attract strikes and hold them with premium Daichi treble hooks.
Fetch Minnow and Jerk Shad are available for immediate shipment. www.river2seausa.com