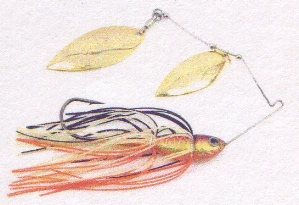 Spinnerbaits have gone through the evolution of time, and each has provided its upgrade to these proven fish catchers.
Recently I was invited to spend some quality time with the folks that own River2Sea and with their sales and pro staff as well. We took out on to famed Folsom Lake in northern California for a day of fun fishing and product testing. I was pleased to be able to partake in the event and get exposed to a new spinnerbait design in the River2Sea Hula Shad.
The Hula Shad brings some new twists to the conventional spinnerbait design that are more then worthy of mention, so here goes.
Head designs have gone from bullet head, to minnow head, to the new 'hidden weight' designs. Skirting has come a long way as well, from plastic skirts, to living rubber, to silicone that gives flash of color to make them seem alive underwater. Blades now come in 24 karat and powder coated finishes.
What River2Sea has done is complete the evolutionary development of the spinnerbait with the emergence of the Hula Shad. Hula Shad combines all the best features of the past with the innovation that River2Sea has become known for in the marketplace.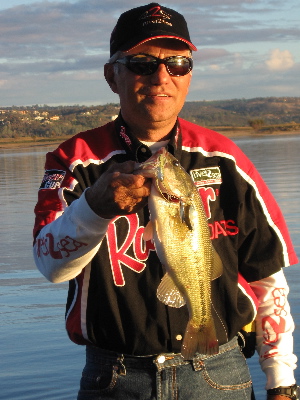 River2Sea Pro Staffer Chris Raza with the new Hula Shad on Folsom Lake.
At the heart of the Hula Shad is a revolutionary head design that encases metal with a polycarbonate that allows for unique 'premium hard bait finishes' that the fishing industry has yet see.
The revolutionary head is hand tied with a double silicone skirt. Hula Shad is constructed with the finest available components; including River2Sea's exclusive premium 'Big Bite Hook', a ball bearing swivel and high quality' pregnant willow leaf blades' assembled on a thin wire 'swooped' frame to create ultimate vibration.
Hula Shad is available in three sizes and eight revolutionary finishes, all hand tied with matching double skirts.
For more information go to http://www.river2seausa.com/