(Richmond, CA – April 11, 2006) As the popularity of the Bully Wa! continues to increase, River2Sea introduces a new member to the Wa! family; Step Wa!
Step Wa! combines features of two of the world's most productive big bass catchers; A hollow bodied weedless frog and a jitterbug styled lip. This combination will prove deadly on big bass in and around heavy cover.
Step Wa! features a clear, winged molded lip that causes the bait to gurgle on the surface in an erratic wobbling fashion on a steady retrieve. Step Wa! will draw bass out of cover to the lure, its skirted legs will bring the fish closer for a taste, the super soft body will make the fish hold on so that River2Sea's exclusive Big Bite Double Hook will penetrate and hold on tight.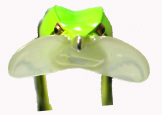 Step Wa! is available in four fish catching colors, it measures two and a half inches for the right presence and weighs 5/8 ounce just for ultimate castability.
Step Wa! is available for immediate shipment.
The item is Step Wa! model #F-SW65, it's 2 1/2" long weighs 5/8 oz and retails for $8.99.
Available Colors
02 (Yellow Head), 06 (Dirty White),
08 (Armed Forces), 09 (Black / Chartreuse)
For more information check out http://www.river2seausa.com/.