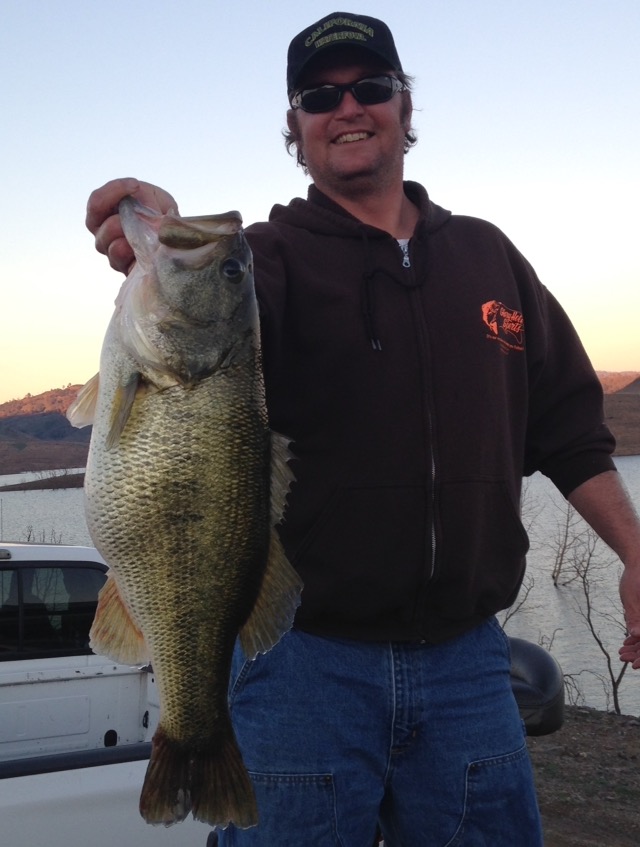 Over the holidays, Dan Perkins of Angels Camp spent three days on New Melones hucking a swimbait in search of a new personal best that would break the double-digit benchmark. His hunt was successful.
With lure advice from a friend at Glory Hole Sports, Perkins hit the lake with a River2Sea S-Waver 200.

THREE DAYS, ONE BITE
"Fishing was tough," said Perkins. "I was going for nothing but swimbait bites.
"My buddy, John Liechty had told me that I needed to fish this big swimbait and it would pay off. He showed me some spots and gave me a little rundown. He went to work and I kept at it for three days in a row.".
Perkins wasn't a stranger to S-Waver; however he had only used the smaller version.
"The S-Waver is a great lure," said Perkins. "It is so versatile. You can fish it real slow or real fast. You can twitch it. You can jerk it. It's big profile attracts big fish and that is what it did for me."
Perkins' three day stint at Melones was coming to end and although he had attracted some followers, he hadn't hooked in to one just yet.
READ RELATED: AGE OF TROPHY LARGEMOUTH BASS
THE POINT
"I had been fishing mostly main lake areas," he recalled. "It was near the end of the day on Sunday. I was going to get off the water by 4:30 p.m. and it was around 4 o'clock, so I decided to fish one more spot. I was coming across the lake and saw a point that I hadn't fished. It wasn't anything special, but the wind was blowing on it and it was on the way in, so I stopped to give it a try."
His call for "just one more cast" on the barren, rocky-point paid off.
"I positioned my boat close to the bank," said Perkins. "It is really important for the first cast to be perfect, so I let the wake die down. I took the big S-Waver and threw it out there as far as I could over the point and started to reel.
"Two cranks in, it was like somebody tried to pull the rod out of my hands. It loaded up. I set the hook and the fight was on."
READ RELATED: RECORD-SIZED SPOT | THE CATCH SEEN AROUND THE WORLD
BASS IN THE BOX
Perkins felt he had a good fish on the end of the line, but didn't realize just how big it was, until he caught a glimpse.
"It felt like an eternity had passed, but it probably took less than five minutes," he said. "At some point, the fish came completely out of the water. When I got a look, I thought my heart was going to come out of my chest.
"In the excitement, I tried to grab the net and my life jacket was tangled in it with my kill switch and everything, so I had to lip her. It was so cold and I was freakin' out so much, my hands weren't working right. When I pulled her up, I dropped her and I thought 'OH NO ' because no one would ever believe me."
Fortunately, the hook held tight and Perkins managed to get both hands on the big bass in his second attempt to get her onboard. As soon as she was in the box, he phoned a friend.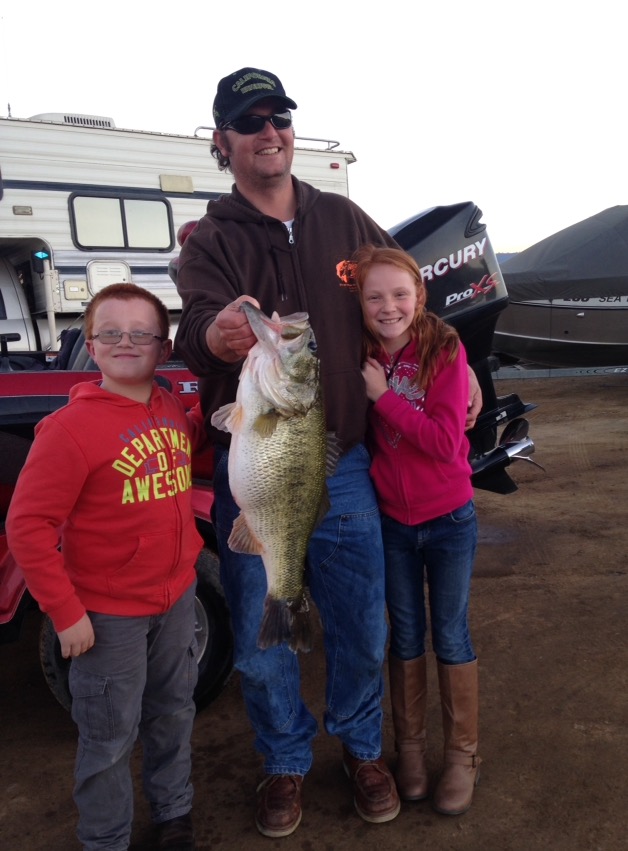 CAM & RELEASE

"John locked up the store and brought the camera down," he said "While I was waiting, I took a couple more casts back at it; because you never know if those big ones are hanging out together or not. I was freaking out so much, I don't even know if I fished it right."
Perkins located a scale from a River2Sea pro staff that happened to be on the lake that day. His catch came in at 12.2 - a new personal best for Perkins.
After the photos, he took her back to a point and released her.

"She went away perfectly healthy," he said. "I am 34-years-old and have been fishing my whole life and I just now finally broke that 10 lb barrier. Overall, it took a lot of fishing to get that one bite. The cold front that came through really slowed stuff down for reaction type baits. There has been a lot of guys catching some really nice fish, it is just few and far between. The swimbait bite is not really on, yet; but it is still worth throwing for fish like this."

CATCH DETAILS
The water was 53 degrees and had a little bit of stain to it. His target was a shallow, rocky-point on the main lake. He reported his boat position was in 5-frry and the strike occurred in about 3-feet of water.
He expressed his appreciation for the lake and his supporters.
"I've been fishing Melones my whole life and the quality of fish (from spotted bass to largemouth) is off the hook," he said. "The lake is just thriving. It is incredible, even the trout are huge.
"I have to thank my friend John Liechty for his help and for Melanie and Dan Lewis at Glory Hole Sports. They are very good to John and I with tackle and other items."