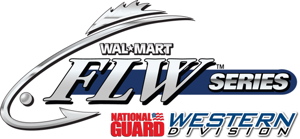 TRI-CITIES, Wash. (Sept. 18, 2008) –Pro Neil Russell of Nampa, Idaho, stood atop the leaderboard Thursday at the Walmart FLW Series® National Guard Western Division tournament on the Columbia River on the strength of a five-bass limit that weighed 15 pounds, 12 ounces. Russell's two-day 10-bass weight of 29-10 gives him a 1 pound, 5 ounce lead over David Kromm of Kennewick, Wash., who managed to haul in a total of 10 bass weighing 28-05 during the first two days of competition.
"I looked for some shallow bass and right away got a real nice one," said Russell, who recently competed in the 2008 Forrest Wood Cup. "Yesterday I was concerned about someone else being on a particular spot, but it turned out it wasn't that key. Instead, I went to the shallow spots."
Russell said he caught his limit of smallmouth bass on a mixture of topwater baits, jigs, a Carolina rig and a drop-shot rig. Russell said he had to switch to the drop-shot rig for fish that were eating a jig on the first day of competition. Russell's topwater bait was a single-hook soft-plastic white pearl-colored jerkbait worked on top of the water.
"Tomorrow I want to get all of the weight I can get, obviously," Russell said. "I'm going to go to a different area I haven't fished. I'm going to lock up to the Snake (River). Nobody fishes up there. I might be able to have a good bag up there, or I might be able to get seven or eight pounds and come back down here and try to increase that. I don't really know, but I've got to see if they're eating up there."
Like Russell, Kromm found that shallow fish early were the key to success on the second day of competition.
"I stayed in this pool today and started fishing shallow," said Kromm, who is currently fifth in the Land O'Lakes Angler of the Year standings in the FLW Series National Guard Western Division. "I caught a limit with a few good ones and culled my two little ones and got another good one in 25 feet of water in the middle of the day."
Russell said his shallow fish came in 8 to 10 feet of water. Russell employed a variety of baits to scratch out his limit, including shad-colored jerkbaits and lipless crankbaits for the shallow bites and green pumpkin lizards and tubes deep.
"I'm trying to get some good ones early on reaction baits," Russell said. "If you don't get them early, you're out fishing deeper trying to get them, and it's tough. This is the toughest I've ever seen this river.
"Tomorrow my plan is to lock down to where I have millions of spots to fish," Russell added. "Hopefully I'll pick the right ones."
Rounding out the top five pros are Roy Hawk of Salt Lake City, Utah (10 bass, 28-00); R.J. Bennett of Roseville, Calif. (10 bass, 26-05) and Day 1 leader Paul Hall of Soap Lake, Wash. (10 bass, 25-05). Rodney Rinta of Chehalis, Wash., earned the day's $329 Snickers Big Bass award in the Pro Division thanks to a 5-pound, 3-ounce bass.
Overall there were 507 bass weighing 902 pounds, 1 ounce caught by 119 pros Thursday. The catch included 76 five-bass limits.
Pros are competing this week for a top award of $125,000 plus valuable points in the hope of qualifying for the BP East-National Guard West Fish-Off and a shot at advancing to the $2 million, 2009 Forrest Wood Cup, where the winning pro will earn as much as $1 million – the sport's biggest award.
Robert Flowers of Roy, Wash., leads the Co-angler Division with a two-day total of 10 bass weighing 19-11 followed by Day 1 leader James Cadell of Escalon, Calif., in second place with seven bass weighing 19-04. Flowers caught five bass weighing 9-13 while fishing with pro Jason Hickey of Weiser, Idaho, Wednesday and five bass weighing 9-14 while fishing with pro Michael Tuck of Antelope, Calif., Thursday.
Rounding out the top five co-anglers are J.R. Wright of Truckee, Calif. (10 bass, 18-15); Brody Bramlett of Kelseyville, Calif. (nine bass, 17-07) and Gary Haraguchi of Brentwood, Calif. (eight bass, 17-02).
David Bush of Sonoma, Calif., earned $212 for the Snickers Big Bass award in the Co-angler Division thanks to a 4-pound, 10-ounce bass.
Overall there were 344 bass weighing 536 pounds, 3 ounces caught by 114 co-anglers Thursday. The catch included 30 five-bass limits.
Co-anglers are competing this week for a top award of $25,000. Like the pros, the top 30 co-anglers from both FLW Series divisions after four qualifying events are complete will advance to the East-West Fish-Off for a shot at qualifying for the Forrest Wood Cup.
On the first day of competition, Team Pringles pro Gabe Bolivar of Ramona, Calif., was involved in a minor on-the-water incident.
"We are grateful that Gabe Bolivar, an expert boater with years of professional experience, and co-angler Kirk Beardsley were not seriously injured in a single boat accident on the Columbia River Wednesday," said Charlie Evans, president and CEO of FLW Outdoors. "We are still looking into the cause of the accident."
Bolivar and Beardsley were transported to Prosser Memorial Hospital where they were subsequently treated for minor injuries and released Wednesday afternoon. Beardsley resumed competition on the Columbia River Thursday morning.
Bolivar said, "I'm just sitting here in my hotel taking it easy. I'm a little sore, but I'm getting through it. If I get my equipment repaired, I'll be fishing at the next event at the Cal Delta."
Anglers will take off at 6:30 each morning from Columbia Point Marina located at 660 Columbia Point Drive in Richland, Wash. Friday's weigh-in will be held at the marina beginning at 3 p.m. Saturday's weigh-in will be held at the Wal-Mart store located at 2801 Duportail Street in Richland beginning at 4 p.m. Children will also be treated to a Family Fun Zone prior to Saturday's weigh-in from noon to 4 p.m. at Walmart. Activities in the Family Fun Zone include a trout pond, a Ranger boat simulator and assorted fishing-themed games. All activities are free and open to the public.
In FLW Series competition, the entire field competes for the first three days, and co-angler competition concludes on day three with the winner determined by the heaviest accumulated three-day weight. The top 10 professionals continue competition on day four, and the winner is determined by the heaviest accumulated weight from all four days.
Coverage of the Columbia River FLW Series tournament will be broadcast to 81 million FSN (Fox Sports Net) subscribers in the United States as part of the "FLW Outdoors" television program airing Nov. 23. "FLW Outdoors" is also broadcast in Canada on WFN (World Fishing Network) and to more than 429 million households in the United Kingdom, Europe, Russia, Australia, Africa, Asia, and the Middle East through a distribution agreement with Matchroom Sport, making it the most widely distributed fishing program in the world. The program airs Sunday mornings at 11 Eastern time in most markets. Check local listings for times in your area.
Tournament anglers aren't the only ones winning big this season. With the introduction of FLW Fantasy Fishing™, FLW Outdoors® offered anyone the opportunity to enter for their chance to land the catch of a lifetime with the opportunity to win $7.3 million in cash and prizes. Players could become a virtual pro angler by signing up for Player's Advantage, which provided them with exclusive insider information that could have guided them to a $100,000 victory at every Walmart FLW Tour® stop and the Forrest Wood Cup. Player's Advantage gave them an edge over the competition and increased their shot for the $1 million cash grand prize awarded to the FLW Fantasy Fishing cumulative points winner. Visit FantasyFishing.com today to find out more information and to register for next season.
FLW Outdoors, named after Forrest L. Wood, the legendary founder of Ranger Boats, is the largest fishing tournament organization in the world. In 2008 alone the organization is offering more than 90,000 anglers the chance to win over $40 million through 230 tournaments in 10 circuits. FLW Outdoors is also taking fishing mainstream with the largest cash awards in the history of fantasy sports, $7.3 million.
For more information about FLW Outdoors and its tournaments, visit FLWOutdoors.com or call (270) 252-1000. For more information about FLW Fantasy Fishing and Player's Advantage, visit FantasyFishing.com.
Total awards are based on a full field of 200 boats in every tournament.