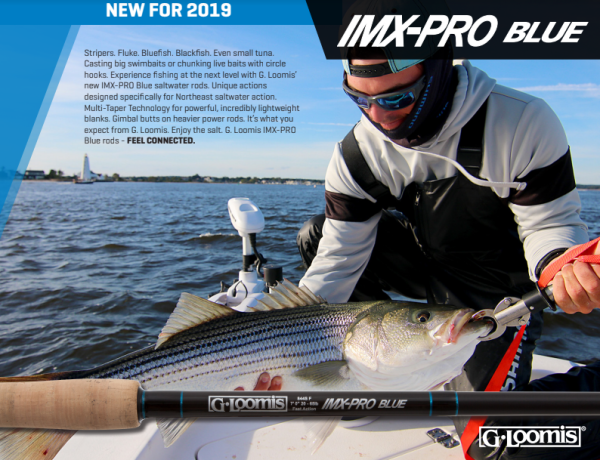 WOODLAND, Wash. There's the type of angler that approaches fishing with a unique attitude. It's all about targeting oversized fish with not-so-big gear. It's always being amazed when a big striper blows up on a surface plug. It's about the challenge and success on the water. And it's for those anglers that G. Loomis offers its new IMX-PRO Blue Series saltwater rods, now being launched to tackle shops up and down the East Coast, and available in four spinning and six casting high-performance models for both inshore and light-duty offshore situations.
Built around G. Loomis' Multi-Taper Technology, a performance platform with a focus on weight, balance, sensitivity and action, "the new IMX-PRO Blue rods feature unbelievably high strength-to-weight ratios with unique actions designed with a primary focus on Northeast saltwater fisheries," said G. Loomis senior planning manager David Brinkerhoff, "yet the actions, powers, and lengths offered in the 10 models means there are rods for big redfish in low country waters, tarpon in the Keys and Florida gulf waters, and even bigger snapper and grouper."
On the casting side, the seven-foot IMX-PRO Blue rods include the 843C MF which is ideal for summer flounder (aka – fluke) action, while the 845C M has the power to pull big stripers away from the rocks or to bring a smaller grouper up from the deeps. The seven-foot-two IMX-PRO Blue 863C XF is designed to fish swimbaits and smaller jigs, and for those situations where you need lighter line and downsized baits to trigger a bite.
The three seven-foot-six-inch IMX-PRO Blue casting rods-include the 903C M, a medium-heavy power rod for big blackfish. Considered the ideal 'all-around' casting rod in the IMX-PRO Blue line-up, the 904C MF "has the power to fish bucktails for fluke or to manhandle an oversized blackfish (aka - tautog), but is versatile for just about any saltwater species and even some offshore fish," notes Brinkerhoff. "And if you like chunking live bait with circle hooks, and the extra length to extend your casting range, be sure to look over the IMX-PRO Blue 905C M."
All four IMX-PRO Blue spinning rods are seven-footers. The IMX-PRO Blue 842S XF is the lighter line, soft-plastic swimbait and small jig rod, while the 843S S is the ideal 'all-around' spinning rod that can handle pitching plugs into a rip or feeling the tell-tale 'tick' of striper sucking in a swimbait.
With medium-heavy power, the moderate-fast action IMX-PRO 844S MF is tough enough to handle live bait, bucktails, and big summer flounder/fluke. Finally, the IMX-PRO Blue 844S F is light yet powerful, designed to fish live bait for stripers, blues an even small tuna, and also for extra distance when pitching lures.
Featuring full cork front and gear grips and Fuji reel seats, the IMX-PRO Blue rods also introduce Fuji's new durable Fazlite K-Frame guides designed for use with braided line and also resist saltwater corrosion. The IMX-PRO Blue seven-foot-six 903C, 904C, 905C and seven-foot 845C, along with the seven-foot 844S MF and 844S F spinning rods offer gimbals butts for when using a fishing belt.
As with all G. Loomis rods, the new IMX-PRO Blue saltwater rods are handcrafted in Woodland, Washington USA. For more information, visit gloomis.com, call 800/GLoomis, or stop by your nearest G. Loomis tackle dealer.
###
Suggested retail: most from $350 to $385
2019 IMX-PRO BLUE SW RODS…

series

model #

length

power

action

braid rating

MSRP

Ex-Fast Actions

spinning

IMX-PRO Blue 842S XF

7'

Med-Light

Ex-Fast

10-30

$350

casting

IMX-PRO Blue 863C XF

7'2"

Medium

Ex-Fast

15-50

$350

Fast Actions

spinning

IMX-PRO Blue 843S F

7'

Medium

Fast

15-50

$350

spinning

IMX-PRO Blue 844S F

7'

Med-Heavy

Fast

20-65

$365

Moderate-Fast Actions

spinning

IMX-PRO Blue 844S MF

7'

Med-Heavy

Mod-Fast

20-65

$365

casting

IMX-PRO Blue 843C MF

7'

Medium

Mod-Fast

15-50

$350

casting

IMX-PRO Blue 904C MF

7'6"

Med-Heavy

Mod-Fast

20-65

$385

Moderate Actions

casting

IMX-PRO Blue 845C M

7'

Heavy

Moderate

30-80

$365

casting

IMX-PRO Blue 903C M

7'6"

Medium

Moderate

15-50

$385

casting

IMX-PRO Blue 905C M

7'6"

Heavy

Moderate

30-80

$385