Everyone knows that anywhere there is any standing water, "Skeeters" will appear. With the expansion at Skeeter Boats, be assured, Skeeters will be everywhere.
Skeeter Boats has been enjoying tremendous success and growth in the past few years and that growth will likely continue due to the demand for the new i-Class boats.
Since the introduction of the i-Class, the orders have gone through the roof. Currently, Skeeter's production crew is focusing on trying to catch up on the orders for the i-Class.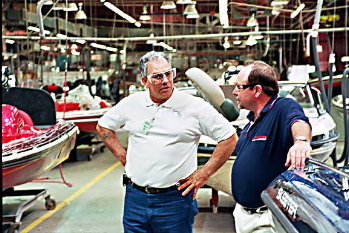 Courtesy photo
John Barron, president of National Bass West, talks with Chester Bridges, purchasing manager for Skeeter Boats, about how the boats are constructed at the newly expanded Skeeter manufacturing facility.
"We are building four to five i-Class boats everyday," said Chester Bridges, purchasing manager for Skeeter. "It has been great! We ship out 23 to 24 i-Class each week."
To keep up with the demand, Skeeter has expanded their operation. They now have 250 employees building boats and are currently on track to build 3,150 in 2006, up from 3,000 in 2005.
Keeping an eye towards the future, they have also invested in a new 36,000 square foot research and development building where they are continually working to improve the quality, durability and safety of Skeeter boats.
In the factory, the workers are buzzing (sorry for the pun) at Skeeter. From the very first stages of manufacturing, care is taken to ensure quality and consistency. Gelcoat colors are carefully applied to exacting specifications, taking 45 minutes to an hour, to carefully tape off the colors.
Every worker has their job that they specialize and take pride in doing right. The assembly line appears to flow seamlessly.
For the most part, Skeeter boats are using all composite construction, although, some small pieces of wood are applied in key areas where screws are used. The wood holds screws better than composite materials, so wood is used as a backing material only.
The dry ride of a Skeeter boat is no accident. It has taken years of development to design a hull that can be fast, dry, and stable. But, those years of dedication and development have paid off handsomely. The dry ride of the ZX series of boats was not lost on the i-Class. In fact, most owners of the i-Class say the i-Class has a softer ride than their previous ZX series boats, making those long runs in rough water more bearable for those of us in the over-40 crowd (alright, nearing 50).
Outside the Skeeter plant, rows of new Skeeter boats wait to be picked up. Trucks are constantly moving in and out of the facility with loads of boats headed to all parts of the United States.
While most of Skeeter's sales are in the south, their presence in the West has continued to grow. Adding new dealers, such as Galaxy Marine and recently signing up Nixon's Marine in Washington, along with Adams Marine, Valley Cycle & Marine, and AIM Marine, has certainly benefited Skeeter Boats. Their ongoing research and commitment to quality will ensure their continued growth.
The new i-Class sets the bar a little bit higher. Of course, never forget that the ZX series are still great boats. They are fast, stable, and have the same Skeeter commitment to quality. Either boat would be a good choice for serious, tournament bass anglers.