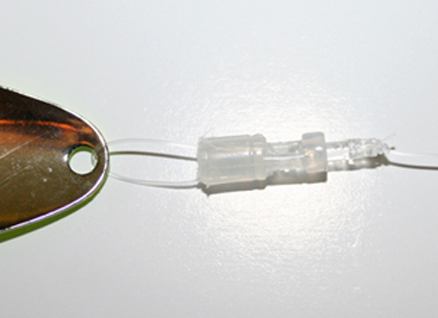 Snappy  Solution: New InvisaSnap Swivel forever changes expectations of a  performance snap-swivel
Admit it, you've frequently avoided using traditional brass or metal snap swivels because of their clunkiness, unreliability and lack of stealth. Most of the old school fasteners on the shelf are not only difficult to secure, they also like to pop open spontaneously. These          bulky terminal tethers stick out like an angry boil on your line, removing the element of surprise from your presentation as well.
But spinners still need to spin. Line has to function free from twist. Spoons, crankbaits and countless other lures operate more fluidly when tethered to a functional snap.
Enter Aquateko. The creators of the fishing industry's most innovative terminal tackle recently upped the ante on snap swivel design and performance. Based on the award-winning InvisaSwivel—the world's stealthiest high performance  fishing swivel—the company has now engineered the radical InvisaSnap Swivel.
Forget everything you thought you knew about attaching lures to line. This little gem changes everything—making lure changes  fast and easy, while erasing for fish any indication of the          unnatural. The InvisaSnap Swivel doesn't just disappear underwater, its clear, tough and transparent material—FluoroClear—is both neutrally buoyant and nearly weightless.
Self-lubricating in water, this essential snap spins like a top, enhancing presentation to the max. A specially engineered  fastener melds with its swivel body, constructed with an ultra-tough and invisible material that flexes and adds natural movement to all  lures and presentations. Easy to open and close, secure as a safe, InvisaSnap Swivel is the last lure fastening device you'll ever use.
Available in five sizes—from a light tackle #12 to a #80 that succumbs the meanest beasts in the sea—InvisaSnap Swivel is the world's most innovative terminal tackle device for fresh and saltwater. Available at retail outlets in August, or you can be among the first to behold this new technology at the 2012 ICAST Show, beginning Wednesday, July 11 in booth 776. Or for more information, contact Aquateko, 140 Deer Haven Drive, Ponte Vedra Beach, FL 32082. Phone is (904) 273-7200. Or email us at sales@aquateko.com.  Website is www.aquateko.com.  Available August, 2012